On Jan. 26 Concordia Plan Services (CPS) launched its redesigned website — ConcordiaPlans.org — featuring an updated look and layout that's designed to present helpful benefit information in an intuitive structure.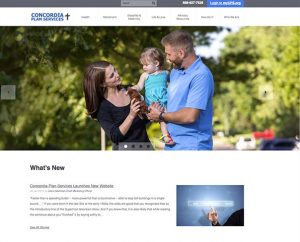 Early in the redesign process, CPS conducted research and solicited feedback from LCMS employers and Plan members. The results helped guide the consolidation of content, availability of resources and overall flow and structure of the site.
Using the updated website, workers enrolled in the Concordia Plans can learn how to find a provider, file a claim, designate beneficiaries or even initiate their retirement. Employer representatives can access information on Plan administration, enrollment and consulting services.
In addition, short video segments featured on many pages provide brief overviews of benefits and explain how Concordia Plan Services helps serve LCMS ministries.
New features of the redesigned website include:
user-friendly navigation.
a Ministry Resources section with consolidated employer information.
a "How-Do-I" menu with answers to frequently asked questions.
a regularly updated blog section with news, industry information and CPS announcements.
an intuitive search function.
a comprehensive forms library.
For more information, visit ConcordiaPlans.org.
Posted Jan. 29, 2015