LCMS Michigan District President Rev. Dr. David P.E. Maier of Brighton, Mich., was returned to office for a third term by delegates to the district's 101st convention, June 28-30 at Concordia University, Ann Arbor, Mich. Maier was elected on the first ballot.
Also re-elected were:
Rev. Mark D. Brandt, administrative pastor of St. Lorenz Lutheran Church, Frankenmuth, Mich., first vice-president.
Rev. Donald O. Neuendorf, senior pastor of St. Paul Lutheran Church, Ann Arbor, second vice-president.
Rev. David A. Davis, pastor of St. Luke Lutheran Church, Haslett, Mich., third vice-president.
Rev. John M. Duerr, pastor of Hope Lutheran Church, Warren, Mich., fourth vice-president.
All district officers were installed at a "Service of Installation and Sending" on June 30, the last day of the convention.
Delegates adopted 25 resolutions under the district's four critical targets: Great Commission, Great Compassion, Healthy Congregations and Healthy Workers.
In light of the U.S. Supreme Court's same-sex marriage ruling, announced just two days before the start of the district convention, delegates adopted a resolution to "address how best to deal with same-sex marriage." That resolution affirms the "biblical picture" of traditional marriage, asking Christians to discern "how best to compassionately care for the erring, while maintaining the truth of God's Word" and requiring district pastors to refrain from blessing or performing same-sex weddings. It also asks the Synod for guidance on the ramifications for pastors on this topic and for "providing compassionate care for same-sex couples."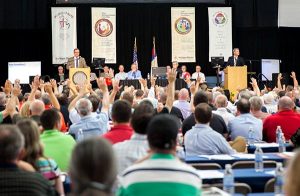 Among other adopted resolutions were calls to:
encourage participation in the district's theological conferences.
"root men and women in their baptismal identity" that is "anchored in the death and resurrection of Christ Jesus." The resolution notes that "as people are being encouraged by the voices of the age to 'discover who they are,' we, the church, be prepared to eagerly point them to whom the Triune God has already made them to be as men and women baptized in Christ Jesus."
"intentionally initiate mercy ministries in our communities." The resolution encourages each district congregation and circuit to start or participate in at least one new human-care ministry to address the needs of their local community in the next triennium.
encourage each district congregation to give a "full tithe" to the district, and for the district to "continue its historic leading role in giving to the work of the Synod" at-large.
support the "Here We Stand" district initiative to celebrate the 500th anniversary of the Reformation in 2017. The initiative will include a districtwide thank offering with a goal of $10 million to fund professional church-worker scholarships, "innovative missional ministry," the district's endowment and international ministry. A district worship service is being planned for Oct. 15, 2017, at the Breslin Center on the campus of Michigan State University, in East Lansing, with guest preacher Rev. Dr. Patrick T. Ferry, president of Concordia University Wisconsin, Mequon, and Concordia University, Ann Arbor.
 More than 830 delegates and guests attended the three-day convention under the theme "Imagine Living as God's Loved and Compassionate Community," based on Eph. 3:20-21.
LCMS President Rev. Dr. Matthew C. Harrison, who preached at the convention's opening worship service, encouraged the assembly to "hold to simple Christian faith, stick to the simple words of Scripture."
In his address, Michigan District President Maier asked convention-goers to remember that "our task, in the power of the Spirit, is always to be meeting the world with surprising signs of God's generosity, and those signs will be all the more powerful if we do them together."
Convention essayist Rev. Dr. R. Reed Lessing, pastor of St. Michael Lutheran Church in Fort Wayne, Ind., led two Bible studies based on the book of Ephesians, sharing what it looks like for "God's loved and compassionate community" to be living under the influence of God's spirit.
For more convention information, visit facebook.com/milcms and michigandistrict.com/convention.
Posted July 7, 2015