By Melanie Ave
ST. LOUIS — "Wonderful. Fulfilling. Informative. Inspiring. Invigorating."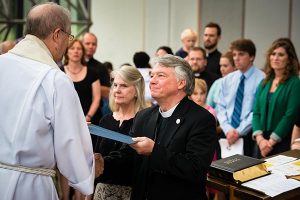 Those are the words the Rev. Dr. Thomas Aadland used to describe a two-week new-missionary orientation in St. Louis, which concluded July 2 with a "Service of Sending" held in the chapel of the International Center.
"The LCMS really cares for her missionaries," said Aadland, former president of the American Association of Lutheran Churches who will serve as an LCMS career missionary at the Matongo Lutheran Theological College in Kenya. "That is the big message and that is very evident."
Aadland was one of 20 missionaries and their 40 family members who attended the orientation, which prepares new missionaries for service abroad and gives them a first taste of what to expect in the foreign field.
During the service, the missionaries quietly listened as LCMS First Vice-President Rev. Dr. Herbert C. Mueller Jr. offered words of encouragement from Scripture about the solemn appointment to which they had been called or received.
"You are signs of Christ's presence in the world, signs of Christ's care, signs always pointed to Christ crucified and risen from the dead, alive and giving away life," Mueller said during his sermon during the Divine Service with Holy Communion. "You are sent as Jesus said, 'All authority in heaven and earth has been given unto me. Go therefore and make disciples of all nations, baptizing them in the name of the Father and of the Son and of the Holy Spirit.' "
Later in the service, the name of each missionary was read aloud as each also received a certificate of completion. The service was followed by a reception.
The missionaries will serve in a variety of roles for the LCMS ranging from international-school chaplains to nurses in 13 countries in Asia, Africa, Eurasia and Latin America. The LCMS now has about 110 career missionaries as it moves closer to a 2016 goal of having 136 career missionaries in the field — a doubling of career missionaries as requested by the 2013 Synod convention.
The LCMS offers missionary orientation twice a year, in the winter and summer. New to this orientation were special resources for those deploying to foreign fields from DOXOLOGY, an LCMS Recognized Service Organization, and special classes for spouses that focused on spiritual care, marriage and family support.
Special training also was provided for the children to help them be better prepared to live overseas. By the end of the summer, the LCMS will have more than 150 missionary children in the field.
LCMS children can support missionary children through the Mission Friends, an online program of the LCMS that promotes international mission work among the Synod's children. (To learn more, click here.)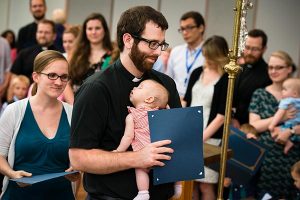 Additionally, the missionaries were trained by International Center staff members, seminary professors, and former and existing missionaries on the theology of missions, fundraising, stewardship, church relations, photography, blog writing and network building.
"They were really focused on the kinds of things you need to know," said new missionary, the Rev. Andrew Schlund, 28, who will help train Lutheran pastors in Mexico City as part of a renewed LCMS endeavor with partner-church body the Lutheran Synod of Mexico. He will be joined by his wife, Kelsey, 26, and 3-month-old daughter, Charlotte.
Schlund, a recent graduate of Concordia Seminary in St. Louis, said he looks forward to mentoring pastors and helping the partner Lutheran church body grow and thrive on a solid theological foundation in Mexico.
"It's not easy by any means," said Schlund, who has never traveled overseas. "But Christ is the Lord in the church."
The Rev. Dr. Edward Grimenstein, associate executive director for the LCMS Office of International Mission, said orientation is meant to prepare the missionaries by giving them a knowledge of what to expect and equipping them with a theological understanding of missions.
"They really are the ambassadors going out into this world, not only for Christ, but also for the LCMS," he said.
Grimenstein said it is important for LCMS members and congregations to support the missionaries.
"As the missionaries go out, our church body needs to know that it is going out," he said. "Even if people are sitting in a pew in Iowa, physically unable to deploy to be a missionary, they still have a chance to go [abroad] by supporting LCMS missionaries and walking alongside them in bringing words of encouragement, prayer and possibly financial support. That's how we do mission, together."
New missionary Kristin Lange, 23, who majored in German and English at St. Olaf College in Northfield, Minn., will become managing director of the International Lutheran Society of Wittenberg, Germany, replacing the Rev. David Mahsman.
The daughter of an LCMS pastor, Lange said she would love nothing more than for a Lutheran congregation to be planted in Wittenberg, where Martin Luther inspired the Reformation in 1517.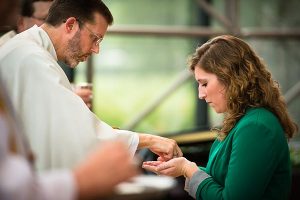 "It's interesting when you think we are sending missionaries to Wittenberg when we as a church body came out of there," she said. "But we're having to go back because it largely died out."
Many of the missionaries said they not only appreciated the specific training and theological grounding, but also the close bond they created with one another.
"It's been tremendous," said Aadland, 64, a married father of four and grandfather of three. "The training here has been so essential. We can think of ourselves as a class that has graduated together."
The LCMS has been involved in mission and outreach since 1851, when it established its first mission board and sent its first overseas missionary to India in 1895.
Today, the LCMS trains, sends and supports called and appointed long-term and short-term missionaries throughout the United States and in various countries around the world — where there are mission stations, partner churches, schools and mission relationships. To find out more about the missionaries, or to support their efforts, download their prayer cards at lcms.org/prayercards.
For more information about LCMS missionary opportunities, visit lcms.org/missionaries or contact the Rev. Dan McMiller at dan.mcmiller@lcms.org or 314-996-1341.
LCMS President Rev. Dr. Matthew C. Harrison shares in a video message the history of LCMS missionary work and looks to the future as LCMS missionaries continue to share the Gospel of Christ around the globe.
View photo gallery: "Service of Sending"
Melanie Ave (melanie_ave@yahoo.com) is a freelance writer in St. Louis.
Posted July 7, 2015