By Adriane Heins
The goal of the Aug. 12-13 "Finding Our Voice" Insight on Faith conference — hosted by DOXOLOGY: The Lutheran Center for Spiritual Care and Counsel and held at Saint Louis University in St. Louis — was more than met, according to attendees.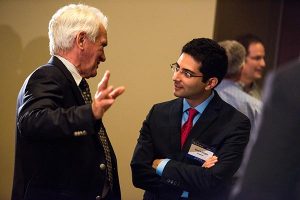 That goal was to assist pastors and laypeople in "moving beyond embarrassed silence on marital and sexual matters to speaking confidently and positively about the biblical vision for sexual fidelity," explains the Rev. Dr. Harold Senkbeil, the organization's executive director for Spiritual Care.
Presenters
"As a pastor, I was particularly moved by what Sherif Girgis emphasized in his presentation — namely, that tone matters most in any kind of debate or discussion," recalls the Rev. Gregory Michel, pastor of St. Matthew Lutheran Church in Milan, Ill. "A tone that reflects confidence and cheer is especially difficult in discussions on hot-button issues, but it is most needed."
Girgis, who headlined the conference, is a Princeton grad and well-known author, lecturer and debater in both academic and secular circles. Known for his deliberate defense of one-man/one-woman marriage, Girgis reminded attendees that "Changes of attitudes, values and behavior take time," recounts Dr. Beverly Yahnke, DOXOLOGY's executive director for Christian Counsel. She noted that he told the assembly, "We cannot expect others to change their perspective swiftly; we benefit from building relationships and thinking with them about their perspective." 
Timothy Goeglein, vice-president for External Relations at Focus on the Family, presented on marriage as it concerns religious liberty. "The narrative and theme of the DOXOLOGY conference," Goeglein said, "could not have been more timely or more relevant. It is breathtaking to observe how fast the Supreme Court has redefined family, marriage and parenting, and its attendant implications for our religious liberty."
Additionally, the Rev. Dr. Lucas Woodford, senior pastor of Zion Lutheran Church and School in Mayer, Minn., and a fellow in the DOXOLOGY Collegium, discussed honoring sexual virtue in families and congregations. "We live at a time when people have lost their story," Woodford says. "They're asking, 'Who am I? Where do I come from? Where am I going?' "
Knowing God's story "allows us to celebrate sexuality as a holy calling, rooted in the relationship of Jesus and His Church," Woodford explained. "Here there is profound clarity of what it means to be male and female, husband and wife, father and mother. Plain and simple, it celebrates God's plan of salvation played out in the family, where the holy Christian Church is the bride of Christ."
Worship
Worship was central to the conference and focused on the theme "Repent, Renew, Rejoice." At the end of the opening night's service, "four pastors were kept busy for nearly an hour ministering to the people who sought personal spiritual care," Senkbeil said.
Forgiveness and cross-centered confidence were emphasized. "For you and all your sin — even the ones you cannot bear to think of now — [Christ Jesus] became the atoning sacrifice," Senkbeil preached in Wednesday night's homily. "Crucified, dead and buried, then risen again in triumphant glory, He takes all your guilt away, wraps you up in His own righteousness, innocence and blessedness and makes you His. Repent, then, each and every day and find your life in Him."
Going forward
"Who would have guessed that LCMS pastors, moms, dads and grandparents would fill a ballroom for two days to discuss Christian marriage and sexuality?" quipped Yahnke, who witnessed registrants learn "clear, biblical understandings about the Christian realities of marriage" even as Senkbeil saw "interest in these matters move beyond cognitive and theological to personal and spiritual."
Conference participant Rev. Sean Smith said he experienced it firsthand. "Finding our voices in the public square begins with informing the minds of the people within our churches," he noted. The Finding Our Voice conference "was a wonderful blessing to grant us confidence in the truth of God's good gift of marriage and sexuality, even though they are ever in danger among us sinners and in the world."
"As we encourage and invite engagement in our conversation, remember the language of our faith," Michel recalled learning at the conference. "President Harrison said it well: 'Our calling is not to be a bunch of angry people. Rather, our calling is to be people of the Gospel and of joy.' "
To hear interviews and further discussion from the conference's presenters, visit kfuoam.org or issuesetc.org and search "Finding Our Voice."
DOXOLOGY is an LCMS Recognized Service Organization.
Adriane Heins (adriane.heins@lcms.org) is managing editor of The Lutheran Witness and editor of Catechetical Information for LCMS Communications.
Posted Aug. 18, 2015