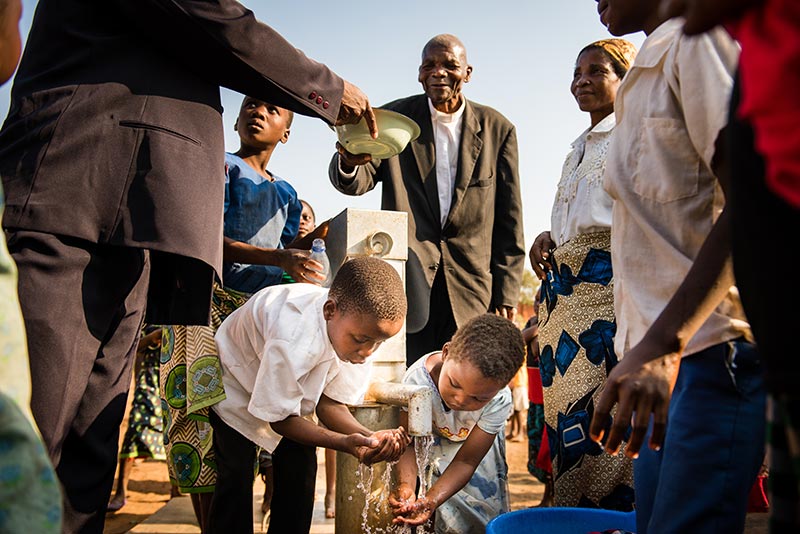 Photos and story by Erik M. Lunsford
Two new borehole wells were recently completed in Malawi, Africa — made possible by LCMS grants totaling approximately $24,000.
Both wells — one in the northern part of the country and one in the south — are near congregations of the Confessional Lutheran Church—Malawi Synod (CLCM) and are available to the greater community. Before construction, residents drank from open streams and unreliable water sources infected with water-borne diseases.
"The CLCM is greatly honored to have the LCMS hand in Malawi … [that] above all emphasizes the love, encouragement and advice in the ministry of the Gospel. This is a blessing to us," said the Rev. Davis Wowa, executive chairman of the CLCM.
The CLCM was formed in 2007 and currently has 11 established congregations and six "exploratory places" in neighboring Mozambique, Tanzania and Zambia. Its pastors are trained with LCMS educational materials in a seminary of the Wisconsin Evangelical Lutheran Synod.
"Compassionate community-benefiting projects like wells or food distribution draw the attention of a community and identify the Lutheran church as a place where there are Christians who love all people. Through community-based and community-benefiting projects, the confessional Lutheran church gains a platform and a voice in the community — a voice through which the Gospel can be proclaimed to the glory of God," said the Rev. Shauen Trump, LCMS area director for Eastern and Southern Africa.
View photo gallery
Erik M. Lunsford (erik.lunsford@lcms.org) is manager of Photojournalism with LCMS Communications.
Posted Nov. 6, 2015