The Rev. Dr. Ronald R. Feuerhahn, an emeritus professor at Concordia Seminary, St. Louis, died March 13 at a St. Louis-area hospital after several years of declining health. He was 77.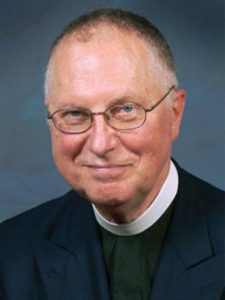 The funeral service is set for 2:30 p.m. March 17 at the seminary's Chapel of St. Timothy and St. Titus, with private committal to follow. Ordained LCMS clergymen are invited to participate in the funeral-service procession (wearing purple stoles). The service, which is open to the public, also will be live streamed at http://www.csl.edu/live/.
Visitation is 5-7 p.m. March 16 at Ambruster Chapel, 6633 Clayton Road, Clayton, Mo., and March 17 at the seminary chapel, from 1:30 p.m. until the funeral service begins.
Concordia Seminary President Rev. Dr. Dale A. Meyer said, "Through our beloved Dr. Feuerhahn, God communicated the richness of His Word to generations of people countless to us but all known by the Lord who gave this dear teacher to His Church. He had a deep and scholarly knowledge of modern Christianity, was expert in the writings of Hermann Sasse and others, and excelled in giving his time and gentle care to the many students who loved him. May heaven give its special comfort to Dr. Feuerhahn's wife, Carol, and family in the sure and certain hope of the promised reunion around the throne of the Lamb."
The Rev. Dr. Jon Vieker, senior assistant to LCMS President Rev. Dr. Matthew C. Harrison, was the last student for whom Feuerhahn served as doctoral supervisor.
"Dr. Feuerhahn was a faithful confessor of Christ, a respected pastor and teacher of the church, a learned scholar and a gentle soul," Vieker said. "He taught and guided a generation of Lutheran pastors with his careful instruction and by a life well lived. Now he lives with Jesus, whose victory over sin and death is his forever."
After 22 years of service as professor of Historical Theology and seminary archivist, Feuerhahn retired in May 2008.
Following his graduation from Concordia Seminary in 1963, Feuerhahn was a missionary at-large in Wales and England until 1967 for the Evangelical Lutheran Church of England (ELCE). He also served two congregations — St. James Lutheran Church, Cardiff, Wales (1967-70) and Resurrection Lutheran Church, Cambridge, England (1970-77). From 1977 until joining the St. Louis seminary faculty in 1986, he was preceptor (president) of Westfield House, the theological-training college of the ELCE, in Cambridge.
In the years 1975-85, Feuerhahn held office in the ELCE as a pastoral counselor and vice-chairman of the church body. He also served as chairman of the Lutheran Free Conference of Great Britain (1981-85). He was a visiting professor on two different occasions (1998-99) in Yekaterinburg, Russia.
For the Missouri Synod, Feuerhahn served on the LCMS Commission for Doctrinal Review (1993-99) and the LCMS Commission on Worship (1995-2001), and was on a panel for discussions between the LCMS and the Evangelical Lutheran Church in America (1999-2000).
In addition to his Master of Divinity degree from Concordia Seminary, St. Louis (1963), he earned a bachelor's degree in history at Concordia Senior College, Fort Wayne, Ind. (1959) as well as Master of Philosophy (1980) and Doctor of Philosophy (1992) degrees from Cambridge University in England.
His theological and academic work focused on modern church history, the 20th-century ecumenical movement and particularly the theology and work of Hermann Sasse. He was the author of numerous published articles on Sasse and edited several collections of Sasse's essays. He also produced the definitive bibliography of Sasse's writings. A festschrift titled Lord Jesus Christ, Will You Not Stay was published in Feuerhahn's honor in 2002.
In addition to his wife of 51 years, Carol Justus (née Throdahl) of Clayton, Mo., survivors include two daughters — Kathryn Siân (Jeff) Muskopf of University City, Mo., and Heather Gail (Chris) Campbell, Alexandria, Va.; three grandchildren — Jacob Blaine, Annabel Lee and William Justus Campbell; brother Harold (Helen) Feuerhahn, St. Charles, Mo.; and brother-in-law Peter (Kathy) Throdahl, Clearwater, Fla.
Memorials may be directed to Concordia Seminary's Rev. Dr. Ronald Feuerhahn Student Aid Fund, 801 Seminary Place, St. Louis, MO 63105-3199 or the American Parkinson Disease Association, St. Louis Chapter — Patient Services, 1415 Elbridge Payne Road, #150, Chesterfield, MO 63017.
Posted March 16, 2015 / Updated March 24, 2015 / Updated March 25, 2015