Registration is now open for the Synod's 2015 National Rural & Small Town Mission (RSTM) Conference, which will be held Nov. 5-7 at the Kansas City Airport Marriott in Kansas City, Mo.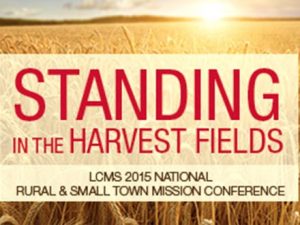 The conference theme is "Standing in the Harvest Field," and congregational leaders from rural and small-town settings are encouraged to attend.
"This year's theme presents us with a vivid picture of just who we are as Christ's Church engaged in ministry and missions to rural and small-town places," said the Rev. Todd Kollbaum, director of RSTM. "We are standing at the ready, armed with all that we need to engage the field which is 'white for the harvest.' The National Rural & Small Town Mission Conference is uniquely positioned to provide you with excellent learning opportunities as well as specific ministry tools and ideas for carrying out the plans the Lord has for your congregation."
Keynote speakers include Kollbaum and:
the Rev. Dr. Ken Klaus, speaker emeritus of "The Lutheran Hour";
the Rev. Dr. Lucas V. Woodford, senior pastor, Zion Lutheran Church and School, Mayer, Minn.; and
Chaplain Craig Muehler, director of LCMS Ministry to the Armed Forces.
In addition to plenary sessions, participants will be able to choose from a variety of breakout sessions on topics such as witness and outreach strategies, small youth groups and confirmation, later-life ministry, stewardship, student debt, Lutheran schools and family life, mission opportunities through the military, pastoral strategies for serving in rural and small towns, and many other topics affecting the Synod's rural and small-town congregations.
Conference registration is $200 per person, which includes all sessions, materials and some meals. Rates also are available for couples, students, meals only and groups. The registration deadline is Sept. 15.
Lodging is available at the Marriott for $88 per night, plus tax. Hotel reservations must be made separately from conference registration. Call the hotel at 816-464-2220 or click here and mention the "2015 LCMS Rural & Small Town Mission Conference" when reserving rooms.
For more information — including a bulletin insert for congregations — or to register for the conference, visit lcms.org/rstm/conference, call 888-463-5127 or email rstm@lcms.org.
Posted March 16, 2015