Delegates to the LCMS South Wisconsin District's 54th convention, June 7-9 at Concordia University Wisconsin in Mequon, re-elected the Rev. Dr. John C. Wille as district president.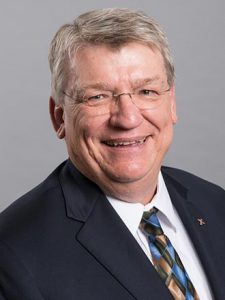 Wille, of West Bend, Wis., was elected on the first ballot to his fourth term.
The convention theme was "Walk Humbly with Our God," based on Micah 6:8.
Also re-elected were the district's four vice-presidents:
Rev. Daniel T. Torkelson, pastor of St. John Lutheran Church, North Prairie, Wis., from the district's Southeast Region, first vice-president (previously second vice-president).
Rev. David B. Paape, pastor of St. Paul Lutheran Church, Brown Deer, Wis., Central East Region, second vice-president (previously first vice-president).
Rev. Robert C. Zick, pastor of St. John Lutheran Church, Fredonia, Wis., Northeast Region, re-elected third vice-president.
Rev. Mark R. Meier, pastor of Emmaus Lutheran Church, Poy Sippi, Wis., West Region, re-elected fourth vice-president.
Wille, the vice-presidents and all other elected district officers were installed during the convention's closing service, for which LCMS President Rev. Dr. Matthew C. Harrison was the officiant and presiding minister.
The Rev. Dr. Andrew Bartelt, professor of Exegetical Theology and director of the Specific Ministry Pastor program at Concordia Seminary, St. Louis, led the convention Bible study.
Attorney Kevin Theriot with the Alliance for Defending Freedom was the convention essayist and answered numerous questions from convention participants regarding religious freedom.
Among convention business, delegates authorized reorganizing the district into 26 circuits and ratified appointment of 16 circuit visitors to newly constituted circuits.
By a vote of 223-29, delegates adopted Resolution 2-02, which — as stated in its title — memorializes the "Synod to restore to the Synod presidium [sic] the authority to act in a case of discipline should a district president fail to act in a matter of ecclesial [sic] supervision."
Delegates adopted by a vote of 209-27 Resolution 6-03, "To call the Rev. Dr. Matthew Becker to repentance, implore [LCMS Northwest District President] Rev. Paul Linnemann to exercise ecclesial [sic] supervision and thank and encourage President Matthew Harrison."
Two adopted resolutions call on South Wisconsin congregations to practice stewardship according to biblical principles and review and update their policies as they pertain to the Bible's teachings on marriage.
Other resolutions the delegates adopted call on the district to:
continue partnership with the Dominican Republic Lutheran Mission.
assist pastors as they prepare for retirement.
utilize the resources and materials available from the LCMS Task Force on Domestic Violence and Child Abuse.
Posted June 15, 2015