The Rev. Dr. Chris Wicher of Cheektowaga, N.Y., was elected — on the first ballot — to his third term as district president during the LCMS Eastern District's 98th convention, June 19-20 in Amherst, N.Y.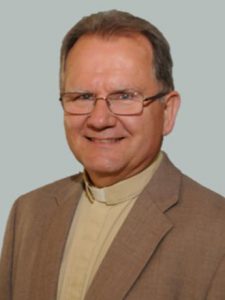 Also elected were:
Rev. John Pingel, pastor of Salem Lutheran Church in Buffalo, N.Y., first vice-president (Buffalo Region), first term.
Rev. Carl Prostka, retired, currently serving Pinnacle Lutheran Church, Rochester, N.Y., second vice-president (Rochester Region), first term.
Rev. Dan Strussenberg, pastor emeritus, Good Shepherd Lutheran Church, Pittsburgh, Pa., third vice-president (Pittsburgh Region), second term.
Rev. Murray Brindle, pastor of St. Paul Lutheran Church, Tunkhannock, Pa., fourth vice-president (Philadelphia Region), first term.
All of the elected officers were installed during the convention's closing worship service.
Delegates adopted several resolutions under the convention theme of "Proclaim Him from the Rooftops!" (from Matt. 10:27) that:
encourage district congregations to support — through the LCMS Office of International Mission — "Mission Liberia," a mission project in Liberia, West Africa, that includes plans to build a church and school.
support — and encourage district participation in — a new lay leadership (deacon) program at Concordia University—New York, Bronxville, "as a collaborative means of raising up new lay leaders in service to the church."
encourage the district's new church workers to use the newly established Eastern District Student Academic Indebtedness Assistance program while repaying their student loans. The resolution also asks district congregations and schools to discuss with new workers "their academic indebtedness and their need for reasonable additional assistance above and beyond their compensation."
Delegates also adopted changes to the district's bylaws and regulations of the district that were four years in the making.
Posted June 23, 2015