Life, from beginning to natural end — a 360-degree look — is the focus of the Synod's 2017 Life Conference, Jan. 27-29 at the Westin Arlington Gateway Hotel in Arlington, Va.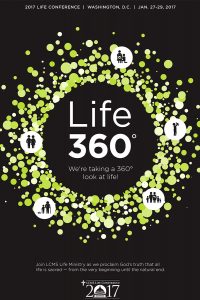 "As Christians, we believe that all life is sacred — from the time of conception to the time of natural death," explains Stephanie Neugebauer, director of LCMS Life and Health Ministries and a planner for the conference. "The 2017 Life Conference will enforce this belief, touching on topics that engage the whole spectrum of human life.
"For Lutherans, especially, life issues are not merely topics for political debates," Neugebauer says. "Rather, life issues are at the core of our church's discussion and are fundamental factors in how we love and serve our neighbor."
Neugebauer encourages those who want to learn more about life issues amid fellowship with fellow LCMS Lutherans to consider attending the conference, held every other year in conjunction with the annual March for Life in Washington, D.C.
Following the conference's opening worship at 9 a.m. on Friday, Jan. 27, participants will travel via the Metro to the march in Washington — the 44th march held to protest the U.S. Supreme Court's Jan. 22, 1973, decision to legalize abortion in all 50 states, through all nine months of pregnancy, for any reason.
After the march, conference-goers will gather for dinner, followed by Evening Vespers.
Conference sessions — which are offered all day Saturday and a half-day on Sunday — include plenary presentations:
Participants also will have opportunities to attend breakout sessions on:
Also leading a breakout session will be Carol Tobias, president of National Right to Life and a member of the LCMS Life Committee.
A Divine Service with Holy Communion is planned for 9 a.m. on Sunday, and a "sending service" will be held as the conference adjourns at 12:30 p.m. that afternoon.
Registration is $275 for adults and $175 for youth (or $300 and $200, respectively, after Dec. 1), and includes two dinners and all breakfasts.
Lodging at the Westin Arlington Gateway Hotel is available for $119 per day, but conference-goers need to make their own reservations by Jan. 6.
For more information or to register, visit lcms.org/lifeconference.
Posted May 6, 2016