The Rev. Dr. Arnold E. Kromphardt, former president of the LCMS Eastern District, died April 23 in New Port Richey, Fla. He was 86.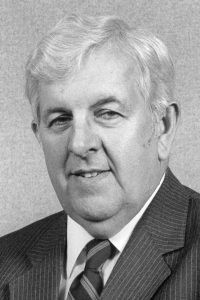 Memorial services are planned for:
Kromphardt served 13 years as Eastern District president, from 1978 to 1991.
A 1955 graduate of Concordia Theological Seminary, then in Springfield, Ill., Kromphardt began his ministry overseas as a missionary at-large for the Evangelical Church of England, serving at St. Timothy's Lutheran Church in Sunderland before returning to the United States to become pastor of Trinity Lutheran Church in Marseilles, Ill. (1957-60), and First Lutheran Church in Sharpsburg, Pa. (1960-68).
Before becoming the district's president, he served 10 years (1968-78) as its executive director of Parish Services.
Eastern District President Rev. Dr. Chris Wicher described Kromphardt as "quite a leader" for the district "and a very wonderful man of God."
The former district president also was "a pioneer of the faith and a strong advocate" of Concordia Lutheran Theological Seminary in St. Catharines, Ontario, Canada, when it began, as well as the Lutheran Laymen's League, an LCMS auxiliary.
Even in his 80s, Kromphardt was "an incredible servant who continued to work on a very high level and an incredible encourager for many of my men still," added Wicher. "He was really quite a man."
Kromphardt is survived by his wife of 60 years, Caroline, three children — Daniel (Barbara) Kromphardt of Tonawanda, N.Y.; Susan (David) Maack of Severn, Md.; and Debra (Will) Keresztes of Buffalo, N.Y. — a twin brother, Wilbur (Carol) Kromphardt; six grandchildren; and a great-grandchild.
In lieu of flowers, memorials to Trinity Lutheran Church, Trinity, Fla., and Lutheran Hour Ministries, St. Louis, are "gratefully appreciated" by the family.
Posted April 26, 2016 / Updated April 29, 2016, with correction: Memorials are requested for Trinity Lutheran Church in Trinity, Fla., not West Seneca, N.Y., as previously reported.