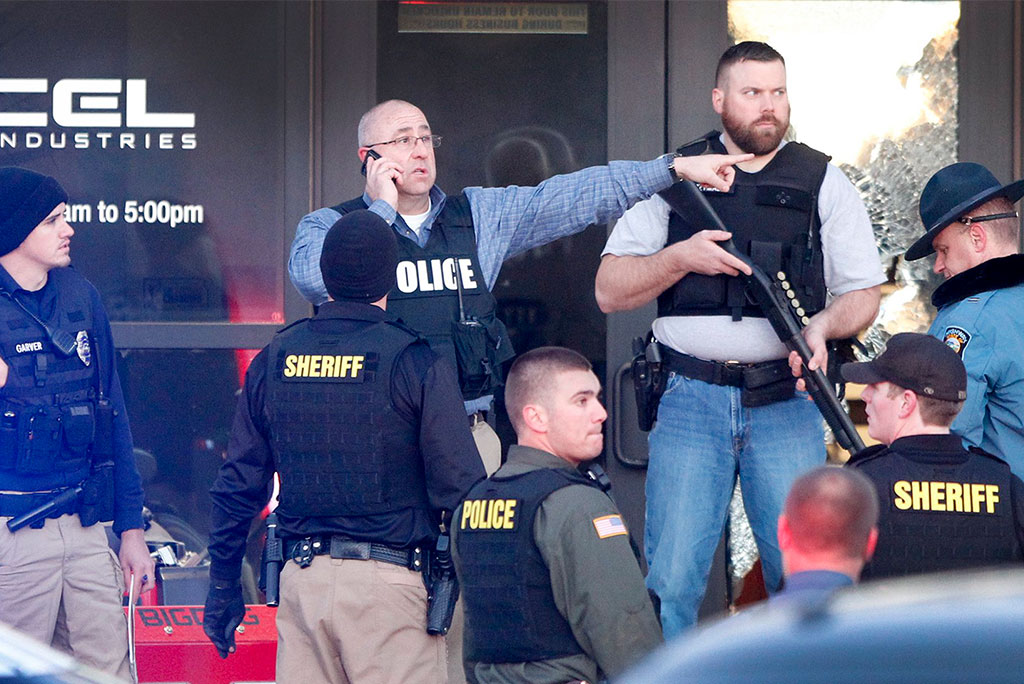 By Megan K. Mertz
A week after a deadly shooting spree in Hesston, Kan., the community is still "really shaken," according to the Rev. Aaron Filipek, pastor of Zion Evangelical Lutheran Church in nearby Newton.
Three people were killed and some 14 others were injured when Cedric Ford, 38, went on a Feb. 25 rampage that started in Newton, where he lived, and ended at his workplace, Excel Industries, several miles away in Hesston. Ford was later killed by a police officer who arrived on the scene.
"People are saying, 'We never thought it could happen here,' " Filipek commented.
Immediately after the tragedy, the pastor contacted his three parishioners who work at Excel Industries, as well as those who have family or friends who do.
The following Sunday, Filipek used the Bible study hour to read Scripture with members and discuss what had happened. He also stayed after worship to listen to and pray with individuals who were still struggling.
The next day, Zion opened up its doors to the community for a prayer service. Filipek estimated that more than 70 people attended — most of whom were not members of the congregation.
"One of the things I said in the sermon was, we'll never make sense of this and your questions will never be answered," Filipek said. "All we have is Jesus and, thanks be to God, that's all we need."
A Hesston coffee shop provided coffee, and the community was invited to stay after the service to chat with each other and several local Lutheran pastors who also attended. Copies of a Portals of Prayer booklet written specifically for those who are trying to make sense of a tragic event — which Filipek received from Concordia Gospel Outreach, a ministry of Concordia Publishing House — were given out to anyone who wanted one.
"A lot of people from the community thanked us for having [the prayer service]," Filipek said. "One of the Excel workers was nervous to go back to work. But I was able to pray with him before the service, and he said he felt at peace. I think it was a good thing to host so that people could at least gather together and hear the Word of God."
"Pastor Filipek has been a great example of a faithful pastor in the midst of tragedy," said the Rev. Ross Johnson, director of LCMS Disaster Response. "He has opened up his congregation to the community to offer something that no one else can give: the peace of the Gospel of Jesus Christ in the brokenness of this world."
In the weeks and months ahead, Filipek plans to follow up with those he met at the prayer service. As victims' expenses become known, Zion and the LCMS Kansas District are considering providing funds to help families with these unexpected costs.
"Pastor Filipek has lifted high the banner of Christ during the past 24 hours as he has counseled many, consulted with colleagues, planned for a richly expanded ministry to his flock on Sunday morning, and organized a Monday evening service for the community at Zion," LCMS Kansas District President Rev. Peter K. Lange wrote in a Feb. 26 email to the district's pastors.
"Please continue to remember the people of Hesston and Newton in your prayers as a new week dawns and they struggle to return to the routines of their vocations."
Megan K. Mertz (megan.mertz@lcms.org) is a staff writer and managing editor of Lutherans Engage the World with LCMS Communications.
Posted March 4, 2016 / Updated March 5 and March 29, 2016