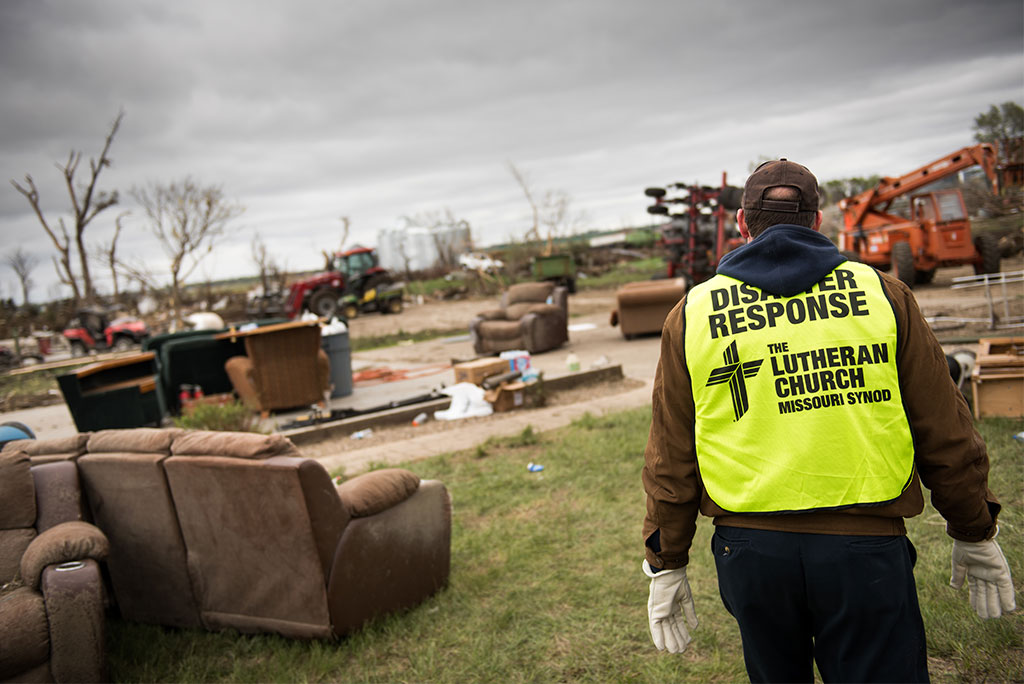 By Kevin Armbrust
The 2016 LCMS Disaster Response Conference — with the theme of "Showing Christ's Mercy; Bringing God's Peace" — drew together some 115 clergy and laypeople to learn, share and network.
Held Oct. 18-20 at Concordia Theological Seminary in Fort Wayne, Ind., the conference focused on disaster response and preparedness for the entire Church.
Topics echoed the needs and requests of LCMS districts, as they have worked to bring God's peace to those suffering in their communities over the past year. Reflecting the broad goal of the conference, more than half of its attendees were laypeople from across the Synod. The 20 speakers represented various areas of expertise and experience.
Rusty Huseman, legal counsel to the LCMS Florida-Georgia District, addressed the conference on the complexities of legal issues surrounding disaster response and recovery.
He said that although he attended many LCMS meetings and conferences before, there was "something different about this conference."
"As I reflect on what I saw and heard," Huseman recalled after the conference, "it was a testimony to how ministry in action is acted out in the lives of those who respond to help those in need, either foreign or domestic. Presenter after presenter showed pictures and videos of them and their teams reaching the lives of those devastated by disasters."
LCMS Disaster Response Director Rev. Ross Johnson emphasized that conference participants learned how mercy work is intrinsic to Lutheran theology. He observed that presentations proclaimed that mercy work is not antithetical to justification by grace through faith, but is its result, as "we love others as God has loved us."
"The renaissance of mercy work started by [LCMS] President [Rev. Dr. Matthew C.] Harrison is bearing fruit today as the LCMS engages in mercy work," Johnson said. "We bring with us the Gospel of Jesus Christ. As we touch people's lives regarding their physical needs, we also proclaim God's love in Christ."
Along with learning about mercy from a theological perspective, this conference also afforded attendees the opportunity to learn from each other through case studies. Presenters shared their past successes and challenges for the benefit of those gathered, with the goal of equipping the Church to better serve whenever a disaster may occur.
Practical how-to presentations melded together theory and real-world experience from those who have been through disasters themselves, as well as those who have worked in disaster relief. Presenters and attendees learned best practices from each other.
"This conference was an opportunity for networking," noted the Rev. Michael Meyer, manager of LCMS Disaster Response.
Meyer said that participants from LCMS districts, congregations, Recognized Service Organizations and outside agencies had numerous opportunities "to get to know each other and to match resources with current and future needs." He added that attendees learned about agencies offering aid in various capacities regarding disaster readiness and response.
Meyer emphasized that disasters can strike anywhere, at any time and in various forms. He said that as a result, this conference was not intended to address only specific types of disasters, such as floods or hurricanes, but to provide adequate information, practical advice and resources so that the people of the LCMS are prepared for whatever may occur.
He recalled that although many participants shared experiences from specific disasters, those experiences were applied to assist in any disaster through a theology of mercy and general practices for providing aid in times of need.
LCMS Disaster Response works to equip the Church — including districts, congregations and individual members — to understand the role of mercy, reflecting God's love in Christ. To that end, it has produced numerous resources to help districts, congregations and individuals prepare for and respond to disasters.
Johnson said that those at this year's conference expressed their enthusiasm for those resources, especially The Lord's Mercy Endures Forever: 40 Daily Devotions of God's Comfort and "Camp Courage," the new vacation Bible school-style program designed to assist congregations to serve children who have been impacted by disasters. He indicated that planning is already underway for the fall 2017 conference.
Find out more about LCMS Disaster Response and its resources at lcms.org/disaster.
Dr. Kevin Armbrust (kevin.armbrust@lcms.org) is manager of Editorial Services with LCMS Communications.
Posted November 4, 2016