By Jeni Miller
Following the directive of the Synod's 2013 convention, the LCMS Commission on Theology and Church Relations (CTCR) is ready to publish a first draft of the revised "Explanation" to Luther's Small Catechism as part of the project to update the 1991 edition of the Catechism Explanation.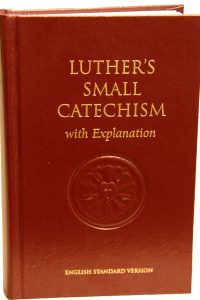 This field-test version of the "Explanation" is set to be published and mailed to all LCMS congregations and rostered church workers by late July, soon after the 2016 Synod convention. "After three years of work, we are happy that a field-test edition of an updated Luther's Small Catechism with Explanation will soon be published," said the Rev. Larry Vogel, associate executive director of the CTCR. "It's been almost 25 years since Synod revised its most important instructional tool." A few noteworthy revisions to the explanation include:
several hundred more biblical references and narratives than the previous volume.
numerous references to the Large Catechism and other writings in The Book of Concord.
solid application that seeks to address contemporary questions and topics.
frequent "apologetic" notes and comments that provide both a scriptural and reason-focused, natural law-based foundation for moral and social teachings.
adaptability for use as a missionary and/or instructional tool, basis for thematic Bible classes, guide for individual or family devotions, and even as a quick reference for sermon preparation.
According to the Rev. Dr. Joel Lehenbauer, executive director of the CTCR and chairman of the Catechism Revision Committee, "Our drafting committee worked with several priorities for the revised draft: (1) build on and be faithful to Luther's foundational work in the Small Catechism; (2) provide strong biblical support, with key verses to be treasured and committed to memory and key biblical narratives to illustrate each catechetical theme; (3) stimulate further exploration of core Christian teaching; (4) offer a flexible tool that can be used by and for adults as well as children; (5) promote and encourage devotional use of the catechism; and (6) be responsive to suggestions made in earlier surveys of the Synod." Since the goal of field-testing for the revised "Explanation" is improvement, recipients will have the opportunity to share reactions, comments and suggestions via a link that will be shared in the cover letter that accompanies the mailing and an e-blast that will be published at the time of the mailing. Reviewers will have until Oct. 31 (Reformation Day), 2016, to share their thoughts on the revised work as a whole, as well as the updates and additions to the sections on each chief part. As church workers and congregations are reviewing, testing and utilizing this revised draft, they're encouraged to consider:
the relevance and clarity of questions and answers.
applicability and value of supporting Scripture references and narratives.
communicability of the language used — its simplicity and clarity.
adequacy regarding contemporary issues and concerns.
"The catechism is perhaps the best example of theology that is both doctrinally faithful and a superb aid in the Church's mission," noted Vogel. "It provides a practical tool for new believers as well as a 'confessional framework' for thinking as a Lutheran Christian." The 2013 LCMS convention adopted Resolution 3-13A "To Update Synod's Catechetical Materials." Only the "Explanation" was to be revised, not the actual Small Catechism itself, in order to address new questions and circumstances, taking into account responses to a series of earlier surveys that solicited input on the 1991 "Explanation" and suggestions for improvement. As noted in Lehenbauer's preface to the field-test draft, "After final revisions, the "Explanation" will go through doctrinal review. It is our prayer that the completed revision will then be published in the [Reformation's] 500th anniversary year of 2017." Deaconess Jeni Miller (jenikaiser@aol.com) is a freelance writer and member of Lutheran Church of the Ascension in Atlanta. Posted June 30, 2016