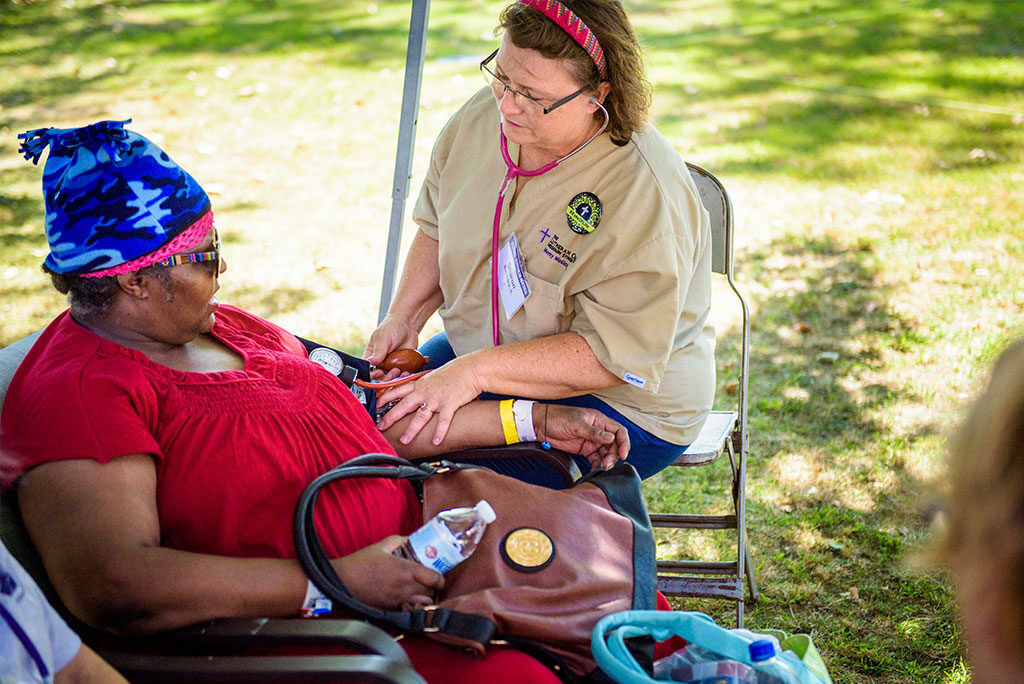 By Megan K. Mertz
A six-member LCMS Mercy Medical Team (MMT) was in Philadelphia Aug. 26-27 to hold a community health fair at Shepherd of the City Lutheran Church. The trip was the first of its kind for the MMT program, which had previously only sent teams to international locations.
Team members served alongside the Rev. Adam and Deaconess Melissa DeGroot, national missionaries to inner-city Philadelphia through the LCMS Office of National Mission's Mission Field: USA initiative.
"When the Office of National Mission began to place domestic missionaries, it became possible to send Mercy Medical Teams domestically for the first time," said Tracy Quaethem, manager of short-term mission teams for the LCMS. "So this seemed like a great opportunity to bring the same mercy we bring to our brothers and sisters around the world to those here at home."
During the health fair, team members took blood pressures, answered health-related questions and played with children from the community. An inflatable waterslide and a face-painting station were highlights for the neighborhood children, some of whom returned later with their parents.
According to U.S. Census Bureau estimates, almost 40 percent of people in the church's ZIP code speak a language other than English at home.
On the first day of the health fair, a woman who only spoke Hindi came to have her blood pressure checked. MMT members tried — somewhat unsuccessfully — to use an online translation tool to let her know that her results were normal.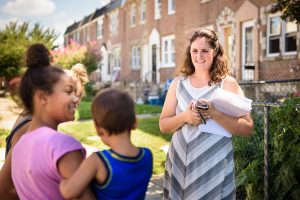 Deaconess Melissa DeGroot also went out into the community to knock on doors and extend personal invitations to neighbors to come for free screenings and free food.
"Because this area of Philadelphia is so diverse and densely populated, to be involved in the community's well-being can seem like a massive undertaking," DeGroot said.
"But I am delighted to say that I met at least 20 new children who live in our neighborhood, and we got to know our fire department and district police officers who came out to support us," she continued. "Since the health fair, one family has returned to church twice, and people we recognize on the sidewalks have come in for Divine Service! That is pure joy, and all thanks be to God!"
When the DeGroots came to Shepherd of the City in 2014, the church only had three members. But through these one-on-one connections, the church now has 12 members, and the DeGroots are working to draw in even more.
"People want to see consistency," said Adam DeGroot, "and we're in a unique position to give them something that's been consistent for thousands of years: the Gospel of our Lord, Jesus Christ.
"On the community level, [an event like this] is very helpful because they see that we're here, we're consistent, we're stable, we're going to be here for a long time, but also that we have resources to bring to bear in a neighborhood where the resources just don't exist," he continued. "For the congregation, they see that there are Lutherans that exist outside of Philadelphia."
Megan K. Mertz (megan.mertz@lcms.org) is a staff writer and managing editor of Lutherans Engage the World with LCMS Communications.
Posted October 4, 2016