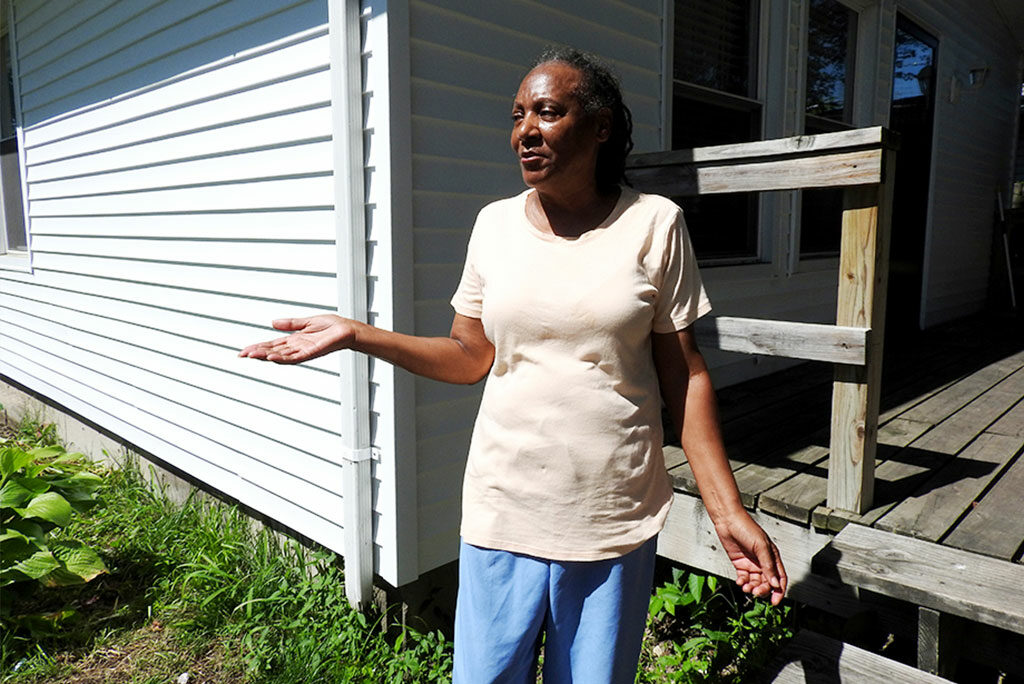 By Kim Plummer Krull
EAST ST. LOUIS, Ill. — The mid-morning summer sun had already seared the battered pavement when Lorraine Evans walked down the middle of 40th Street and asked about the men doing repair work at a nearby house.
"I just want to say 'thanks,' show my appreciation," Evans said on learning that the men were with Laborers For Christ — the Lutheran Church Extension Fund (LCEF) ministry working for Unity Lutheran Church and LCMS National Housing Support Corporation (Lutheran Housing Support).
Evans, who grew up here and was in the neighborhood visiting her daughter, flashed a smile when she recognized the name of the church a few blocks over.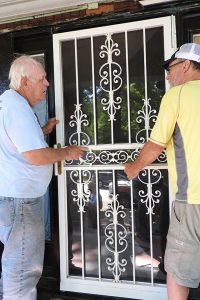 "What a great idea!" she said.
'Doing it for God'
When Ken Wilbur told his pastor in Nokomis, Ill., he would be working several weeks in East St. Louis, the pastor responded with a half-laugh and a "We may never see you again!"
But the reputation of a city known all too well for violence and crime didn't faze Wilbur and fellow Laborers who have been replacing windows, installing doors, painting and caulking here since early May.
"We're doing it for God. You don't have to be inside a church to work for God," said Wilbur, serving as project manager as nine homes get what Lutheran Housing Support calls critical repairs through its Helping Hand Initiative.
Funded by a grant to Lutheran Housing Support from the Lutheran Women's Missionary League, Helping Hand provides resources to congregations and their community partners to assist low-income, disabled or elderly homeowners.
Trinity Lutheran Church, Fremont, Neb., also received Helping Hand funds for repairs underway this summer at two homes near the church's downtown childcare center.
'Blessing and a half!'
When Laborers arrived at the first house in East St. Louis, the homeowner began to cry.
"She was so happy to see us," Wilbur said of the woman who is raising her young grandson, a student at Unity Lutheran School.
As they work, Laborers get to know the homeowners — including this grandmother who volunteers at the Unity school lunch program and is a waitress who shares her home with four children (in their teens and up) and her uncle, a Vietnam veteran with disabilities.
Laborers removed rotting fixtures and added siding to the home of Betty Harris, a longtime resident of this largely African-American community. More than a third of the households fall below the poverty level, according to Lutheran Housing Support.
Harris "couldn't get over it" when she learned about Helping Hand from the Rev. Dr. Willie Stallworth, Unity Lutheran's pastor — an opportunity she calls "a blessing and a half!"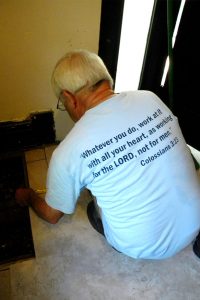 Mission opportunities at home    
From the application process through the actual repairs, Stallworth continues to share the initiative's Gospel message. Homeowners know this work is the Lord's work, he says, made possible "through a blessing that's a gift from God."
"We truly do have mission-and-ministry opportunities right here in North America," said Stallworth, who also serves as president of the Lansdowne Community Initiative, a community-development group founded by Unity that also is a Helping Hand partner.
Stallworth frequently visits the homes where Laborers are at work. He ensured that each homeowner met Helping Hand requirements, including up-to-date property taxes and homeowners insurance.
Participants also are expected to take part in financial-education programs to be hosted this summer at Unity.
That educational component plus the collaboration of faith-based partners sets this initiative apart from other nonprofit home-renovation programs, says the Rev. John M. Albers, Lutheran Housing Support director of Resource Development.
Helping Hand gives "God's people in Christ a practical and enduring means to demonstrate God's love through acts of mercy, while strengthening their neighborhoods in the process," Albers said of the initiative, begun in 2014 in Fort Wayne, Ind., with home repairs and a renovation in partnership with Emmanuel Lutheran Church and Laborers For Christ.
Remembering neighbors in Nebraska
In Fremont, volunteers from Trinity Lutheran Church and the local Rebuilding Together affiliate are devoting Saturday mornings to repairs for two elderly homeowners. Before removing a rotten deck and replacing a non-functioning door, they built a wheelchair ramp so one woman could bring her husband home from a nursing facility.
The Rev. Dr. David Coe, Trinity's associate pastor, appreciates Lutheran Housing Support for the opportunity to care for the elderly in ways that help them to remain in their homes — an opportunity he calls "one of the top five acts of mercy that we do as a church in the next five decades."
Although Trinity's church and school moved to eastern Fremont, the childcare center remains downtown. These two homeowners are longtime neighbors. One woman once worked at the center and now cares for two adult sons with mental challenges.
"This is an awesome way for us to give back, to not forget about our neighbors," Coe said of the home repairs which, like the Helping Hand work in East St. Louis, was expected to be finished by late June.
Laborers for the Lord
It's not yet noon, but Bob Bohnhoff is sweating through the words printed on his Laborers For Christ T-shirt: "Whatever you do, work at it with all your heart, as working for the Lord, not for men" (Col. 3:23).
A retired real-estate appraiser from Dieterich, Ill., he joined Laborers For Christ in 2011 as a way "to do something constructive and beneficial."
Each day starts with prayer and devotions for these men, who range in age from 56 to 82.
As they work, they often get questions from neighbors and passersby about what they're doing. And if someone asks why, they have no trouble answering.
"This is our way to serve the Lord," said Ron Horstmann, who treks here five days a week from Fenton, Mo. "He knows our influence on those we serve."
Kim Plummer Krull (kimkrull@sbcglobal.net) is a freelance writer and a member of St. Paul's Lutheran Church, Des Peres, Mo.
Posted July 6, 2016