Registration is open for the three 2016 Higher Things youth conferences.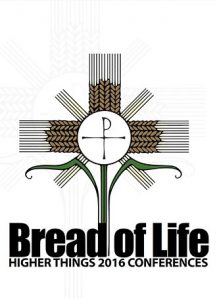 Online registration for the conferences with "Bread of Life" as their common theme is at breadoflife2016.org.
Also with similar programming, those conferences are scheduled for:
June 28–July 1 at Vanderbilt University in Nashville, Tenn.;
July 5-8 at the University of Northern Iowa, Cedar Falls, Iowa; and
July 26-29 at Colorado State University, Fort Collins, Colo.
The conference theme is based on the words of Jesus in John 6:35: "I am the bread of life; whoever comes to me shall not hunger, and whoever believes in me shall never thirst."
"It's all about Jesus being the Bread of Life," said Higher Things Conference Executive Sandra Ostapowich. "We'll look at how our fathers ate the manna in the wilderness and they died. And yet, believing in His words and promises, and receiving His body and blood, we will live forever."
The registration capacity for each of the three sites is 1,000 attendees.
The all-inclusive early-bird registration rate of $355 per person is in effect through Jan. 31. Registration will then increase to $385 per person through April 30.
These rates include all conference programming and materials, three nights of on-campus housing and nine meals (Tuesday dinner through Friday lunch). All three conferences will include specific times for worship, large- and small-group teaching sessions and free time.
"Higher Things is not only teaching young people solid Lutheran doctrine, but is helping them and the adults who care for them apply it to deal head-on with the hard, real-world issues that kids are facing in their lives," Ostapowich said.
The Nashville conference will be deaf-friendly, with interpreters available.
An LCMS Recognized Service Organization, Higher Things has held 31 youth conferences since its beginnings in 2000, including a previous conference at the Nashville location and one in Colorado. This will be the first time Higher Things has held a conference in Iowa.
See a Reporter Online story about the 2015 conferences, including impressions of the young participants: "Higher Things conferences draw 2,400-plus."
A news release from Higher Things notes that its mission is "to assist parents, congregations and pastors in cultivating, encouraging and promoting a distinctly Lutheran identity among youth and young adults."
For more information about Higher Things, visit its website.
Posted Jan. 1, 2016