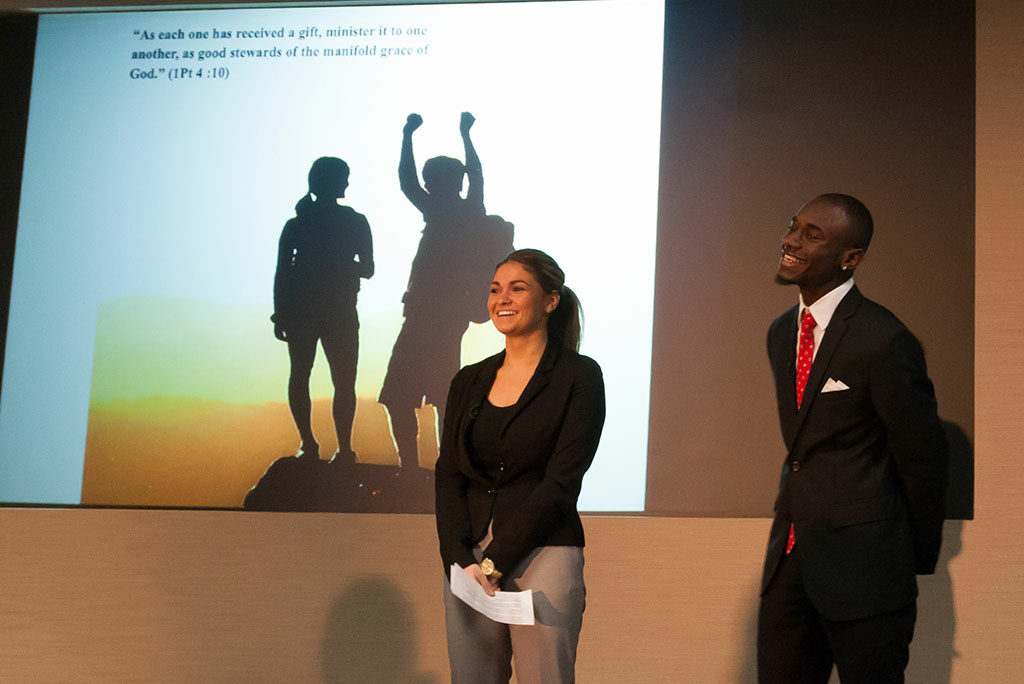 By Kim Plummer Krull
Lutheran Church Extension Fund's (LCEF) National Student Marketing Competition has intensified over the years, with more Concordia University System (CUS) schools sending highly motivated teams to face increasingly demanding judges.
So perhaps it's no surprise that this year's champs — from Concordia University Texas, Austin — donned capes and pitched an "LCEF Superhero Challenge" for congregations as part of their winning presentation.
"It's a lot of work, but worth the experience," said Ryan Bertsch, a Concordia Texas senior, taking part in his second LCEF marketing competition, April 15 at the LCMS International Center in St. Louis. "The more experience, the better!"
Bertsch and teammates Felicite Harrison, Daniel Huggett and Jacqueline Knell earned first place for their multi-faceted marketing plan, the result of nearly a semester of research, brainstorming and creating everything from print ads to mobile phone apps for this year's challenge — to inspire ministry leaders, promote new LCEF loan opportunities and increase awareness of the LCMS financial partner.
Concordia College—New York, Bronxville, earned second place and Concordia University, St. Paul, Minn. — last year's champion — captured third. For this fifth annual event, nine CUS schools participated, one mark of how the competition has grown from its inaugural year with four teams.
Other participants were: Concordia University, Ann Arbor, Mich.; Concordia University Chicago, River Forest, Ill.; Concordia University Irvine, Calif.; Concordia University, Nebraska, Seward; Concordia University Portland, Portland, Ore.; and Concordia University Wisconsin, Mequon, Wis.
(For more photos of the competition, visit lcef.org/nsmc.)
Real-world experience
"It's a great learning experience, for the students and for me as a professor," said Daniel Stiller, Concordia University Chicago assistant professor of marketing, who served as a faculty adviser. "The students get the opportunity to really apply what they're learning to real-world experience."
In his welcome, LCEF President/CEO Richard C. Robertson told students they "can't imagine how much [from their campaigns] has been used over the years" by LCEF.
"As a staff, we become re-invigorated about the possibilities of what we can do to support LCMS ministries," said Robertson, who mingled throughout the day with students who came from coast to coast and around the world, including from Jamaica, Ukraine and Germany.
"It's such an honor to provide students an opportunity and forum to be entrepreneurial. Based on what we witnessed again this year, we are reminded of the value of the Concordia University System to the LCMS and the outstanding leaders they are developing."
Scripture-inspired ideas
Throughout the competition day, students delivered 20-minute presentations spotlighting creative ways for LCEF to market its partnership capabilities. Though a business-based assignment, students incorporated Scripture in their presentations. The Concordia Nebraska team even built its campaign on the Bible's Nehemiah.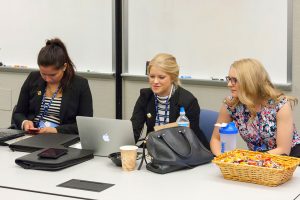 "When we decided to put a biblical character into it, we knew we would have to look at who that character was and study Scripture. What started out as a marketing project turned somewhat into an effort to serve the Kingdom of God," said Jon Bartels, whose group emphasized relationship-building opportunities.
Among those in the audience was Tyler Fewins, returning to the competition but in a different role from 2014 when was a student on the Concordia Irvine team.
That team earned second place with its campaign to boost Lutheran school enrollments and LCEF awareness — research and ideas that so impressed Pacific Southwest District leaders that they shared them with Lutheran schools and ultimately offered Fewins a job.
"It was a God thing," said Fewins, who joined the district's School Ministries staff after graduation. He now works as assistant vice-president to LCEF District Vice President Gary Spencer, helping support and strengthen that district's 300 congregations and 170 schools.
Concordia Irvine marketing professor Carolyn Shiery — who has had a team in each of the five competitions — says over the years, she has seen "seeds planted" in students who have "grown in confidence for the corporate world" and who also have grown in faith.
"Tyler is a wonderful Christian young man who articulated his passion [through the competition] and is now living his passion in ministry," she said. "Where else does that happen?"
Judges challenged, too
Like other competition veterans, Concordia Wisconsin's Dr. Jane Bishop noted that the contest has "ratcheted up" since its debut in 2012.
"Each year the students seem to come even better prepared," said Bishop, associate professor of business and serving her fourth stint as a faculty adviser.
Accordingly, this year's judges included a panel of LCMS marketing and communications leaders as well as John Simanowitz, founder and CEO of St. Louis' largest privately held Web agency Integrity, and Thomas Hof, executive vice-president and chief lending officer at UMB Bank in St. Louis.
"You made our job difficult with the quality of what you delivered," said Becca Jones, LCEF senior vice-president of Marketing and Customer Support, announcing the winners at an evening awards banquet.
The second-place Concordia New York team included Ovan Oakley, Jenny Martin, Joanna Albanese, Valeriia Cheban and Elizabeth Vos.
The third-place Concordia St. Paul team was Alexandra Van Guilder, Jordyn Joens, Rebecca Rust, Nicole Mansur and Lydia Hook.
The teams each earned a cash prize, ranging from the $5,000 first-place award to $750 participation awards.
Whether or not they were among the winners, students seemed to agree with Concordia Nebraska's Jon Bartels when he said the competition sparked "some big blessings."
Kim Plummer Krull (kimkrull@sbcglobal.net) is a freelance writer and a member of St. Paul's Lutheran Church, Des Peres, Mo.
Posted April 21, 2016