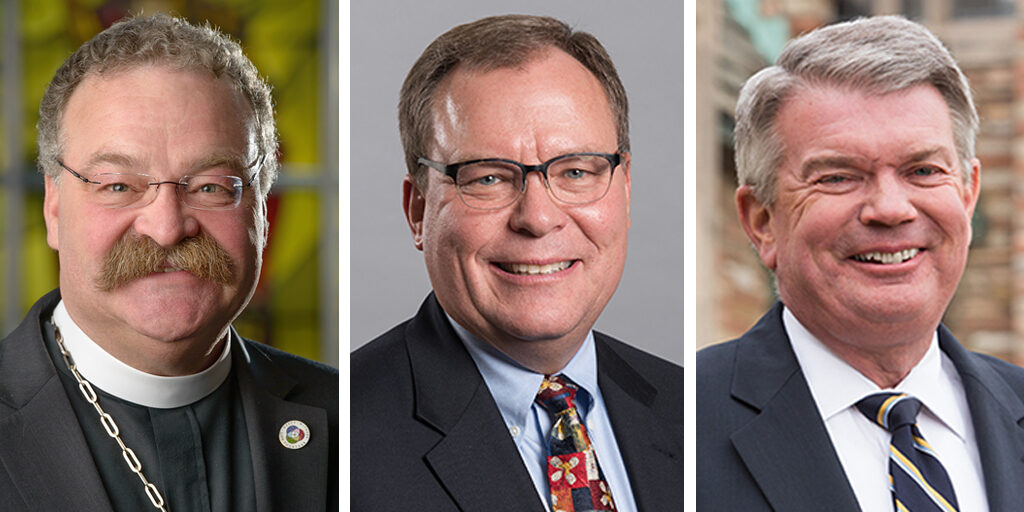 The three nominees for election as president of The Lutheran Church—Missouri Synod for the next three years have answered nine questions posed by Synod Facebook followers.
Those questions and answers are now available in PDF form for readers at the LCMS Convention Web page.
Also in the PDF documents are "personal statements" the nominees submitted earlier this year, as well as biographical information on each of them.
The three nominees are current Synod President Rev. Dr. Matthew C. Harrison; LCMS Michigan District President Rev. Dr. David P.E. Maier; and the Rev. Dr. Dale A. Meyer, president of Concordia Seminary, St. Louis.
Reporter and The Lutheran Witness — the Synod's two official periodicals — also will include this material in their upcoming editions (June for Reporter and June/July for the Witness) on these LCMS clergymen who received the most nominations from congregations for election as president. Editors of the official periodicals selected the nine questions that were among those most commonly posed by the Facebook followers.
The election for president will occur via the Internet June 11-14. Those voting will be each LCMS congregation's two voting delegates to its 2015 district convention. If no candidate receives a majority of the votes cast, the name of the candidate with the least number of votes will be dropped from the ballot and a second vote will take place about a week later.
At least two weeks before the start of the July 9-14 Synod convention in Milwaukee, LCMS Secretary Rev. Dr. Raymond L. Hartwig will share the results of the presidential election with the candidates and then with the public. Those results will be covered shortly thereafter in a Reporter Online story and in the July print Reporter.
Posted May 17, 2016