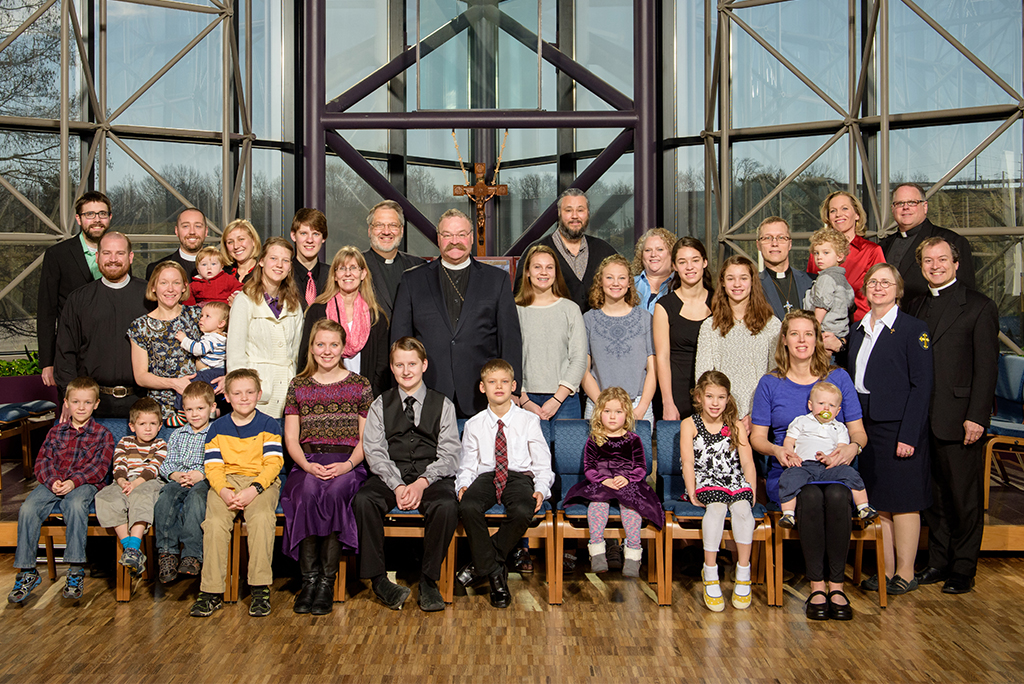 By Paula Schlueter Ross
Ten new missionaries — along with their seven spouses and 19 children — began a two-week orientation Feb. 29 at the LCMS International Center in St. Louis.
The missionaries — nine career and one "GEO" — were recently called by the Synod's Office of International Mission (OIM) to serve in the Czech Republic, Dominican Republic, Panama, Peru, South Korea and East Africa. GEO, "Globally Engaged in Outreach," missionaries serve shorter terms than their career counterparts, typically two years.
In his morning chapel sermon on the orientation's opening day, OIM Associate Executive Director Rev. Dr. Edward Grimenstein called Christ's suffering and death "the greatest act of love ever shown" and, in reference to 1 Peter 4, urged worshipers to "arm yourselves with the same way of thinking."
Grimenstein noted that all Christians "are called to be like Christ in showing hospitality, in providing service and by actively loving others in the way that Christ loved us," but acknowledged that missionaries in foreign lands face "unique challenges and spiritual tests."
"You missionaries are not going out there alone — you go out as Christ," he said, and he encouraged them to follow Martin Luther's practice of starting each new day by making the sign of the cross to "remind ourselves … as we step out of our beds, that we are God's children," that we are "different people, a people who walk in Christ, a people who move in Christ, a people who speak Christ."
OIM Associate Executive Director Rev. Dan McMiller, who oversees recruitment and regional operations, described the orientation as the missionaries' "first lengthy face-to-face meeting with the Office of International Mission" and "their supervisors in the field," OIM's regional directors.
It's "very important," he said, because sessions focus on practical topics such as health care, cultural adaptation, missiology, church relations, communications, photography and developing a network of support.
"They learn some do's and don'ts about being a missionary and how to represent their church well on the field," added McMiller, who served 14 years as a missionary in Latin America. It's "a time for them to establish their first bond with fellow missionaries" and "hear from experienced missionaries" about "what their transition was like." The orientation also is "a very spiritual time," he said, with daily opening and closing devotions as well as worship in the International Center (IC) chapel.
McMiller says he's "never heard anybody at the close of the two weeks say this wasn't a good experience. Ever." Missionary orientations are always, he adds, "very, very positive."
A "Sending Service" for the missionaries and their families — at 2 p.m. Friday, March 11, in the IC chapel — is open to the public, with a reception to follow.
A second two-week orientation for another group of new missionaries is planned for June 13-24, also at the IC.
For more information about missionary opportunities, visit lcms.org/missionaries or contact McMiller at 314-996-1341 or dan.mcmiller@lcms.org.
Posted March 1, 2016