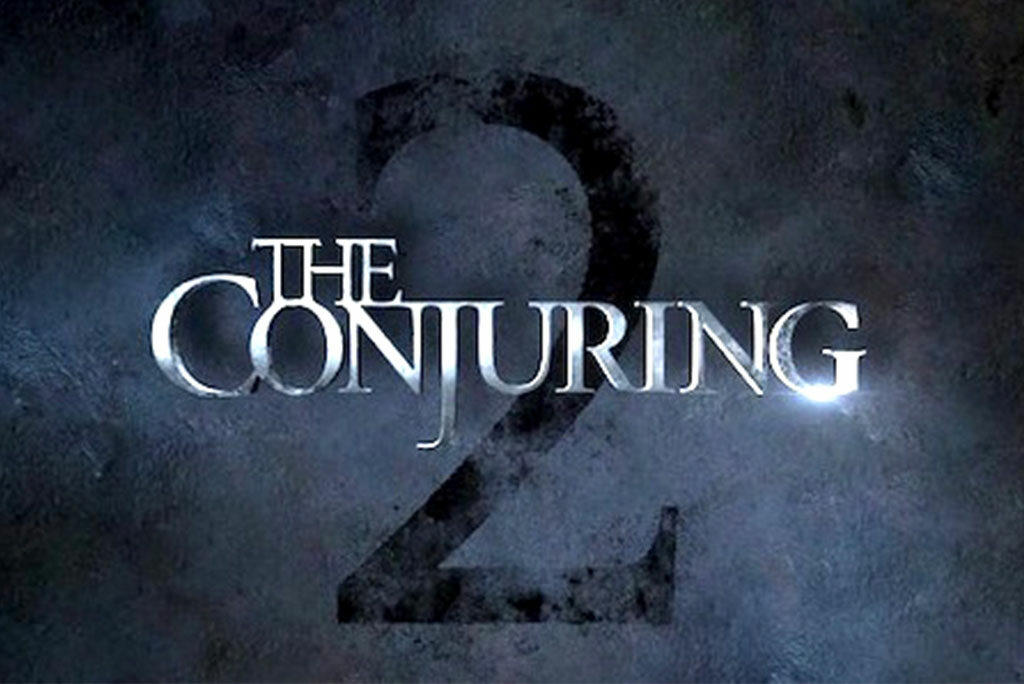 (Rated 14A [Canada] and R [MPAA] for terror and horror violence; directed by James Wan; stars Patrick Wilson, Vera Farmiga, Madison Wolfe, Frances O'Connor, Simon McBurney, Franka Potente, Bob Adrian, Bonnie Aarons, Lauren Esposito, Benjamin Haigh, Patrick McAuley, Maria Doyle Kennedy and Simon Delaney; run time: 134 min.) 
A scary religion roller coaster
By Ted Giese
Horror films are not for everyone and neither are roller coasters. A "good" horror film is like a good roller coaster, with twists and turns and loops in just the right spots. With "The Conjuring 2," James Wan has constructed a roller coaster of a film, with pacing that provides a scare in almost every scene. However, be careful not to get caught up in the film's claim to be "based on a true story."
In this installment, Ed and Lorraine Warren (Patrick Wilson and Vera Farmiga) are called into action by a representative of the Roman Catholic Church to investigate claims of paranormal activities swirling around the Hodgson family home in Enfield, U.K. Set in 1977, "The Conjuring 2" opens with scenes depicting the Warrens' investigation in Amityville, N.Y. (an investigation that brought them their initial notoriety), and as the film unfolds it becomes apparent the Warrens have some paranormal baggage of their own. The writers of the film carefully weave the Warrens' story into the Enfield poltergeist-investigation story.
Viewers with an interest in the topic who are looking for more than the cheap and easy bumps and scares of a carnival roller coaster ride will want to note that in reality Ed and Lorraine Warren had practically nothing to do with the Hodgson family or the investigation of the claims of harassing and malevolent supernatural activity at their house. In fact, real-life Society for Psychical Research investigator Guy Lyon Playfair only remembered them being at the Hodgson home for a day or two, and during that time Ed Warren had offered to help him make a lot of money off of the investigation — an offer Playfair declined. Over and over, the accusation emerges that the real-life Warrens were opportunistic and exploitative of the people they encountered and the paranormal investigations they were involved in. Keep this in mind as both "The Conjuring" and "The Conjuring 2" present Ed and Lorraine Warren as super-sincere individuals willing to risk their lives for others. Sharp audiences will need to account for the disconnect between the way in which these films depict this notorious couple and the real-life, behind-the-scenes reports of their motivations and activities.
"The Conjuring 2," then, is a highly fictionalized presentation of events. Yes, Peggy Hodgson (Frances O'Connor) and her four children lived in Enfield; yes, an eyewitness report was filed by local police about mysterious moving furniture in the home; yes, in 1977 the Society for Psychical Research really investigated their claims; and yes, Ed and Lorraine Warren were real people, but so was Abraham Lincoln and yet films like "Abraham Lincoln: Vampire Hunter" (2012) crop up from time to time and it's safe to say Lincoln didn't spend his free time fighting vampires with a silver ax. There are people who will embrace every aspect of this film; however, keep in mind that these films by James Wan — "The Conjuring" (2013), "Annabelle" (2014) and "The Conjuring 2" — are not documentaries but finely-crafted, manipulative roller-coaster rides intended to make audiences jump out of or squirm in their seats.
The haunting-poltergeist demonic possession depicted in the film centers on 11-year-old Janet Hodgson (Madison Wolfe). After she and older sister Margaret (Lauren Esposito), who share a room, ask questions of the spirits using a handmade Ouija board, Janet begins hearing noises in the night and begins sleepwalking and holding conversations while asleep with something in the shadows. Margaret witnesses some of these things. Eventually inanimate objects start moving around the house and Janet, with an uncharacteristically low gravelly voice, introduces the ghost of Bill Wilkins (Bob Adrian), a former resident of the house who'd died sitting in a chair in the front room — an historical detail it is supposed Janet couldn't have known. Add to the creepy factor that the chair in which Mr. Wilkins died came with the house, and the stage is set for all the thrills and chills that come with this sort of film. Soon toys come to life, children are levitating, and everyone is running and screaming over to the neighbor's house (Maria Doyle Kennedy, Simon Delaney) for safety.
As with the Perron family in "The Conjuring" (2013), the Hodgson family in "The Conjuring 2" is not portrayed as particularly religious; there are no mealtime prayers or other daily prayers, they don't attend church services and they treat things like crosses — given by well-meaning neighbors for superstitious reasons — simply hoping that putting them up on the wall in the girls' room would help their cause. While Lorraine Warren is shown reading her Bible and Ed is frequently shown with a small necklace crucifix that he wears and pulls out for protection at times, generally the Warrens come off as more superstitious than religious. This is a big tip-off as to how the film portrays Christianity.
By using the horror-film convention of subverting the familiar to create unease, Wan tweaks almost everything to do with historic Christianity to make it potentially creepy to his audience. For example, he uses what should be happy Christmas carols during ominous moments, juxtaposing these elements to ramp up dissonant tension in key scenes. He even incorporates a demon dressed as a Catholic nun (Bonnie Aarons) throughout the film. This is rather low-hanging fruit, as the trope of the scary nun has been around for a long time.
From a Christian perspective, these things could be forgiven had the film presented the true Christian message as applicable to the supernatural world and life after death. And because the Warrens are specifically portrayed as devout Roman Catholics who could share their faith with the people they are helping, there is a small amount of anticipation that a presentation of the true Christian message could happen. It doesn't. So, what viewers are left with is Christianity used for effect and not for substance. This isn't to say that questions revolving around the topic of the supernatural world and life after death aren't a key part of the film; rather, it is to say that Christian substance isn't brought to bear on the question.
At one point there is a natural spot where Lorraine Warren could have shared her faith with Society for Psychical Research investigator Maurice Grosse (Simon McBurney). Grosse is presented as a genuine individual who cares a great deal for the Hodgson family and desperately wants proof of life after death. In the film, as in real life, Grosse was grieving the loss of his daughter and his involvement in paranormal investigation was grounded in his hope for proof that her disembodied spirit could have carried on after her death. Lorraine Warren could have mentioned the resurrection of Jesus as better evidence of life after death than anything they could have collected on tape recordings of alleged demonic possession. At another point, Ed Warren gives his prized crucifix necklace to the young girl, Janet, but does so in a way that turns the crucifix into a lucky charm. When he gives it to her he could have said something as simple as, "Do you know who this is? It's Jesus. He's already defeated the devil and death. Trust in Him."
In "The Conjuring" (2013), the Warrens asked the Perron family if their children were baptized. In "The Conjuring 2," no such question is asked. This is a significant omission since in times of spiritual struggle Christians are to remember their Baptism. In the Small Catechism, Luther encourages the baptized to remember their Baptism every day by making the sign of the cross and saying, "In the name of the Father, and of the Son, and of the Holy Spirit." While the triune name of God is invoked by the Warrens in the film, it is portrayed as more superstitious than religious. Movies like these are often not interested in the substance of Christian theology, opting instead for an unsophisticated presentation of the Christian faith, and "The Conjuring 2" is no exception.
This isn't to say, however, that the film as a whole is unsophisticated. Wan does an admirable and sophisticated job of encouraging the audience to embrace Ed and Lorraine Warren's story by portraying them as heartfelt, genuine characters, while cleverly weaving a romantic storyline for them. Early in the film, with their credibility poked at by sceptics, they are presented as underdogs. And of course everyone wants to see the underdog succeed and true love to flourish.
Wan even uses a common romantic-comedy trope/cliché in the film. In romantic comedies there is usually a moment about 25 minutes before the end of the film where everything is going great and then the relationship stalls and breaks up over a misunderstanding. Then, after a small epiphany, the couple comes back together and makes their grand declarations of love. Something similar happens in "The Conjuring 2." Imagine the young girl, Janet, and the Hodgson family as the well-meaning-but-boneheaded man in a "rom-com" and the Warrens as the lovable woman who realizes it was all just a misunderstanding. After clearing the hurdle, the film is free to come to its conclusion. This sophisticated and manipulative move by Wan is important to note because it's used to soothe the viewer alongside all the jumps and scares, reinforcing positive feelings that can migrate to the topic at hand: a robust belief in ghosts, hauntings and the paranormal. Also, filmmaker Wan has a vested interest in retaining and building an appetite for future installments in "The Conjuring" series and for spin-off sequels like "Annabelle 2" (2017), as well as for his "Insidious" (2011, 2013, 2015, 2017) film franchise. And while Scripture includes various accounts of supernatural activity that the Christian will confess to be true, these films by James Wan tend to be more interested in the art of the fright and scaring up financial returns than they are in presenting the truth.
When standing in line for a roller coaster, people know they are about to get manipulated into moments of terror and fright. Yet there they are, standing in line, and while there are always some who have been pressured into going on the ride, they eventually realize roller coasters just aren't for them. Movies like "The Conjuring 2" are just like a roller coaster and will be best enjoyed by those who enjoy a good scare-induced jump. Don't, however, expect that "The Conjuring 2" has anything profound to add to the exploration or understanding of Christianity. The Christian faith is about as integral to this film as the "theme" of a roller coaster is to the roller coaster itself — it's more of an excuse for the ride.
The Rev. Ted Giese (pastorted@sasktel.net) is associate pastor of Mount Olive Lutheran Church, Regina, Saskatchewan, Canada; a contributor to the Canadian Lutheran, Reporter Online and KFUO.org; and movie reviewer for the "Issues, Etc." radio program. Follow Pastor Giese on Twitter @RevTedGiese.
Posted June 17, 2016