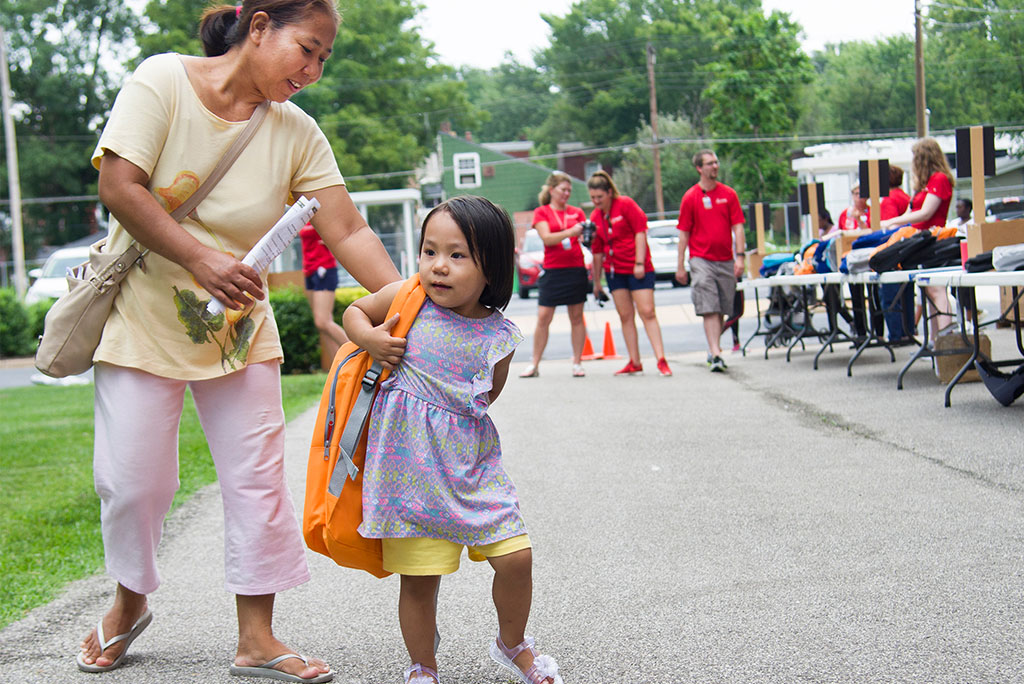 By Frank Kohn
Recalling the first time she went to Concordia Publishing House's "Operation F.U.N.," Valerie Burks of South St. Louis figured it was important to arrive early for the annual event held this year on Aug. 3.
A highlight of the event is the free backpacks CPH gives to children who are about to begin a new school year, and Burks was part of the enormous turnout last year when CPH ran out of backpacks — about 800 — in just two hours.
Burks, her grandson Jonathan Robinson, 6, and foster-child Honestee Johnson, 5, were in a long line that gathered at CPH an hour before the gates opened, just to make sure the children would receive the needed backpacks. Providing even basic necessities can be challenging, which makes Operation F.U.N. (For a United Neighborhood) particularly meaningful for Burks and others.
"Living on a fixed income, being able to supply the kids with everything they need, isn't easy," Burks said. "And now they need uniforms, shoes, supplies — it can get very expensive. We're very appreciative [CPH has] been able to provide this for us. Every little bit helps."
Operation F.U.N. is simply a labor of love for CPH, an opportunity to give back to its community — a very diverse, lower- to middle-class area. The event started in 1995 as a Saturday-morning picnic with crafts and games for the children. But in 2009, CPH decided to turn it into something that would help its neighbors meet a need, and backpacks and school supplies seemed to fit the bill.
"We saw the need when the market crashed in 2008; that's really when this went into effect," said Dana Neuhaus, CPH's director of Human Resources. "Part of our mission is giving back to the community. That's the big thing — to show our support."
The event is staffed by CPH employees, who volunteer their time by doing things such as filling the backpacks with supplies and a CPH book. They also donate the supplies, as does CPH, while some of the publisher's suppliers also kick in contributions.
"When you're in a community like this for 150 years … this building was here when there were dirt streets," said Bruce Kintz, CPH president and CEO. "It is always good, right and salutary to give back to the community, and the children of the community love this event. We do, too."
There's much to keep children happy. Along with backpacks offered in a variety of colors, St. Louis Police Department officers are present, either on horses or with a squad car in which children are invited to sit and operate the siren. This year, children got to meet and pet area Lutheran Church Charities K9 comfort dogs. CPH also provides a traditional picnic meal of hot dogs and chips.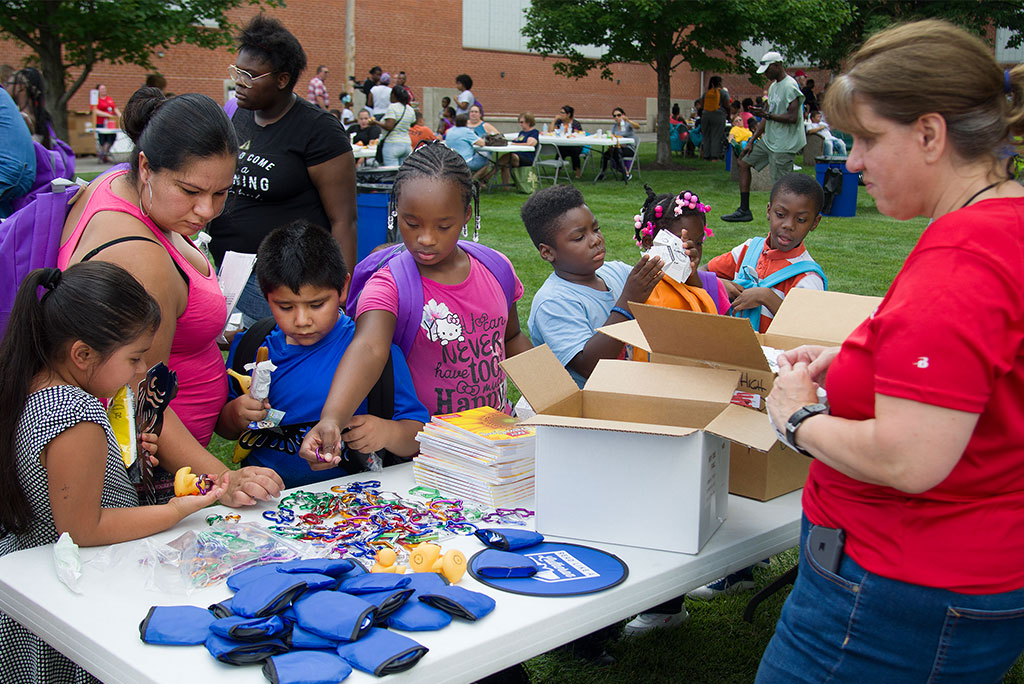 The children's parents have opportunities to speak to representatives from various organizations that can help with health and nutrition and after-school activities. St. Louis Public Library staff, for example, provided information about library programs and services.
"It's really a positive environment for the neighborhood," said Jonathan Schultz, CPH vice-president and corporate counsel. "Especially in this community — it doesn't escape poverty around here and there's a lot of people who need help. It's our opportunity to show the love of Christ to our neighbors."
When children received their backpacks from CPH employees, many parents and guardians had to remind them, "What do you say?"
But as Schultz said, "Seeing the smiles on the kids' faces when they get their backpacks, that's all the thanks we need."
Frank Kohn (frank.kohn@lcms.org) is a graphic designer, copy editor and photographer for LCMS communications.
Posted Sept. 7, 2017