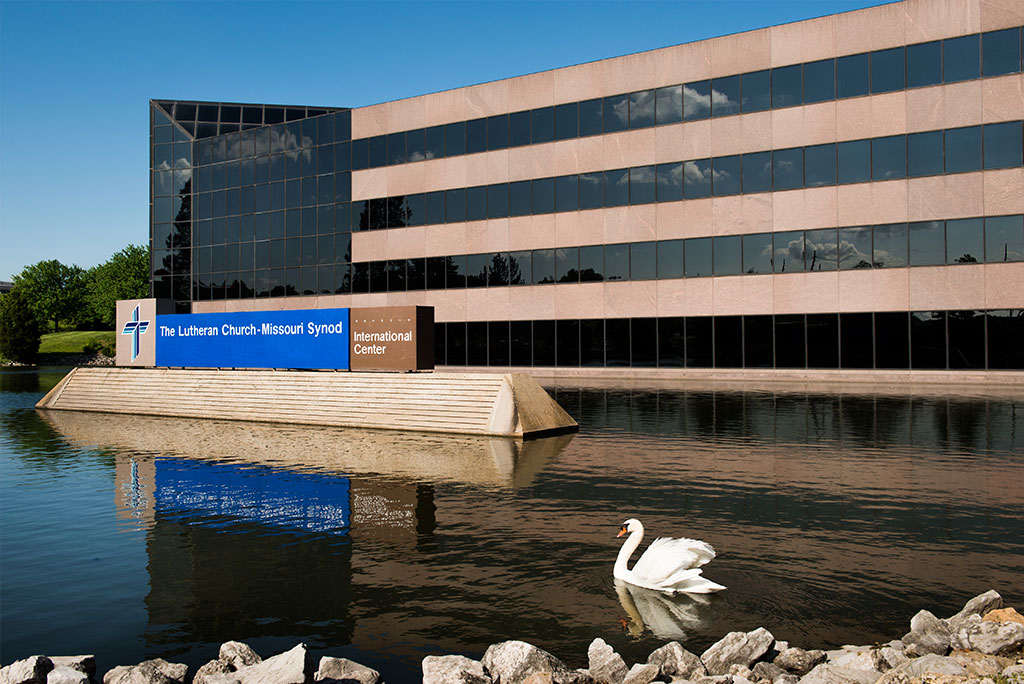 Board for National Mission
The Lutheran Church—Missouri Synod's Board for National Mission opened its Oct. 26–27 meeting in St. Louis with a devotion on the story of the Canaanite woman with a demon-possessed daughter in Matt. 15:22–29.
Devotion leader Rev. Peter C. Bender (Colgate, Wis.) noted that when Jesus says to the woman "Great is your faith!" he is, in effect, saying, "Great is your Jesus!" — the object of saving faith being Christ. 
After reviewing and approving the minutes from the last meeting, the board heard from LCMS President Rev. Dr. Matthew C. Harrison, who touched on a variety of topics, concluding that, in spite of "great challenges," he is confident that "the Lord will bless us remarkably." 
"We have untold blessings," said Harrison, quoting 1 Thess. 5: "Rejoice always, pray without ceasing, give thanks in all circumstances; for this is the will of God in Christ Jesus for you" (1 Thess. 5:16–18).
Reports from CEO, Disaster Response, Worship and SPM
The board heard from LCMS Chief Mission Officer Rev. Kevin D. Robson, who outlined developments in the areas of disaster response, personnel, budget, international mission, pastoral education and more.
Robson also expressed his appreciation to Deaconess Dorothy Krans for her willingness to serve as the current interim director of the Office of National Mission during the vacancy created by the Rev. Bart Day's departure to become president and CEO of Lutheran Church Extension Fund.  
Over the course of the two-day meeting, the board listened to several presentations from National Mission ministry areas. 
The Rev. Dr. Ross Johnson and the Rev. Michael W. Meyer, executive director and manager, respectively, of LCMS Disaster Response, reported on work being done in the wake of multiple disasters, both nationally and internationally, in 2017.
Johnson noted that the LCMS has been cited by both Christian and secular sources as a highly respected and reliable relief organization, and emphasized Disaster Response's commitment to continued transparency in financial matters. 
Meyer spoke about mercy work as "whole-person care," commenting that it involves both body and soul and that "true mercy cannot take place apart from witness." 
Other National Mission presentations came from the Rev. Joel R. Hempel, director of LCMS Specialized Pastoral Ministry (SPM), and the Rev. William C. Weedon, director of LCMS Worship. 
Hempel described both the struggles and the blessings experienced by those who serve "on the edge" in non-parish settings such as nursing homes, hospitals and prisons.
Weedon reviewed the recent LCMS Institute on Liturgy, Preaching and Church Music, shared samples of free resources being provided by the Worship department, and talked about the importance of congregational song to a parish's worship life. 
Krans provided the Office of National Mission (ONM) executive report, highlighting recently hired staff, current and upcoming vacancies, new ONM resources, and recent contacts from outside the LCMS by organizations interested in using LCMS materials related to human trafficking and domestic violence.
Krans expressed her appreciation for the support, prayers, help and forgiveness that have been shown to her since she stepped in as interim director. 
Policy work
The remainder of the board's time was spent on discussion and refining of board policies to better embody the seven mission priorities established triennially by the Synod in convention. 
The Rev. Dr. John W. Sias, LCMS secretary, gave a presentation on Mission Board Policy Development and Policy Governance that was aimed at guiding the board's work in this area. 
Appreciation for service
Before adjourning, the board passed the following resolution: 
"The Board for National Mission recognizes and thanks the Rev. Bart Day for faithful and selfless service as the executive director of the Office of National Mission on behalf of Christ and His Church. Rev. Day's joyful proclamation of the Gospel and his tireless efforts to advance the mission priorities of The Lutheran Church—Missouri Synod are deeply appreciated by the board, and we wish him every blessing in his new position at the Lutheran Church Extension Fund. 'I thank my God in all my remembrance of you, always in every prayer of mine for you all making my prayer with joy, because of your partnership in the gospel from the first day until now' (Phil. 1:3-5)."
Board for International Mission
The challenges of responding as a Lutheran organization to disasters and mission efforts around the world were among those examined by the BIM throughout its Oct. 5–6 meeting in St. Louis.    
"Each BIM meeting is a privilege, and each is different in tone and intensity," said BIM Chairman Rev. Bernie Seter. "Some meetings are primarily educational, learning what we don't know. Some of them are filled with our main tasks of sending missionaries and monitoring how we do that work and where. We spend time on missionary care and how that important task is going." 
Reports on Synod work
Board members heard a number of reports, including that of Chief Mission Officer Rev. Kevin D. Robson, who provided an overview of national and international work. 
Following a series of natural disasters in this country and in Latin America — including three hurricanes, a major earthquake and multiple wildfires — Robson described a very robust response with significant effort and coordination between LCMS Communications, Mission Advancement, the Office of International Mission (OIM) and the Office of National Mission.
It was "an all-hands-on-deck" effort that featured on-the-ground collaboration between LCMS Disaster Response, LCMS Communications, district staff and volunteers in the affected districts, and OIM personnel in Puerto Rico and the Dominican Republic, with daily 'war room' meetings in St. Louis," said Robson, as he underscored the significant "mercy work in care for church workers, congregations and congregation members, and communities in the affected disaster zones that is expected to continue — especially in Texas — for months and years to come."
LCMS Manager of Disaster Response Rev. Michael Meyer gave a separate presentation on the Synod's response to a catastrophic mudslide in Sierra Leone, which occurred just as the Synod was gearing up to respond to those myriad other late-summer disasters. 
"I met with our missionary, Rev. Mark Moss, and the president of the Sierra Leone Lutheran Church, Rev. Alex Lansana," said Meyer. "We assessed the mudslide and spoke with victims … [some] 30 Lutherans were among the 600 who died. We determined to partner with the Sierra Leone Lutheran church to provide short- and medium-term assistance via a $10,000 grant. This included one year of housing assistance for 15 Lutheran families along with food and basic kitchen utensils for an additional 150 families. As a result of this quick response to body-and-soul needs, the Sierra Leone church is seriously considering a church plant in the area to provide long-term spiritual care."
Upholding missionaries
Robson related the ongoing efforts to "up our game" when it comes to supporting the church's missionaries, with Synod Communications devising more ways to help congregations come alongside the missionaries they support, or could support. 
For example, the May issue of Reporter included an insert addressing topics such as praying for missionaries and the Church's mission, supporting missionaries and other ways to "walk" with them, and tips for hosting a missionary visit. And the summer issue of Lutherans Engage the World was dedicated to holding up missionaries and their work.
Press releases go out about each group of new missionaries during missionary orientation, and separate releases on individual missionaries and their families are sent to their hometown newspapers as well as to district and Synod leaders. This effort has led to stories in local and regional news outlets.
LCMS Mission Advancement, OIM and Communications worked together to launch a special giving catalog for missionaries facing significant challenges in building support networks. The catalog serves as a resource for Mission Advancement and other LCMS staff, as well as for individuals and congregations interested in supporting missionaries with high levels of financial need. 
Staffing updates 
The Rev. John Fale, OIM executive director, announced his intention to leave that position at the beginning of August 2018. Robson explained the process for filling the position that begins with a call for nominations late in 2017 and the goal for the Synod president and the BIM to reach concurrence on a final slate of candidates by the BIM's May 31–June 1, 2018, meeting, with an appointment by the Synod president to follow.
The search for a new Hong Kong International School (HKIS) head of school continues, with the HKIS Board of Managers search committee providing evaluations of recommended candidates — all rostered LCMS members — distilled from a much wider list with the assistance of an HKIS-engaged outside search firm.
OIM staff, in collaboration with BIM representatives, will proceed through the end of this year with vetting/evaluations and, as deemed appropriate, interviews of these seven candidates, in order to prepare the BIM to make a decision on a candidate call at its February meeting.
Additional reports
Synod Secretary Rev. Dr. John Sias gave a presentation about Mission Board Policy Development to help the board understand its role in developing policies for the OIM's worldwide work.
Eric Gates, regional director for Africa and the Middle East for Lutheran Hour Ministries (LHM), gave an overview of the auxiliary's work, including sharing the Gospel where people are unreached or underserved by Christian witness.  
Gates said LHM began a partnership with SAT-7, a Christian satellite network, to launch a new TV program that will air weekly across the entire Middle East and North Africa region.
"The program will dramatize issues and challenges facing young Arabs and will offer them a biblical approach and Christian witness," he said. 
Posted Dec. 1, 2017