By Paula Schlueter Ross (paula.ross@lcms.org)

Opportunities are available to LCMS members this summer to lead weeklong English Bible Camps in Poland during these time periods: July 18-31 and Aug. 1-14.
Ten teams are needed to lead the two camps — which are similar to vacation Bible school — and no experience is necessary.
Teams will be provided with training, orientation upon arrival in Poland, an English-camp curriculum and help with raising financial support for the trip. The two-week cost while in Poland runs about $1,100 for food, lodging, in-country transportation, orientation and activities. Airfare is not included.
Team members also will have time for language learning, history lessons and sightseeing.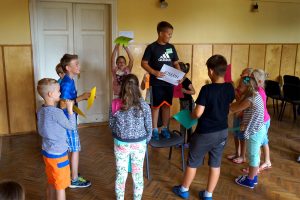 Volunteers must be at least 14 years old (each four youth participants must be accompanied by one adult) and may apply as individuals or as part of a group. Preferred are teams with four to five people, although teams with more members won't be turned away. All teams work in cooperation with Poland's Evangelical Church of the Augsburg Confession and LCMS missionaries.
Georgia Perman, a member of St. John's Lutheran Church in Bakersfield, Calif. — which has sent Bible-camp groups to four Polish cities since 2010 — told Reporter the LCMS volunteers are welcomed not only by the Lutheran churches there but by local government agencies as well.
Perman, 62, has led camps in three cities: Slupsk, Zgierz and Zabrze. All of the St. John's camps served children ages 6 to 13, and "most of those children are not part of the churches where we served," she said. "And, of course, the parents were involved at the end of the week as the children did a presentation of songs, artwork, etc." — all based on Bible stories.
"I believe the Great Commission is really the only thing Jesus has asked us to do," she added. "Go, tell."
That sentiment — and more — is shared by LCMS Missionary Benjamin Helge, who serves the Eurasia region from his base in Havířov-Šumbark, Czech Republic.
"Of course, the Gospel is being shared. This is the main thing," Helge told Reporter via email. "But beyond this, individuals [who lead Bible camps] are helping to connect the community to the church.
"In some of the villages or towns where teams serve, there are very few Lutherans" and "even, sometimes, a stereotype against Lutherans because of historical events," he explained. "As a kind of third party coming from outside Poland … LCMS teams help to remove these stereotypes against the Lutheran community in Poland" and, through their service, "support and encourage fellow Lutherans" there.
DCE Anne Gonzalez, manager of Short-Term Mission Training and Engagement with the Synod's Office of International Mission, said she "hears regularly" from Bible-camp team members about the value of "the relationships that they form with the local church."
The Synod teams, Gonzalez said, seem to appreciate "the opportunity to work with the local church to reach out with the Gospel and know that students and their families will continue to be connected to Christ and His Church."
Underscoring that view, Perman considers her congregation "extremely blessed to serve" in Poland, "supporting each other, sharing Christ with each other and the kids, and building relationships that I believe will last forever."
Moreover, she tells others "to come join us because it is a safe and beautiful environment, the kids are a kick to work with, there are blessings on both sides," she said, adding a couple more perks: food "you don't have to be fearful of" and "no bugs."
For more information or to fill out an application, contact Tracy Quaethem at tracy.quaethem@lcms.org. The application deadline to serve at this summer's English Bible Camps in Poland is March 31.
Posted February 6, 2017