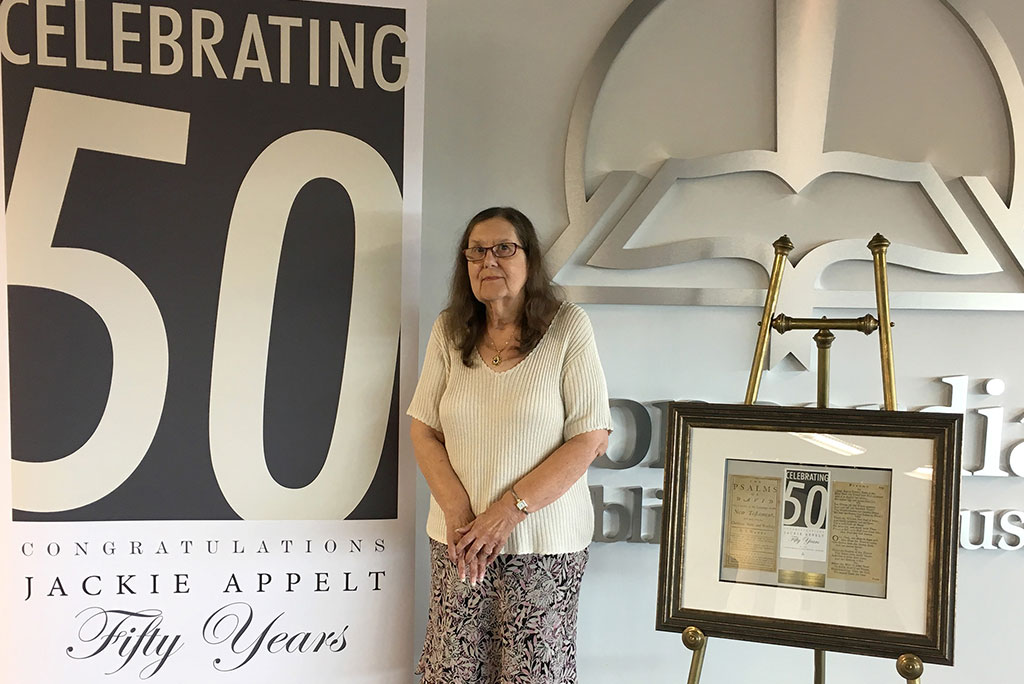 By Paula Schlueter Ross (paula.ross@lcms.org)
Jackie Appelt remembers a teacher telling her eighth-grade class in Milwaukee that if they had the ability, they should "go into church work."
"I thought that the church-worker pitch was definitely meant for me," says Appelt, who celebrated her 50th year as a graphic artist at Concordia Publishing House this summer.
So she got her teaching degree at what is now Concordia University Chicago, River Forest, Ill., and gave it her best shot when she was assigned a position as a fifth-grade teacher in Hickory, N.C.
It was "the easiest teaching situation," she recalls. Her students could "read and write just fine" and, perhaps best of all, "the sass factor holds off until sixth grade."
But her heart wasn't in teaching, and when a pastor suggested she apply at CPH, she did just that — with no clue what she would do, thinking "there's nothing but old men there, writing Sunday school lessons."
She wrote a letter asking about employment, but when the response was "not encouraging," she decided to just show up at the St. Louis publisher. She liked what she saw and accepted an on-the-spot offer.
The longtime CPH graphic artist says she has enjoyed just about every minute of her career as the designer of early-childhood Sunday school pieces, worship bulletins, covers for organ and piano music, and other ministry-related items.
It appears she did, in a sense, "go into church work" after all.
Appelt, a member of Historic Trinity Lutheran Church in St. Louis' Soulard neighborhood, was just 24 when she started working at CPH on July 24, 1967. Hitting the 50-year mark is a "happy surprise," she says.
Not much changed over her first 30 years at CPH — with a drawing board, X-Acto knife, rubber cement, grease pencils, paint brushes, a proportion wheel, type gauge and drafting tape among Appelt's everyday tools.
But the last 20, she says, have kept her on her toes, learning ever-changing computerized design programs — from Pagemaker, to Quark, to InDesign — as well as keeping abreast of newer, funkier typefaces.
Her favorite font for body type is Stone Sans and Stone Serif, but for titles and display copy? Depending on the project, she just knows it when she sees it.
The CPH building itself has changed over the years, too — with remodeling, renovations and redecorating.
"But what has not changed," she says (in addition to the slowness of the fifth-floor elevator) "is the grace of God and the steady stream of people during 50 years who have helped" her, both with aspects of her job and personally. All of them, she says, have contributed to making CPH a "stronger presence" within the LCMS and the Christian publishing industry, "always doing the work of Christ."
Appelt has won several Music Publishers Awards for her design work, and once made a paper dress out of LCMS Reporter newspapers for a coworker as a lark!
She describes herself as "sensitive, fun-loving and conscientious," and can't imagine what she would do if she retired: "I'd have to create a whole 'nother life. I'm not up for that."
Those who perhaps know her best, her CPH coworkers, say Appelt:
"has a wicked sense of humor."
has "a sense of style, panache and verve."
"is entertaining" and "invaluable to us at CPH Design."
"is a go-to," with "a wealth of information about everything we do."
is "dedicated" and "loves what she is doing: sharing the Word of God in print."
is "the undisputed 'Grande Dame' of the CPH graphic design department, faithful and dedicated beyond measure to her faith and vocation."
In his speech during Appelt's anniversary party, Tim Agnew, director of CPH's graphics division, said her work "has touched countless people" and her life "has been a symphony in two parts — faith and vocation." Her 50-year body of work, Agnew said, "is Jackie's magnum opus."
In her spare time, Appelt enjoys crossword puzzles, nature videos, TV mystery shows, traveling, reading and writing — her legendary Christmas letter has "almost a cult following," she says.
But she's happy to continue doing those things in the hours outside of her full-time CPH job. She has no plans to retire from a position — a ministry? — she believes God led her to.
Appelt's advice to others seeking workplace longevity? "Be motivated by your ideals/moral perspective." People "don't start out wanting to work a long time. It's the job that compels them" and "if they truly believe in the value of whatever occupation they are drawn to, it becomes much more than a job to them — it becomes a vocation, and one that sends a clear message to them that they were meant to do this."
Posted Oct. 3, 2017