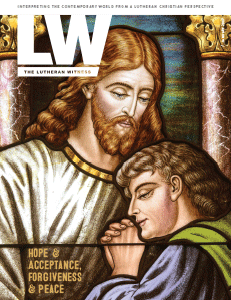 The January issue of The Lutheran Witness, in conjunction with the annual March for Life in Washington, D.C., previews life-related issues. While abortion remains a prominent concern, the magazine also covers a broad range of equally important topics.
Authors cover topics ranging from eugenics to miscarriage, end-of-life decisions to adoption. Abortion, the growing practice of transhumanism, advance directives and fuzzy bioethics also are featured.
Other articles encourage conversation regarding children and contraception, suicide and "death with dignity," and the innate value and worth of both body and soul from the moment of conception to natural death.
Visit witness.lcms.org to subscribe to The Lutheran Witness and read online devotional content.
Posted January 6, 2017