The 2016 Handbook — containing the Constitution and Bylaws of the Synod, including changes adopted by last year's Synod convention, and with new and enhanced features — is now available online:
The new volume is also featured in the "Handbook" tab on the Synod's Commission on Handbook, Commission on Constitutional Matters or Board of Directors webpages.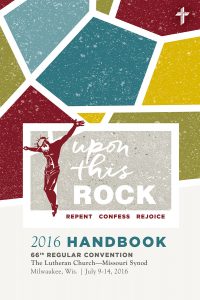 The electronic version has been approved by the LCMS Commission on Handbook.
The printed 2016 Handbook is being "delayed until the new ecclesiastical-supervision bylaws are completed and adopted by the [LCMS] Board of Directors," according to Synod Secretary Rev. Dr. John W. Sias, whose office compiles and publishes the Handbook after each triennial LCMS convention.
"This edition has a completely redesigned index and is accompanied by a red-lined edition showing changes relative to 2013," Sias noted. The separate red-lined comparative volume also is under the "Handbook" tab on the three webpages.
In his Foreword to the 2016 Handbook, Sias thanks former Synod Secretary Rev. Dr. Raymond L. Hartwig for initiating work on the "often-requested … revised and expanded index."
Hartwig's "diligent labors over the past six triennia are reflected on virtually every one of this book's pages," Sias writes in the Foreword as he also notes that he and the Synod "are greatly indebted [to Hartwig, who retired last year] for far more than that."
Comments and suggestions on the new index may be directed to Sias' office by email at lcmssecretary@lcms.org.
The 2016 volume's Foreword also includes 14 bulleted notations of "significant incorporations into the Bylaws by a busy convention." That compares to seven such bullets listed in the Foreword for the 2013 Handbook.
Sias concludes the Foreword of the new Handbook, as follows:
"The Commission on Handbook, having consulted with the [LCMS] Commission on Constitutional Matters as to its content, now presents this electronic revision of the 2016 Handbook to the Synod with the prayer that this body of laws may truly serve the Gospel among us, as 'upon this Rock' we repent, confess, and rejoice as one."
"Upon This Rock — Repent, Confess, Rejoice" was the theme of the 2016 Synod convention.
Posted February 13, 2017 / Updated February 15, 2017, to include direct links to Handbook documents