By James H. Heine
ST. LOUIS — Yes, it was damp, overcast and rainy here April 28, but soggy conditions did not deter a determined group of city officials, lending partners, guests, neighborhood residents and LCMS staff from celebrating a groundbreaking for four new homes on Blair Avenue in College Hill, a neighborhood on this city's near north side.
The groundbreaking marked the start of Phase II of Nazareth Homes, an initiative begun by the LCMS National Housing Support Corporation (NHSC) to aid this historic St. Louis neighborhood. The NHSC also is known as Lutheran Housing Support.
The corporation helps underserved neighborhoods anchored by LCMS entities transform themselves into thriving communities by providing access to capital and customized consulting services. It has been involved in College Hill since 2007 — helping residents create the current plan that, in addition to bringing 14 new homes to the community, helps homeowners with repairs, eliminates blight, enhances safety and demolishes abandoned buildings that are beyond repair.
Involving 30-plus partners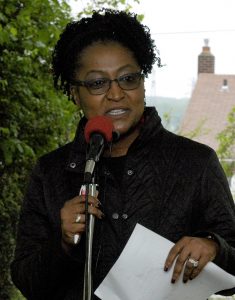 To ensure the success of the Nazareth Homes project, NHSC Chief Executive Nicole Ridley noted in her opening remarks that the organization has engaged more than 30 partners in the revitalization effort, including Lutheran Church Extension Fund, the LCMS Missouri District, PNC Bank, the Federal Home Loan Bank of Pittsburgh, the Riverview West Florissant Development Corporation, Women on Mission St. Louis and the Lutheran Foundation of St. Louis, among others.
Through NHSC's leadership, College Hill has seen nearly $4.5 million in direct and indirect investment over the past decade, Ridley added.
"It takes many partners to engage in a comprehensive redevelopment effort," Ridley said, "and we are grateful and thankful for all of our partners."
Redevelopment efforts such as the College Hill project require hard work, patience and perseverance, observed Thurman Smith, PNC Bank senior vice-president for Community Development Banking.
"Community revitalization is hard," he said. "It is good work, but it is hard, sometimes taking many, many years. It can be frustrating, exhausting and disturbing, and sometimes exhilarating, but with good leadership and great community partners, you can make it happen. Ideas become plans, plans become communities, and communities are the essence of why we're here."
Smith added: "We are delighted to be part of this project and part of its success in the re-emergence of this community."
For the neighborhood, the assistance of NHSC and its partners has been a ray of hope, said Teri Rose, president of College Hill's neighborhood organization and a lifelong resident of the community whose great-great-grandfather was, in 1863, a charter member of St. Paul's Lutheran Church, College Hill.
Helping 'make a difference'
"The NHSC and its partners have helped us make a difference in College Hill," Rose said. "What makes a neighborhood safer and more stable is owner-occupied, single-family homes. These new homes, and the ones already built, will do that for College Hill. We have a lot of absentee-landlord rental property; so, it's good to see homes that will become owner-occupied."
William Butler and Elizabeth Henderson agree. Both, like Rose, are longtime College Hill residents and homeowners.
"It helps stabilize the neighborhood," Butler said about the new homes. "It brings security, and it brings people back to the neighborhood."
Henderson noted another benefit. "The houses they're taking down are deteriorating," she explained. "It's good to have new homes in the neighborhood, and we are blessed to have them in our neighborhood."
For the Rev. James E. Kirschenmann, pastor of Immanuel Lutheran Chapel and St. Paul's, College Hill, the groundbreaking represented a shalom moment for the neighborhood, he said. "It represents a moment of peace, a sign of wholeness, a sign of completeness, safety and healing for the community."
Kirschenmann added that it is his hope that one day College Hill will reach out to other communities.
"We are looking for moving from this state of dependency to becoming self-sufficient, and then to the point of thriving. We look toward the time when we are flourishing in God's shalom and can model that for other neighborhoods."
For more information about the work of NHSC in College Hill and elsewhere, visit nationalhousingsupport.org.
James H. (Jim) Heine (editorialsolutions@sbcglobal.net) is a St. Louis journalist and the retired director of News and Information for LCMS Communications.
Posted May 5, 2017 / Updated May 8, 2017