In conjunction with this year's 500th anniversary of the Reformation, Concordia Publishing House plans to release on March 28 Lutheranism 101 — All About Jesus, by the Rev. Paul T. McCain, publisher and executive director of Editorial for CPH.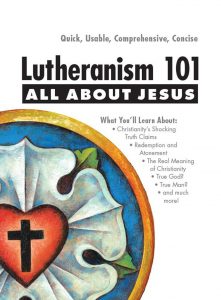 Lutheranism 101 — All About Jesus is the seventh in CPH's Lutheranism 101 series of books that explore various topics on what Lutherans believe and teach. The books — written in a conversational, easy-to-skim style — are intended for both lifelong and new Lutherans.
The new book is divided into three parts that address "Why is Christianity all about Jesus?," "Who is that God-man?" and What Jesus does for you, then and now."
Graphic symbols used throughout the 204-page book alert readers to quotes from Martin Luther, the Bible and the Lutheran Confessions as well as "connections" between theology, faith and life; definitions of terms and phrases; and "big theological concepts" presented in "bite-size pieces."
Included are study and discussion questions — and answers. A free Leader Guide for this latest edition as well as former ones may be downloaded from lutheranism101.com.
"All About Jesus is a book jam-packed with the truth of God's Word and the beautiful, forgiving, liberating joy of the Good News of JESUS. Truly, it is a book that is 'all about Jesus,' " said McCain. "I'm really pleased to think we are offering the Church a 'lay Christology,' of sorts, and in a way that has a positive, winsome, even in places, fun tone about it."
To order Lutheranism 101 — All About Jesus (item no. 124397WEB), contact CPH at 800-325-3040 or cph.org (or click on the book's title above).

Posted March 23, 2017