By Megan K. Mertz
"I've been a missionary before, but this orientation has been fabulous," said the Rev. Dr. John Loum, director of the Ethnic Immigrant Institute of Theology at Concordia Seminary, St. Louis, who recently accepted a dual call to serve as a part-time missionary to his native country of The Gambia.
Loum is one of six international missionaries who — along with two national missionaries — completed a one-week orientation in St. Louis that culminated with a "Service of Sending" March 17 at the LCMS International Center chapel.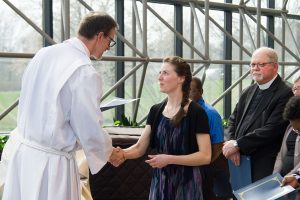 During the week, the missionaries learned about fundraising, building a network of support, communicating with donors and other aspects of their new roles.
"This orientation provides intensive training specifically geared toward preparing each missionary to go out to congregations, sharing the message of the work that each will be doing, asking for partnership in accomplishing the work of telling others about Jesus," said Christian Boehlke, director of Missionary Services for the LCMS.
The new missionaries will serve around the world in a variety of roles, such as teacher, regional communications specialist and strategic mission developer.
During orientation, Joanna Johnson, a GEO (Globally Engaged in Outreach) missionary to Taiwan, said she has been encouraged by meeting the staff in St. Louis who will be supporting her during her service as a teacher at Concordia Middle School in Chiayi, Taiwan.
"Most of them have mission experience as well, and some of them have been to the same school in Taiwan where I'll be teaching," she said.
"I feel like [orientation] is done so intentionally and well, even the model for fundraising," she continued. "There's something really special and important about being able to say that when you're giving toward this mission, you're giving to this mission and you're a part of it."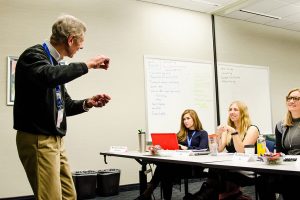 The Rev. Delwyn Campbell and his wife, Lenita, agreed that orientation has been helpful as they begin their service as national missionaries to Gary, Ind. They moved from California to Indiana with their three children in December so that Campbell could serve as a strategic mission developer through the Synod's church-planting initiative, Mission Field: USA.
Campbell, who is originally from Gary, has returned to support the existing LCMS congregations in the area and help open a new Lutheran school.
"We want to see Gary successful, but we want to see Gary successful on a foundation that not only makes it successful for time but also for eternity through the Word of God," he said, noting that his main tasks are to "preach the Word, administer the Sacraments, visit the sick, comfort the living and the dying, and love everybody."
"We're still working out the details in regards to the mission in Gary because there's so much that can be done," said Lenita. "Coming here [to orientation] … did clarify a lot."
This group of missionaries will return to St. Louis July 3–7 for another weeklong session to learn about the theology of mission work as well as the "ins and outs" of life on the mission field, according to Boehlke.
For more information about LCMS missionary opportunities, visit lcms.org/missionaries.
Megan K. Mertz (megan.mertz@lcms.org) is a staff writer and managing editor of Lutherans Engage the World with LCMS Communications.
Posted March 23, 2017