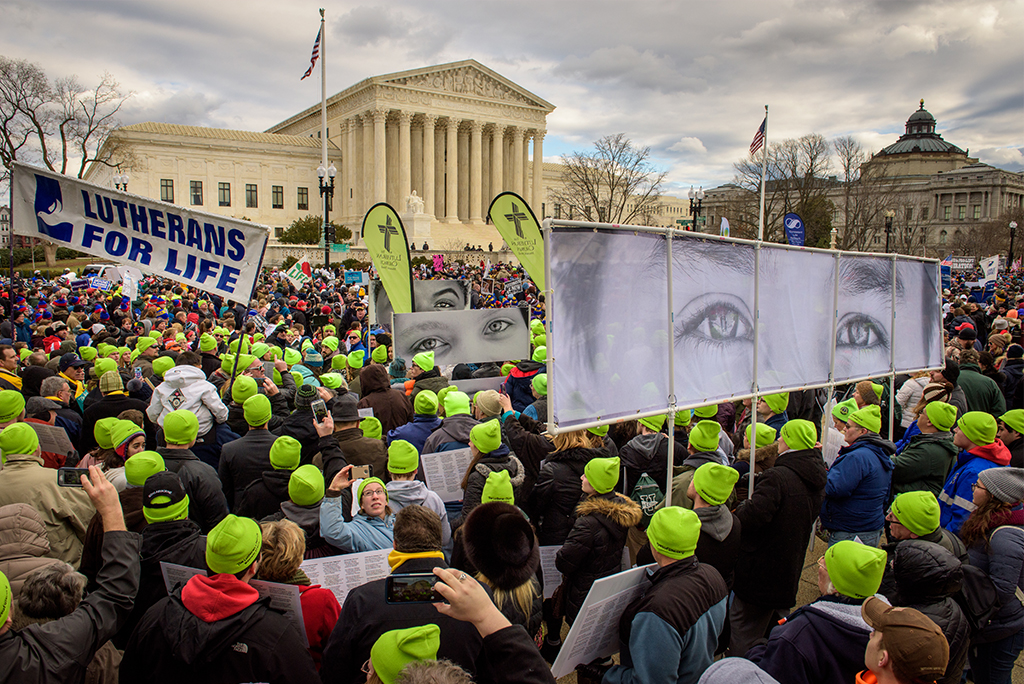 by Cheryl Magness
On Jan. 22, 1973, the U.S. Supreme Court's Roe v. Wade decision made abortion a Constitutionally-protected right in all 50 states. One year later, on Jan. 22, 1974, founder Nellie Gray organized the first ever March for Life.
That first march was conceived as a one-time protest, but as it became clear that there was going to be no immediate legislative response to calls to protect the unborn, Gray sought incorporation as a nonprofit and announced plans to hold the March for Life every year until the overturning of Roe v. Wade. In 2018, the March for Life will mark its 45th year.
March for Life rallies are held annually across the nation in multiple cities on dates in January and February, but the cornerstone of each year's observance is the march in Washington, D.C.., taking place in 2018 on Friday, Jan. 19.
The event will kick off with music at 11:30 a.m. followed by a rally at noon on the grounds of the Washington Monument, near the corner of 15th Street and Constitution Avenue.
At 1 p.m., participants will begin walking from the rally location up Constitution Avenue toward the Supreme Court and Capitol buildings. At 3 p.m. outside the Supreme Court, speakers from Silent No More will share personal testimonies, and at 3:30, marchers will have the opportunity to visit their representative or senator to advocate for life.
This year the LCMS Eyes of Life campaign, in conjunction with LCMS Life Ministry, will be joining with Lutherans For Life and the Lutheran Center for Religious Liberty as exhibitors at the March for Life Expo. The Expo is free and open to the public and provides the opportunity for March for Life attendees to connect with other prolife advocates, organizations and ministries. It will take place Thursday, Jan. 18, from 9 a.m. to 8 p.m. and Friday, Jan. 19, from 8-10:30 a.m. and 4-7 p.m. at the Renaissance Washington D.C. Downtown Hotel, 999 Ninth St. NW, Washington, D.C. 20001.
Those who are planning to attend the D.C. March for Life and want to march with fellow LCMS members can follow the LCMS March for Life page to find out where and when to meet. An LCMS contingent will be present with signs, hats and song sheets.
In addition to the Washington event, there are many regional events scheduled. Here are just a few:
Information about additional regional events is available at the March for Life website.
The Lutheran Church—Missouri Synod has a long history of advocating for the sanctity of life. The Synod holds a Life Conference every two years in conjunction with the Washington, D.C., March for Life. The next Life Conference is planned for 2019.
The LCMS Eyes of Life campaign was inaugurated in 2016 and hinges on chronicling the personal stories of people whose lives reflect respect for the sanctity of life at all phases. You can read those stories, as well as submit your own, at the Eyes of Life website. You can also purchase clothing and gear at the Eyes of Life store.
For congregations that want to highlight sanctity-of-life issues on Sunday morning, the 2018 "Life Sunday" is set for Jan. 21. Promotional, worship and study materials are available from Lutherans For Life. 
More information about the 2018 Washington, D.C., March for Life and related events is available at the March for Life website. 
More information about LCMS Life Ministry is available here.
Cheryl Magness (cheryl.magness@lcms.org) is managing editor of Reporter Online and staff writer for LCMS Communications.
Posted Oct. 25, 2017