By Paula Schlueter Ross (paula.ross@lcms.org)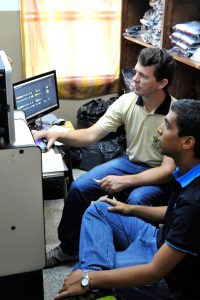 The Synod's latest "crowdfunding" project aims to raise $1,310 that will be used to continue providing digital books and other multimedia resources to Lutheran pastors in Latin America.
Contributions can be as little as $1, but must be pledged online no later than March 19. At this writing, 11 pledges totaling $856 had been made, meeting nearly two-thirds of the crowdfunding project's goal.
This latest effort is part of a larger, ongoing venture dubbed "VDMA" (an acronym for the Latin phrase, "The Word of God endures forever"), which began in 2015 with the aim of expanding each Latin American pastor's library which, for most, contains only about five Lutheran books.
About 145 pastors — in Spain, Mexico, Puerto Rico, Guatemala, Panama, Colombia, Venezuela, Peru, Chile, Paraguay, Uruguay, Argentina, Bolivia and the Dominican Republic — currently receive Spanish materials through VDMA, and that number is expected to grow as new pastors are ordained and join the project.
Providing the materials digitally avoids the cost of purchasing and shipping printed versions — an expense that can be prohibitive for pastors in that region of the world. Planners note that more than 50 theological books and other Lutheran resources — worth some $500 — can be provided electronically to each pastor free of charge.
Contributions to the VDMA project are used primarily to fund the cost of translating English materials into Spanish, but also to purchase digital versions that are already available in that language. Pastors also receive free computer tablets so they can access the VDMA library.
Pledges to the crowdfunding project don't have to be a lot: $2 can provide a book on Lutheran principles (a gift of $6 covers the complete set) and $3 can equip pastors with supplemental Lutheran books in Spanish. A larger pledge of $40 covers the cost of each Kindle Fire tablet.
"The project has already provided over 7,000 volumes of theological material to pastors in Latin America who previously had little to no access to Lutheran materials in their language," according to James Neuendorf,  communications specialist for the Latin America and Caribbean region with the Synod's Office of International Mission. Neuendorf is based in the Dominican Republic along with his wife, Deaconess Christel Neuendorf.
"Just a few years ago, this was an unimaginable dream for missionaries and church workers in the region," he said via email. "The VDMA project is a crucial component to strengthening our Lutheran identity and teaching as well as helping pastors who often serve in difficult locations and under difficult conditions to have the resources they need to teach and preach what their people need to hear."
Neuendorf added that the overall project is only about halfway completed, and he and other LCMS missionaries "want to continue the momentum we have gained with the first two years of book distribution by continuing to build up the core library of Lutheran pastors in Latin America in their own language."
For more information or to make a pledge, click here.
Posted February 22, 2017