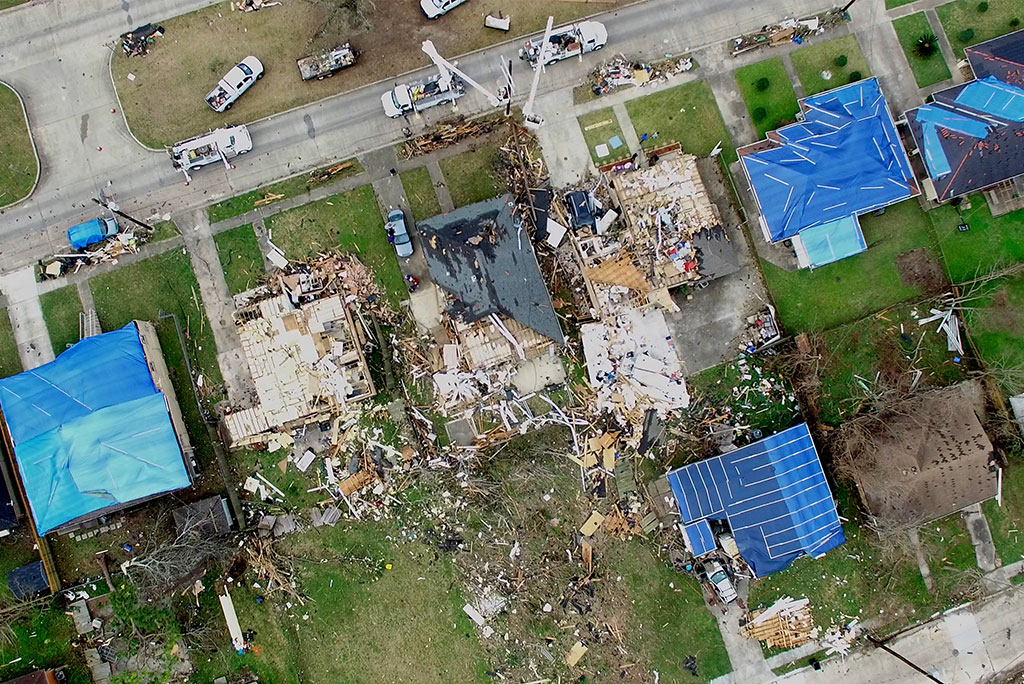 By Paula Schlueter Ross (paula.ross@lcms.org)
Nathalie Shaw, whose mold-infested home had to be gutted and rehabbed after Hurricane Katrina caused massive destruction in 2005, had a hard time seeing "all of this" — homes without roofs, trees pulled up by their roots, electric and telephone wires and poles strewn about the streets, debris everywhere — after an EF-3 tornado roared through New Orleans East Feb. 7.
"To see all of this, it's hard," she said. "I know [with] all of this, you can't question God. But to see all of this all over again, and to see the destruction, it's just hard.
"But I'm glad that I do trust in God."
Shaw, a member of Prince of Peace Lutheran Church, isn't the only New Orleans (NOLA) resident whose home has been hit twice by natural disasters. This time, the tornado ripped away part of her roof, also damaging some of her belongings inside, and her outdoor shed was blown off its foundation, so she'll have to replace that, too.
Thankfully, Camp Restore, New Orleans — just two blocks from tornado-torn neighborhoods — is well-positioned to lend a hand with both immediate cleanup and long-term assistance to Shaw and many others.
The camp — started in 2006 by the LCMS Southern District and LCMS Disaster Response to assist those with damages from Hurricane Katrina — houses and feeds up to 300 volunteers at a time.
It lost electricity and a few shingles in the recent storm, but the next day, with a humming generator restoring power, the camp offered electricity to local residents without it, so they could charge their cell phones. The Rev. David Goodine, executive director of Camp Restore and pastor of Prince of Peace, guesses that about 150 people took advantage of that offer.
"Local people know us," Goodine said. "They like us. They are very glad that we're here."
Some 30 volunteers were staying at the camp during the week of the tornado, and after the storm they walked the few blocks to the damaged homes, armed with trash bags and rakes, and took part in cleanup efforts along with hundreds of others.
Days later, on Feb. 11, Camp Restore hosted more than 250 local volunteers from HandsOn New Orleans and the United Way — two of more than 120 organizations with which the camp has partnerships.
As she canvassed tornado-hit neighborhoods on behalf of Camp Restore a week after the storm, lifelong NOLA resident and St. Paul Lutheran Church, New Orleans, member Pam Daunoy discovered "a lot of structural damage to roofs, cracked ceilings," and plumbing and electrical needs.
"There's lots of work to be done," she said, with some houses "totally demolished" and others with damages from slight to "massive" — often on the same street.
Daunoy said she spent a lot of time talking and listening to those with tornado damage, "and just comforting them." The people she met "needed … to release that emotion that was inside."
With many, "we prayed, and it was outstanding, it was overwhelming, just to be received in that manner by strangers."
Of her service, Daunoy says, "I'm a volunteer. And I'm doing what God has blessed me to do: to go out and help serve, and to be of service."
Daunoy, whose own home had to be rehabbed after Katrina with help from volunteers, knows firsthand how valuable that help is — even from those with no rebuilding experience.
Some of those with tornado damage just need debris raked up and removed from their yards, a fence put up or windows boarded. No act of service "is too small," she said, adding that "everybody and anybody would be of great assistance to us at this point in time."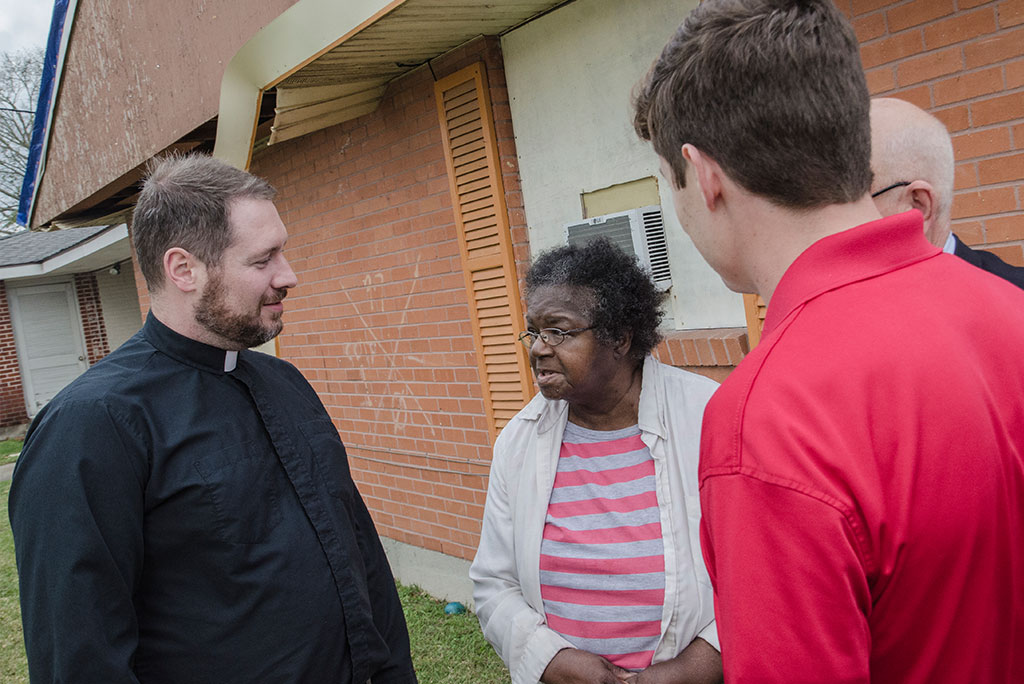 Tornado damage
The tornado that hit New Orleans proper was part of a storm system that spawned six tornadoes throughout southeast Louisiana and Mississippi — and it was the largest and most damaging of the tornadoes, leaving a swath of destruction some 2.5 miles long that affected some 800-plus buildings, most of them residential and without basements.
Of that total, about 150 buildings were completely destroyed and another 150 were heavily damaged, according to Kurt Jostes, deputy director at Camp Restore.
The camp, Jostes told Reporter, is almost "as close as you can get" to significant tornado damage, with camp volunteers having just "a two-minute walk" to service areas.
"We are blessed to be a blessing and will continue to do whatever we can with what we've been given," Jostes said.
That includes "placing our volunteers in positions where they can use their gifts and talents to have the greatest impact on the greatest need. Whether that's cleaning up debris, installing drywall or praying with someone, we'll be working hard to be good stewards" of available resources, he added.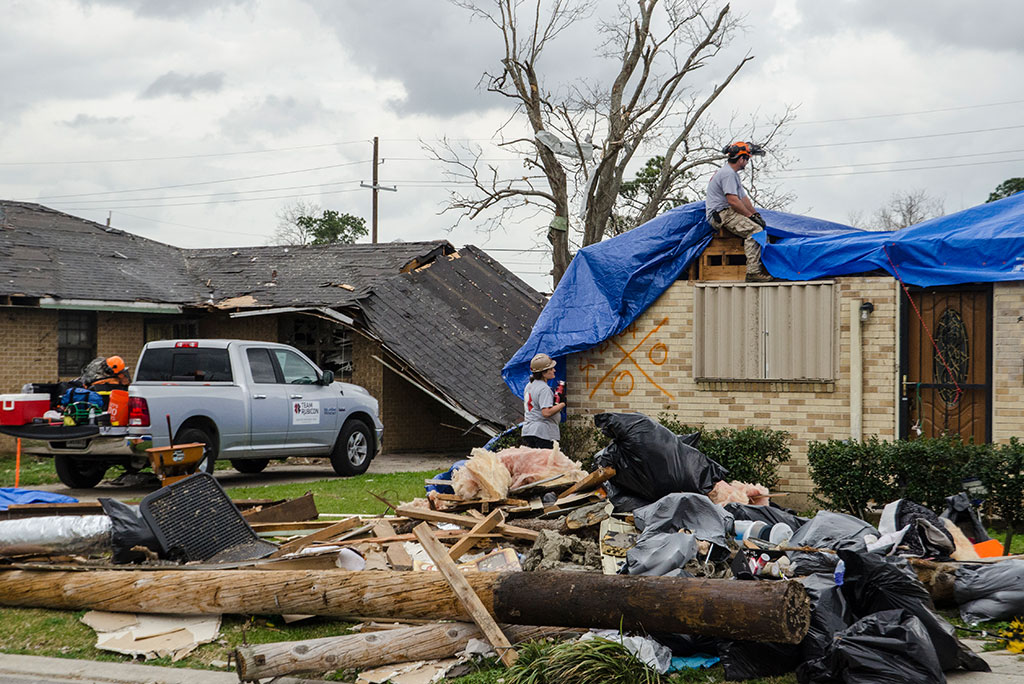 Sharing Lutheran love
In his visit with Camp Restore staff and tornado survivors on Feb. 14, Valentine's Day, LCMS Disaster Response Manager Rev. Michael Meyer shared some Lutheran love with those he met, praying with them and pledging to provide resources such as tools and building supplies for volunteers, particularly since the tornado response "is considerably different" from how they've been helping those with Katrina — basically, flood — damage.
Meyer touts the gifts of LCMS disaster-response volunteers, who "provide varying degrees of spiritual care when they simply meet and talk with people: They provide that listening ear, they pray with them, they listen to them, and oftentimes listening is enough.
"But in our training, we always encourage them to connect [those they are serving] to the local pastor, recognizing that it's not just the body care, the material things that we're looking at helping them with, but connecting them to that place where Word and Sacrament can be found — true comfort, that peace which the world cannot give."
The LCMS Council of Presidents happened to be meeting in New Orleans during the storm, though not in the area that sustained damage.
Synod President Rev. Dr. Matthew C. Harrison, LCMS First Vice-President Rev. Dr. Herbert Mueller Jr. and LCMS Southern District President Rev. Kurtis Schultz visited Camp Restore and affected neighborhoods Feb. 9, "talking and sharing mercy with those who had gone through the storm," according to Schultz. (See related videos, "Harrison, Schultz comfort tornado victim in New Orleans" and "The LCMS responds after Louisiana tornadoes.")
'We need help'
No one died as a result of the tornadoes, but a few were injured, including Tiffany Edgerson, who was riding in her truck with her school-age daughter as the storm approached. As they pulled up to Edgerson's home, the two jumped out of the vehicle and ran for the bathroom, a windowless safe spot.
Edgerson, who slipped and fell, breaking her arm, recalled "debris flying everywhere. … It was bad. It was terrible." The violently churning winds moved the truck, she said, broke the home's windows and took part of its roof and outside wall bricks.
"If any volunteers came down here, we sure could use the help," she said. "We need all the help that we can get. Please."
Goodine, executive director of Camp Restore since 2010, credits the volunteers for making his job "fun."
"The people who come here are highly motivated. … They're here because they want to help. And they're really a charge to work with."
He encourages anyone who wants to help New Orleans tornado survivors to consider serving with Camp Restore, whose mission is "to restore faith, home and community" — for the long term — whenever there are needs. The camp is owned and operated by RAI Ministries, an LCMS Recognized Service Organization.
The camp's cost per volunteer for lodging and three meals is $40 per day, Sunday through Thursday. That falls to $25 per day on Friday and Saturday, when only a continental breakfast is served.
"We're a break-even nonprofit," Goodine says. The modest charge "covers costs so we can provide a service to the community."
For information on serving as a volunteer at Camp Restore — New Orleans, visit camprestore.org, send an email to info@camprestore.org or call 504-242-2636.
To make a gift to assist disaster victims, visit lcms.org/givenow/disaster.
Videos
Posted February 22, 2017