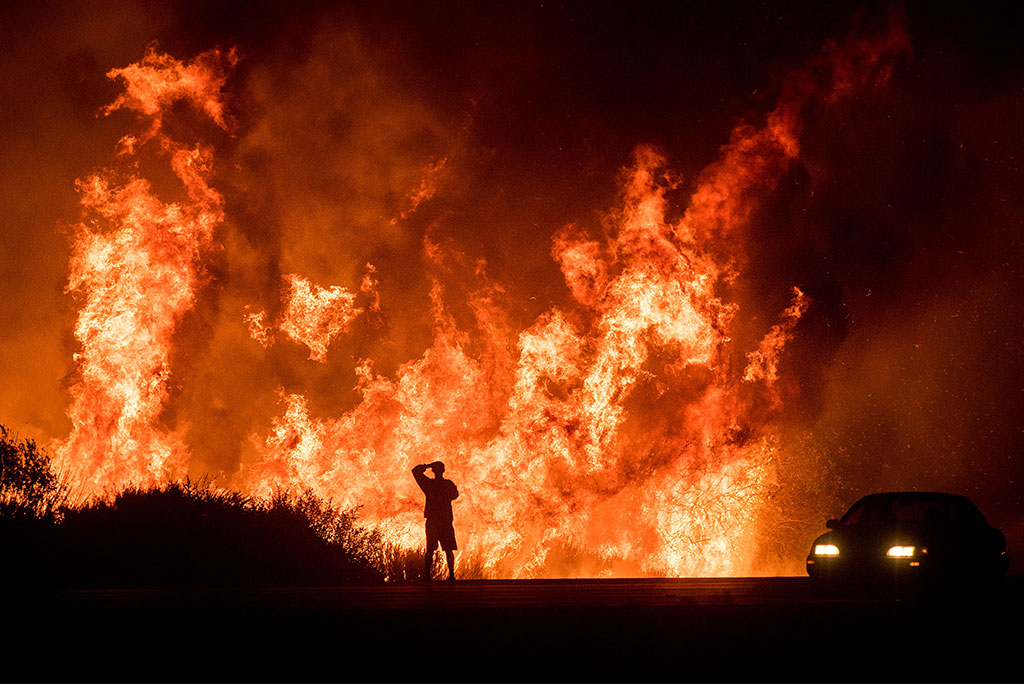 By Paula Schlueter Ross
It's been a busy five months for disaster responders.
And that includes those who are reaching out to victims on behalf of The Lutheran Church—Missouri Synod.
Beginning in late August and continuing as the January issue of Reporter was going to press in mid-December, LCMS World Relief and Human Care and its Disaster Response arm have joined forces with church leaders and disaster coordinators in Synod districts to bring help to the hurting — both physical and spiritual — in the wake of three devastating hurricanes, a major earthquake and menacing wildfires.
It's not unusual for situations to "change really quickly" on the disaster front, admits the Rev. Dr. Ross Johnson, director of LCMS Disaster Response.
"We have general goals and directions that we're moving toward" when it comes to immediate assistance, cleanup and rebuilding after a natural disaster, he says. But "we also want to always remain flexible" — with ample disaster funds at the ready — "so that we're taking care of the greatest need at the moment."
At this writing on Dec. 10, Johnson had plans to visit hurricane-crippled Puerto Rico Dec. 11-13. He also continues to monitor the still-raging wildfires in California.
And in the midst of those two ongoing catastrophes, "the biggest need" right now, he adds, is for volunteers who can help repair and rebuild homes destroyed by August's Hurricane Harvey in hard-hit Texas.
Following are brief updates to previous Reporter stories on the recent disasters: what's new, how Lutherans are helping and what is still needed.
California wildfires, Part 2
The latest wind-whipped fires — at least a half-dozen blazing for a week now in Southern California, scorching some 220 square miles — have destroyed the homes of three LCMS families in Ventura: two are members at Grace Lutheran Church, and one attends First Lutheran Church.
The Synod's Pacific Southwest District (PSD) expects that number to climb in the days ahead. Reporter knows of no Synod churches with fire damages.
PSD congregations have contributed more than $110,000 for disasters in Texas, Florida and Mexico City, according to a district news dispatch.
The district is encouraging its congregations to take up special offerings to support families with fire damages, and to pray for the victims and first responders.
On Dec. 7, LCMS Disaster Response sent dozens of devotionals and disaster-care booklets to the district's disaster response director, Deacon Rick Stark, to share with families as he and district President Rev. Dr. Larry Stoterau make visits to fire-affected areas.
California wildfires, Part 1
The earlier fires in October and November at seven locations further north claimed 44 lives, and among those who lost homes were 59 families associated with LCMS congregations, according to the Rev. Philip W. Zabell, disaster response coordinator for the Synod's California-Nevada-Hawaii District.
Area pastors "are continuing to minister to the spiritual and physical needs" of area families, Zabell told Reporter in a Dec. 2 email, and the district is considering offering two "care for the caregivers" events for church workers and their spouses.
"While the disaster is now in the early phases of the recovery stage and [families are] adjusting to the new normal, much of the new normal is yet to be discovered over the course of the next six months," said Zabell.
"Of major impact will be celebrating Christmas 2017 without benefit of hearth or home."
Zabell said he expects the rebuilding phase to last five years, and some families, he added, "will simply look for new communities to call home."
In his disaster-response role in the days ahead, Zabell said he plans to take the following actions. It's possible that many other Synod disaster-response leaders will be doing the same.
Keep those impacted by the fires in prayer.
Keep in touch with pastors serving in the fire-damaged areas "to provide spiritual counsel as needed and make them aware of resources."
Let the pastors know they can contact him at any time for any reason.
Stay abreast of the needs in each affected area, and find resources to meet those needs.
Look for ways to collaborate with others "to bring God's mercy to those in need as a result of the fires."
During site visits to Napa and Santa Rosa, Calif., in October, LCMS Disaster Response staff distributed $5,000 in gift cards, and the Synod's relief arm expects to provide an additional $9,000 in emergency grants to those affected by all of California's wildfires in 2017.
Mexico's earthquake
According to LCMS missionary Rev. Daniel Conrad, life is "back to normal for the most part" in the Greater Mexico City area since the Sept. 19 quake that collapsed more than 40 buildings, killing some 370 people and injuring scores more.
But in some parts of the city, Conrad added, residents are still without water due to water-main breaks that have not yet been repaired.
In the days following the disaster, three congregations of the Lutheran Synod of Mexico — an LCMS partner church body — collected food and medicines for emergency distribution centers, and Lutheran pastors and missionaries provided pastoral care, listening to and praying with distraught people who had lost property and loved ones.
Sarah Garcia, whose father is Lutheran Synod of Mexico President Rev. Isaac Garcia, left her home in Rio Bravo and spent a week in Mexico City, providing nursing assistance to victims, "tirelessly and selflessly [giving] everything she had to help," noted Conrad.
With $10,000 from Lutheran Hour Ministries and up to $20,000 from LCMS Disaster Response, Lutherans in Mexico are coordinating relief and rebuilding efforts for quake victims in Xochimilco, a borough of Mexico City.
Said Conrad: "We thank these organizations for their valuable assistance."
Harvey's wrath in Texas
The Texas District and its congregations, joined by hundreds of volunteers, have assisted with cleanup — from debris removal, to mucking out, to replacing insulation and drywall — on some 120 Hurricane-Harvey-damaged homes.
Texas Lutherans have provided truckloads of food and disaster-response supplies, and the district has distributed more than 234 emergency grants to families in hard-hit areas.
Ten LCMS congregations and a number of nonprofit agencies are working with the district to respond to the overwhelming needs of those whose lives were turned upside-down by the storm.
Julie Tucker, director of Disaster Response for the Texas District, said this partnership "allows us all to coordinate resources and reach those most in need, especially the widows, disabled and veterans."
At this writing, some people were still living in tents or in their carports, Tucker said, and "with winter coming, we are in desperate need of more resources to help these families." Gift cards from LCMS World Relief and others as well as quilts provided by the Lutheran Women's Missionary League have been especially helpful, she said.
Synod pastors in Texas have identified 50 families that could use additional funding over the holidays, so they are distributing "Christmas cards with money in them to bless these families," according to Tucker.
And a "day of giving" is planned in the Coastal Bend area to distribute new clothing, shoes, food, blankets and other items to those with needs.
"I cannot begin to express how appreciative the families are that receive help," she said, adding that recovery is expected to take years. "There are many homes that still need to be cleaned out, with many, many more needing sheetrock."
If you ask Tucker "How can I help?" she offers three ways:
Volunteer at any of three sites set up to house teams in northern Houston, southern Houston and along the Gulf Coast.
Send donations to the Texas District, "where 100 percent of the dollars donated are going to the families impacted by the hurricane." Gift cards — especially for Walmart, which sells food and clothing — also are helpful.
Pray for the affected families and those who are reaching out to them.
LCMS Disaster Response's Johnson notes that Synod disaster-response coordinators are working full time at eight "hubs of mercy and outreach" in Texas — three in Houston and others in Beaumont, Corpus Christi, Port Arthur, Rockport and San Antonio.
And materials negotiated at lower costs are adding "enormous" value to donations, "making sure that our donor dollars are going as far as we can extend them because we want to help as many people as we possibly can."
The Synod's disaster-response arm expects to provide $3.5 million in aid to Hurricane Harvey victims in Texas over the next three years to assist with home repairs and rebuilding.
Florida's Irma
Aid from LCMS Disaster Response to Florida for those with damages from Hurricane Irma includes a disaster-supply trailer valued at $80,000; $10,000 in gift cards; and $30,000 in emergency grants, with additional funds to be distributed over some six months.
John Elliott, district disaster response coordinator for the LCMS Florida-Georgia District, said teams of volunteers already have put in nearly 2,000 hours of labor to remove trees and debris, put tarps on roofs, rescreen porches, move furniture "and even [helped] reroof a house."
Based at Zion Lutheran Church in Fort Myers, Fla., volunteers have completed 92 different jobs in the community and are continuing to serve.
Elliott says the district is still in need of funds "to help local congregations and communities recover from damages to property in South Florida and the Keys."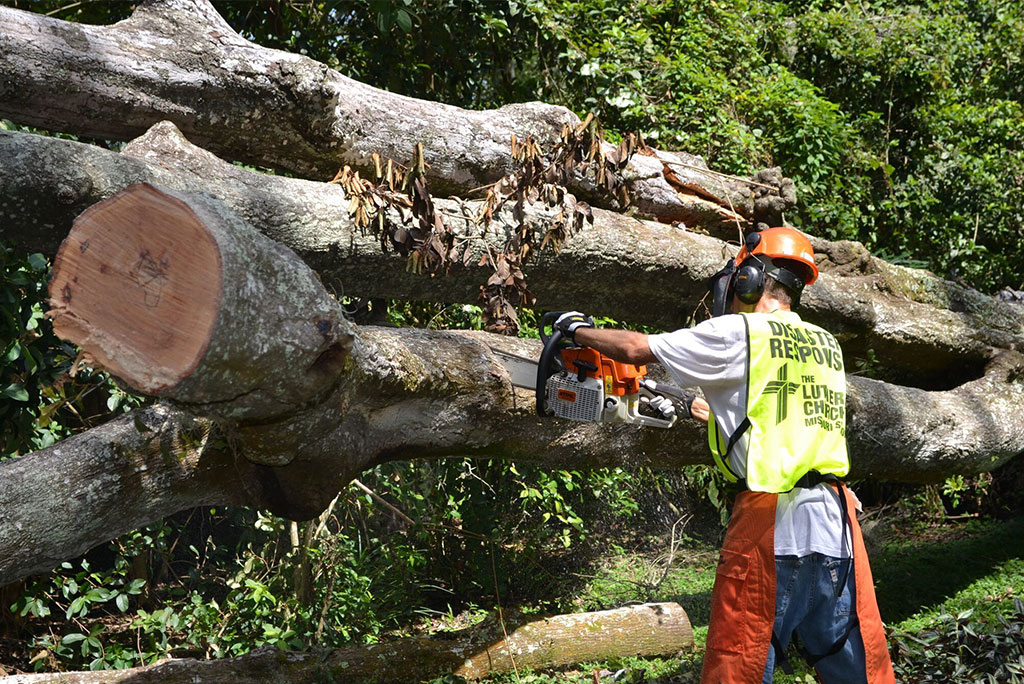 In Puerto Rico
Electricity on the island "is still not up and running at 100 percent, which, in turn, affects the availability of safe drinking water," reports the Rev. Charles St-Onge, LCMS area facilitator for the Caribbean.
And in the more rural areas, families "are still suffering from a lack of communication, power and water," he adds. "Temporary repairs to roofs and structures can still be seen easily from the air. Flattened trees and buildings still dot the countryside."
But the "biggest impact" of Hurricane Maria has been "indirect and less visible," St-Onge notes — the fact that many businesses have closed, "greatly increasing an already high unemployment rate.
"The result has been that, while food, water and children's goods can be purchased and are readily available, more Puerto Ricans than ever before simply cannot afford them" because they lack a steady income.
St-Onge says more than 100,000 residents — many of them teachers and doctors — have left the island, "putting increased strain on the medical system and on schools."
Funded by LCMS Disaster Response, mercy centers are being set up in Ponce and Mayaguez, the second- and third-largest cities, respectively, in Puerto Rico, where Synod missionaries have planted congregations.
The centers will provide food and other supplies — including baby items such as diapers, wipes and formula — in conjunction with the congregations that will offer opportunities for spiritual counseling, Bible study and worship, according to St-Onge.
Johnson adds that the Synod's "long-term goal is to build up both of those congregations" as well as "being intentional about helping people with their physical needs."
LCMS Disaster Response already has provided $20,000 for emergency needs in Puerto Rico, and plans to establish the mercy centers with another $162,000.
Its aid to Puerto Rico will likely exceed $1 million over some four years.
"As we move forward, the two long-term disasters we'll be dealing with are going to be both Puerto Rico and Texas," notes Johnson. In Texas, he adds, "the vast majority of the relief organizations are already gone and it's only been three months" since Harvey dealt its devastating blow to so many neighborhoods and communities.
But the Synod and its partners, he adds, are in it for the long haul, combining aid to body and soul, as long as it takes, "to comfort those who are hurting and bring God's Word and sacraments to them on a regular basis."
Calling the recent disasters "unprecedented," LCMS President Rev. Dr. Matthew C. Harrison wrote a letter to Synod donors in November to thank them for their support and encourage them to consider future contributions to the church body's general disaster fund.
Harrison, who previously served as executive director of LCMS World Relief and Human Care, wrote, "Far and away the most important thing in times of disaster is to show up, be present, and stand with those who are hurting — and to do so in the clear and beautiful name of Jesus Christ."
Adds Harrison: "This will be a long-haul effort for us all, and every person contributing will make a difference."
How you can help
To assist LCMS World Relief and Human Care with its response to ongoing disaster needs — and those in the future — give:
by texting LCMSDISASTERS to 41444.
by phone at 888-930-4438.
by mail to The Lutheran Church—Missouri Synod, P.O. Box 66861, St. Louis, MO 63166-6861 (make checks payable to LCMS).
To help LCMS districts as they assist wildfire victims and those with hurricane damages, visit:
Paula Schlueter Ross (paula.ross@lcms.org) is managing editor of Reporter.
Posted Dec. 19, 2017