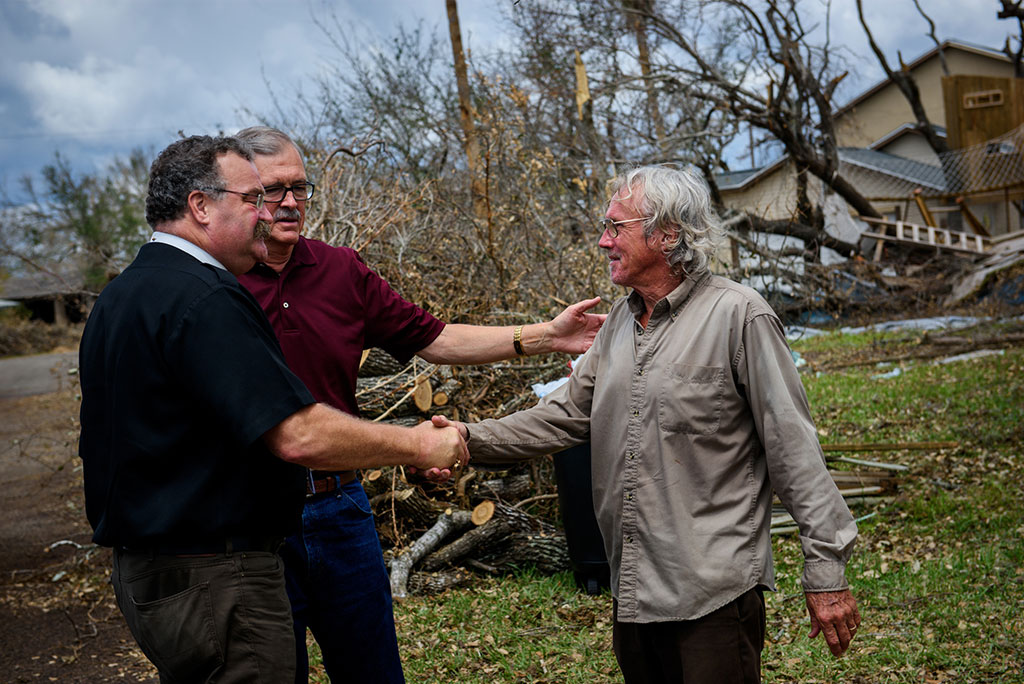 By Roger Drinnon
As Harvey relief operations transition from initial emergency response to more organized, long-term efforts, collaboration among LCMS Disaster Response, the Texas District and essential partners continues to be strengthened by generosity shown across the Synod.
At a planning meeting for ongoing Hurricane Harvey relief held Sept. 6 at Christ Memorial Lutheran Church in Houston, some 20 participants, including disaster responders, LCMS President Rev. Dr. Matthew C. Harrison, Texas District President Rev. Ken Hennings and other district leaders, local pastors and representatives from partner organizations discussed ways to work together toward increasing the overall capacity for long-term recovery.
Locals know best
"LCMS districts and congregations are the leaders in responding to disasters like Harvey," said the Rev. Dr. Ross Johnson, LCMS Disaster Response director. "Thanks to the kind, caring support across the Synod, LCMS Disaster Response is able to support districts and congregations while also building on their capacity not only in responding to a congregation's needs, but also in extending Christ's mercy by providing body-and-soul care to entire communities."
Johnson said although long-term planning details continue to be fleshed out, one thing is certain — LCMS Disaster Response is committed to supporting the Texas District and Synod disaster-response partners any way it can, as specific needs continue to be defined by the district and the communities of its congregations.  
"The locals know best what the needs are. We don't show up with stuff without someone on the ground specifically desiring it from us," said Harrison. "We take orders and provide exactly what is needed."
Urgent muck-out
One example of LCMS Disaster Response fulfilling urgent, specific needs of affected church communities began Sept. 1–2 at the Synod's International Center (IC) in St. Louis.
LCMS Disaster Response coordinated the purchase and delivery of about $65,000 worth of essential "muck-out" equipment made possible by generous donations across the Synod. This included much-needed power-generators, pressure washers, debris-removal equipment, tools, cleaning materials and safety gear.   
Some 40 volunteers from St. Louis-area and southern Illinois congregations came to the IC within hours of being notified Sept. 1 to unload the equipment from local delivery trucks and organize it for transport to Houston.
"When you have thousands of willing volunteers, you can get amazing things done on very short notice," said Aaron Nielsen, administrative assistant for LCMS Disaster Response. "With only a few hours' notice, 40 volunteers from over a dozen congregations showed up to unload and sort the trucks. It was an amazing showing of how God provides through His people."
Another 50 volunteers showed up the following day to load a semitrailer provided by Orphan Grain Train (OGT), an LCMS Recognized Service Organization (RSO) that partners with the Synod to increase the overall disaster-response capacity.
"It's just really marvelous to see all this equipment asked for by our folks in Texas, specifically, and being loaded up for delivery with local volunteers — and also Orphan Grain Train at the helm," said Harrison, as he surveyed all the equipment before departing for the Houston confab.  
"We are excited about partnering with LCMS Disaster Response as this will allow us to maximize the amount of goods and services and help that can be provided in the area," said Grant Schmidt, OGT vice-president of operations. "It is our hope and prayer that by partnering, we can work together to strengthen the impact that the LCMS can have in the disaster-stricken area."
It's what we do
When asked about volunteering for the effort, these helpers collectively indicated that it's just what Lutherans do. 
"We are charged to help. We are charged to share God's love," said volunteer Marla Kindt from Concordia Lutheran Church in Kirkwood, Mo. "We need to care for [the hurricane victims] like Jesus would have us do."     
"In a time of need, we respond as we are able to," said volunteer Nathan Prang from St. John's Lutheran Church, Arnold, Mo. "It's what we're called to do — serve those who are in need."
Volunteer Sean Mueller from Our Savior Lutheran in Fenton, Mo., didn't mind spending part of the Labor Day weekend to help others. In fact, he said he was glad to do it.
"This was a great opportunity to help those affected by the hurricane," said Mueller. "I'm really happy to volunteer my time for this."
We're all Texans right now
When asked to assess the collaborative efforts across the Synod for Harvey relief thus far, Harrison replied, "The situation is dire, but I'm optimistic and heartened, and it's just the beginning."  
He said listening to Texas District responders and focusing on the needs of the district and its church communities remain paramount for ongoing Harvey relief efforts in the coming weeks and months. 
"Hey, we're all members of the Texas District right now," said Harrison. "Thanks be to God for the great folks of The Lutheran Church—Missouri Synod and all Christians who are responding so kindly to this event."
The primary need right now is for donations to fund the relief effort. There are several giving options:
Online — Harvey donation form.
Text — Type LCMSHarvey into the text message field and send it to 41444. You'll receive a text back with a link to a phone-friendly, secure donation form.
Phone — Call 888-930-4438 to make a credit-card donation. Calling hours (Central time) begin at 8 a.m. and have been extended to 7:30 p.m. Friday, Saturday and Sunday, Sept. 8-10.
Mail — Make check payable to "The Lutheran Church—Missouri Synod" or "LCMS." On the memo line, please write "Disaster Response/Relief" or "Hurricane Harvey." Mail your donation to: The LCMS, P.O. Box 66861, St. Louis, MO 63166-6861.
Give online
lcms.org/Harvey
Photo gallery
Roger Drinnon (roger.drinnon@lcms.org) is director of Editorial and Media Relations for LCMS Communications.
Hurricane Harvey video update – Sept. 8, 2017
 Video update – Sept. 4, 2017 |  Video update – Sept. 2, 2017
Posted Sept. 8, 2017