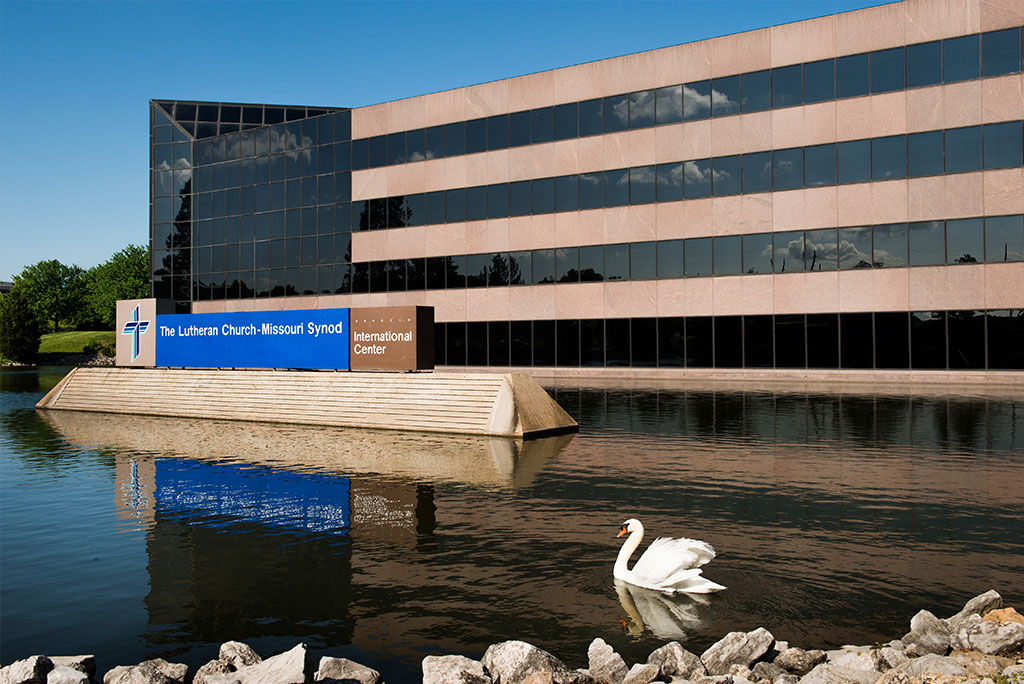 Council of Presidents hears report on LLDs, colloquies
By Cheryl Magness
"We have much work to do, but God is blessing" the Synod's colloquy process through the participation of licensed lay deacons (LLDs) applying to the Specific Ministry Pastor (SMP) program, says the Rev. Dr. Herbert C. Mueller Jr., LCMS first vice-president and chairman of the Colloquy Committee.
The Synod's Council of Presidents (COP) heard a report on the colloquy process at its Feb. 6–9 meeting in St. Augustine, Fla., the costs of which were underwritten in part by Lutheran Church Extension Fund and Concordia Plan Services. 
The report was an update on Resolution 13-02A, "To Regularize Status of Licensed Lay Deacons Involved in Word and Sacrament Ministry," approved by the Synod at its 2016 convention. 
Mueller reported that in 2017 the Colloquy Committee processed 35 applications for general colloquy and is now processing 14 applications for LLDs applying for the SMP program. More regional committees are being formed to handle the interviews. 
Mueller added that the Colloquy Committee is developing a colloquy process for Chinese-speaking pastors modeled on the Korean colloquy program, which is more than 30 years old.
LCMS President Rev. Dr. Matthew C. Harrison reported on Synod finances, noting an improved fiscal outlook with healthy giving through January 2018. This is in addition to the $9.5 million given for disasters in 2017, $7 million of which has already been distributed or committed. 
Harrison said that funding for international missionaries is on target, with the network-supported missionary model working well. But he added that project support for international missions is below where it ought to be, so expenses are being cut to match revenues.
Harrison also highlighted the recent LCMS study on millennials, emphasizing the importance of relationships to this generation, and observing, "The Synod doesn't grow; congregations grow."
The COP also heard from the Rev. Bart Day, president and CEO of Lutheran Church Extension Fund (LCEF), and Jim Sanft, president of Concordia Plan Services (CPS), on how LCEF, CPS and the districts can work together on areas of intersection. 
The Rev. Mark Wood, director of Witness and Outreach Ministry, gave a presentation on the Synod's new evangelism resource, Every One His Witness®. Nebraska District President Rev. Richard Snow noted: "I am excited that we have shared this resource with all of our circuit visitors and circuits. I am even more excited to see how laypeople are using this study in their homes and then hearing the stories of how they are using tools in intentional witness in their lives."
The COP also:
Engaged in business regarding placement and requests for reinstatement;
Continued its annual review of the unique situations of those who are on candidate status and desire a call;
Heard a report on vacancies, calls, new starts and other statistics; and 
Received an update on the work of the Committee for Constitutional Matters from LCMS Secretary Rev. Dr. John Sias.
Cheryl Magness (cheryl.magness@lcms.org) is managing editor of Reporter Online and staff writer for LCMS Communications.
National Mission priority: Keeping the Gospel 'uppermost'
By Megan K. Mertz
During its Feb. 5–6 meeting in St. Louis, the LCMS Board for National Mission (BNM) continued the process of revising the policies that direct the work of the LCMS Office of National Mission (ONM). 
The board's goal in this work is to ensure that the seven mission priorities — established by the Synod in convention — "are not forgotten or ignored," said the Rev. Steven Briel, BNM chairman.
Those priorities are to plant, sustain and revitalize Lutheran churches; support and expand theological education; perform human care in close proximity to Word and Sacrament ministries; collaborate with the Synod's members and partners to enhance mission effectiveness; promote and nurture the spiritual, emotional and physical well-being of professional church workers; enhance early childhood, elementary and secondary education, and youth ministry; and strengthen and support Lutheran families in living out God's design.
"The BNM is thoroughly committed to writing policies that will keep the Gospel of our Lord Jesus uppermost in everything our Synod does in national mission and that will reflect the doctrinal standard of The Lutheran Church—Missouri Synod as so clearly stated in Article II of Synod's constitution," Briel said.
At its meeting, the BNM also heard updates on:
The state of Lutheran schools — Terry Schmidt, director of LCMS School Ministry, reported on the findings and recommendations of the Synod's Blue Ribbon Task Force on Lutheran Schools, which was created by the 2013 Synod convention and directed to continue its work by the 2016 convention. Schmidt noted that he hopes the first draft of the task force's report will be ready by the start of the 2018–19 school year.
Millennials in the Church — The Rev. Mark Kiessling, director of LCMS Youth Ministry; Julianna Shults, program manager of the Lutheran Young Adult Corps; and Ryan Curnutt, senior research analyst with LCMS Research Services, presented the results of a survey of young adults (the so-called "millennials") in the LCMS. The report highlighted the Synod's continuing loss of young people after confirmation and led to a discussion of what the BNM can do to support districts, congregations and families as they seek to retain young people in the church.
The search for an ONM executive director — The BNM also received an update on the ongoing evaluation process for candidates to fill the ONM executive director position, which has been vacant since Sept. 1, when the Rev. Bart Day left the post to become president and CEO of Lutheran Church Extension Fund. In the coming weeks, based on its participation in these candidate assessments, the BNM is aiming to reach concurrence with the Synod president on a final slate of candidates (per Bylaw 3.3.1.3e).
Megan K. Mertz (megan.mertz@lcms.org) is managing editor of Lutherans Engage the World and staff writer with LCMS Communications.
BIM occupied by missionary vetting, international schools
By Pamela J. Nielsen
At its February meeting, the Board for International Mission (BIM) heard reports from LCMS President Rev. Dr. Matthew C. Harrison, Chief Mission Officer (CMO) Rev. Kevin Robson and the Rev. John Fale, executive director of the Office of International Mission (OIM).
Headlining the presentations made to the board were consultants from Colarelli Meyer & Associates Inc. (CMA), a consulting firm providing services to LCMS mission leaders for 20 years, and assisting in evaluating and vetting LCMS missionary candidates for the past seven years. The BIM discussed the ongoing mission and operations of the Synod's international schools in Hong Kong, Shanghai and Hanoi, and continued an ongoing discussion about future funding for missionaries and mission projects.
International schools 
Robson described a "flurry of work" with the international schools, including vetting of school board members and the search for a new head of school for Hong Kong International School. He noted that "our international schools and the Synod could benefit from the development and expression of a comprehensive, unified strategy for their collective work, as integral to LCMS mission in the Asia region and around the world," expressing a desire for the BIM, OIM and schools together "to think through how we serve the Church and the Gospel in keeping with our mission priorities."
The CMO encouraged the BIM to continue fostering closer working relationships with the international schools, noting recent progress. 
Finances, disasters, witness
"Our fundraising is up this fiscal year," said Harrison, including a million dollars more for direct missionary support. "I've pushed our major-gifts people to get into the mission field to get to know our regional directors so they can have regular contact and can keep donors up-to-date on mission work." 
Noting the string of disasters in late 2017, Harrison shared news of the overwhelming support for LCMS disaster-relief efforts. Synod members have given some $9.5 million, and more than $7 million already has been earmarked for projects or distributed for recovery efforts, primarily in Texas and Puerto Rico. Disaster-response leaders expect to receive requests for funds related to the 2017 disasters for the next two to three years.
"Our people are doing fantastic work, the world is an open field, ripe for the harvest," said Harrison, who noted that domestically, the retention of LCMS members is "the most significant challenge we face. It's very clear," he said, "that we need to reach out to more diverse communities, support families and work on retention."
Following a presentation the previous day by Director of Church Relations Rev. Dr. Al Collver III, Harrison shared that internationally, "we have a door that has never been opened before, a once-in-a-500-year moment, where the African church is shifting toward the Missouri Synod because they want biblical fidelity." 
Missionary vetting
In his report to the BIM, Fale described the increased efforts to vet missionaries, and introduced the CMA consultants in addressing the challenges in placing workers overseas in any industry.
"We do 6,000 assessments a year [but] what we do for you, these are the most challenging to get right," explained psychologist Dr. Terence Bostic, CMA senior vice-president. "We learn each time we do this."
The BIM heard how missionaries are assessed, the tools used and the way the data are reviewed to mitigate the risk of failure. "This is both an art and a science," noted Bostic. 
"CMA assessments have proven extraordinarily helpful in determining who is best suited for successful service on the mission field," commented Fale. "Their experience over many years working with LCMS mission leaders and field missionaries before, during and after their service has contributed to their accuracy and success." 
Lutheran Hour Ministries
The Rev. Dr. Douglas Rutt, executive director of International Ministries with Lutheran Hour Ministries (LHM), reported on LHM's efforts in the Middle East and North Africa, where some 21 million refugees have fled. The LCMS has supported this work — especially in Lebanon, where relief is provided through food and medicines. Rutt also described the success of a social media campaign aimed at the more than 300 million Arabic speakers and reported on work to start a TV program in the region.
Hong Kong and Taiwan
Robson and Fale addressed rumors and news regarding LCMS properties in Hong Kong. 
"It's no secret that the Synod has been looking at its options to sell certain properties in Hong Kong," said Robson, referring to previously published Synod Board of Director (BOD) meeting minutes wherein the BOD had authorized LCMS Church Relations staff "to conduct studies of certain of Synod's overseas property holdings, to identify potentially beneficial transactions." 
The BOD collaborated with both the CMO and OIM to determine the "best use of these assets" in support of the Synod's work in Asia and around the globe. Robson described careful consideration and due diligence over many months preceding the decision in an effort "to be effective stewards of these resources."
With the blessing of the BOD, it was decided to move the LCMS Asia regional headquarters to Chiayi, Taiwan, Republic of China. The team will live and work on a campus of the China Evangelical Lutheran Church in Taiwan at no expense to the LCMS. The facility will provide a place for on-field training with meeting rooms. It also has audio and video recording facilities to create evangelistic and educational content for use in Asia. 
Deaconess Pamela J. Nielsen (mailto:pamela.nielsen@lcms.org) is associate executive director of LCMS Communications.
Posted March 5, 2018