How does your congregation or school share God's love in your community — during holidays like Christmas, or any time?
Here are some of the responses we received to the January "Share it" question in Reporter.
Rev. Roger Schlechte, pastor at Resurrection in the City Lutheran Church, Denver: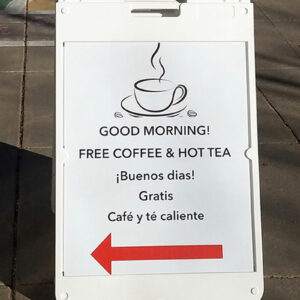 "Our congregation asked the principal of the public elementary school located a block away: 'How can we serve this school?'
"Her response: 'I've always thought it would be great to serve coffee to parents as they bring their children to school.'
"Her idea turned into a simple way to serve our community. A free cup of coffee every Thursday morning opens the door to conversations and new relationships.
"Initially, parents and teachers were skeptical: What are they trying to sell? Why are you serving free coffee?
"It didn't take long for the word to spread that the coffee and hot tea (and lots of flavorful creamers) were simply a gift to the school community. (Those serving the coffee knew they were sharing Jesus' love, too!)
"Over time, coffee and tea drinkers have learned that we are from the church down the street. Some ask for our prayers. Often, they share personal stories. Every week someone comments, 'Oh, I remembered it's Thursday and there's coffee.'
"Free cup of coffee. Like God's gift of grace."
Dr. Mary Fink, principal, Bethany Lutheran School, Long Beach, Calif.:
"We present a Christmas concert to the community (actually, three of them, due to popularity!) featuring musicians from our church and school. The theme of this year's concert (our 48th!) was 'A Light Shines in the Darkness.'
"Our preschool and day-school children present Advent programs centered on the Nativity story.
"Groups of our church and school members sing Christmas carols at the nursing home next door.
"Instead of exchanging gifts with each other, our school children make hygiene kits for people who are homeless. Each kit contains basic hygiene supplies and a note of encouragement from a student. These are given to Lutheran Social Services for distribution in downtown Long Beach."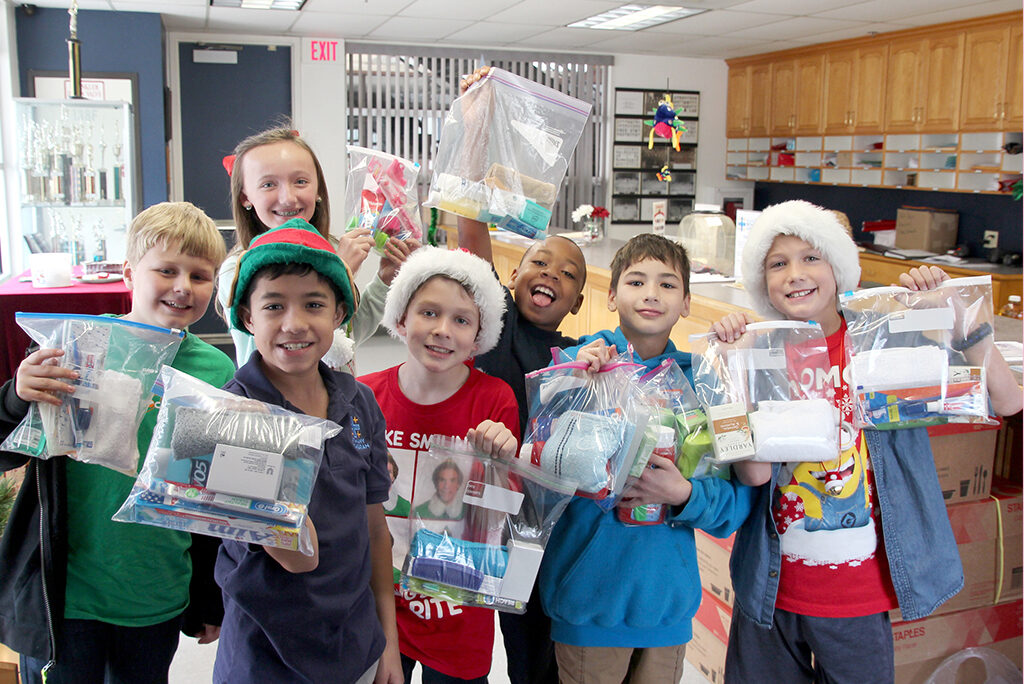 Rev. Dr. Michael Zeigler, pastor of Epiphany Lutheran Church, St. Louis:
"Because of doors the Lord opened over the last three years, Ms. Sue, a teacher at our local public school, said 'Sure!' when I asked if I could tell the story of Jesus' birth to her students, 18 energetic fourth-grade boys, some of whom had never heard the account.
"Several folks from our church serve there as reading buddies. Working within the city's school-district program, we formally adopted the school in 2014. I started reading for Ms. Sue's classes that same year. Being in the building each week has opened other avenues for our church to partner with the school: a weekly ballet class, our monthly community dinner and education night, annual ice-cream social and a 'Summerfest' picnic.
"So, in December, I learned Luke 1:1–2:20 by heart so I could re-enact it for Ms. Sue's class. Before starting, we talked about tricky words like priest, angel and census. When it came time, I put a blue cloth over my head and sang Mary's 'Magnificat,' then donned a beard to sing Zechariah's 'Benedictus.' The boys loved it."
Our next "Share it!" question: With Ash Wednesday and the beginning of Lent on Feb. 14, in what special ways does your congregation or school observe Lent? In brief (a few paragraphs), please share your ideas in an email to paula.ross@lcms.org. (Include your name, title, church/school name and its city.) We'll publish as many as we can in the March Reporter.
Posted Feb. 7, 2018