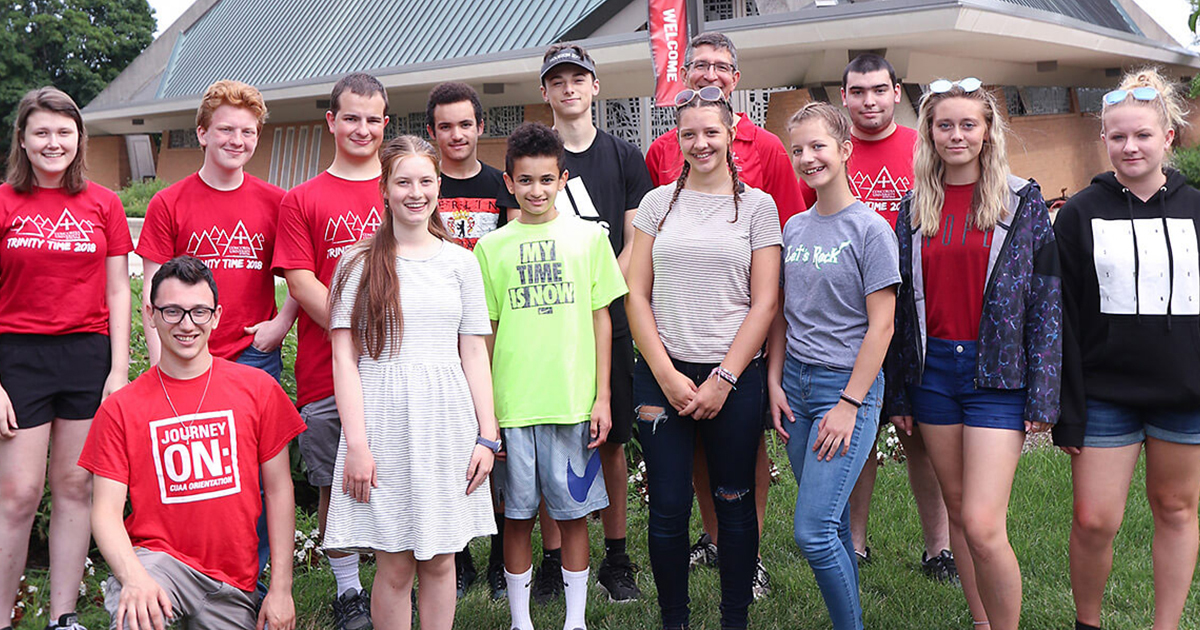 'Civil discourse'
Dr. Ben Sasse, U.S. Senator from Nebraska, will be the commencement speaker at Concordia College New York (CCNY), Bronxville, N.Y., on May 19. CCNY President Rev. Dr. John A. Nunes said, "I am delighted that our graduates will be addressed by a speaker who is as passionate as we are about the value of civil discourse." 
'Age-Friendly' university
Concordia University Chicago (CUC), River Forest, Ill., was named an Age-Friendly University (AFU) for its commitment to serving an aging population, reflected in the activities and research led by the university's Center for Gerontology. "Being an AFU is important for CUC. It illustrates that we are part of a larger, cultural shift that not only involves teaching gerontology but strives to make our campus a place that is welcoming to all ages and abilities," said Dr. Lydia Manning, associate professor and program faculty leader for Gerontology. 
American Bar Association approval
The American Bar Association granted the Concordia University, Portland (CUP), Ore., School of Law full approval as part of a multi-year accreditation process. "Full approval by the American Bar Association strengthens and affirms the university's commitment to prepare caring legal professionals who display humility, courage and faith," said CUP Interim President Johnnie Driessner. 
Also, in February CUP received a $5 million grant from the Robert D. and Marcia H. Randall Charitable Trust, establishing the Robert D. Randall Endowed Chair for Business and Technology. This is the largest single philanthropic gift in the school's nearly 114-year history.
Outstanding president
The Rev. Dr. Tom Ries, president of Concordia University, St. Paul, St. Paul, Minn., was awarded the 2019 ALDE (Association of Lutheran Development Executives) Outstanding Executive Director Award. The award is designed to honor a deserving CEO or president who serves the Lutheran church through deed and example.
Excellence in business
All 10 members of the DECA (Distributive Education Club of America) from Concordia University Texas (CTX), Austin, Texas, have advanced from the state- to international-level competition — the second time in the two years the CTX DECA has participated. Sophomore Shawn Matthijetz won election as State President of Texas Collegiate DECA. Concordia's team won 16 awards during the two-day Texas Collegiate DECA Career & Development Conference in February. DECA works to prepare high school and college students for future careers in marketing, finance, hospitality and management. 
Research on memory
A "stripped-down" estrogen molecule developed by Dr. Dan Sem, professor of Pharmaceutical Sciences and dean and professor of Business at Concordia University Wisconsin (CUW), Mequon, Wis., and two other Milwaukee-area researchers, has proven effective in improving memory in a model system for treating dementia in post-menopausal women. Although the trio's research is promising, there is still a long road ahead to developing a consumer-friendly version of the drug to market. A multimillion dollar National Institutes of Health grant is helping to fund the ongoing research effort. Learn more at blog.cuw.edu/estrogen-research.
Exploring church work
Concordia University, Ann Arbor, Mich. (CUAA), will host its annual Trinity Time event July 7–8. This overnight retreat on the CUAA campus invites high school students to learn about church work vocations by spending time with Concordia faculty and students. Participants will explore their own sense of calling through study of the Word and hands-on activities. Learn more and register at cuaa.edu/trinitytime.
Agricultural careers
Concordia University, Nebraska, Seward, Neb., hosted the Nebraska Ag Summit on March 22. More than 50 local high-school students spent the day immersed in the agriculture industry as they learned about the latest technology and best practices in the animal science, plant science, food science and agribusiness concentrations in agriculture. "Our goal with the event was to provide a valuable, hands-on experience for students who may be interested in pursuing a career in agriculture," said Scott Seevers, senior vice-president of Marketing and Enrollment.
Posted April 10, 2019