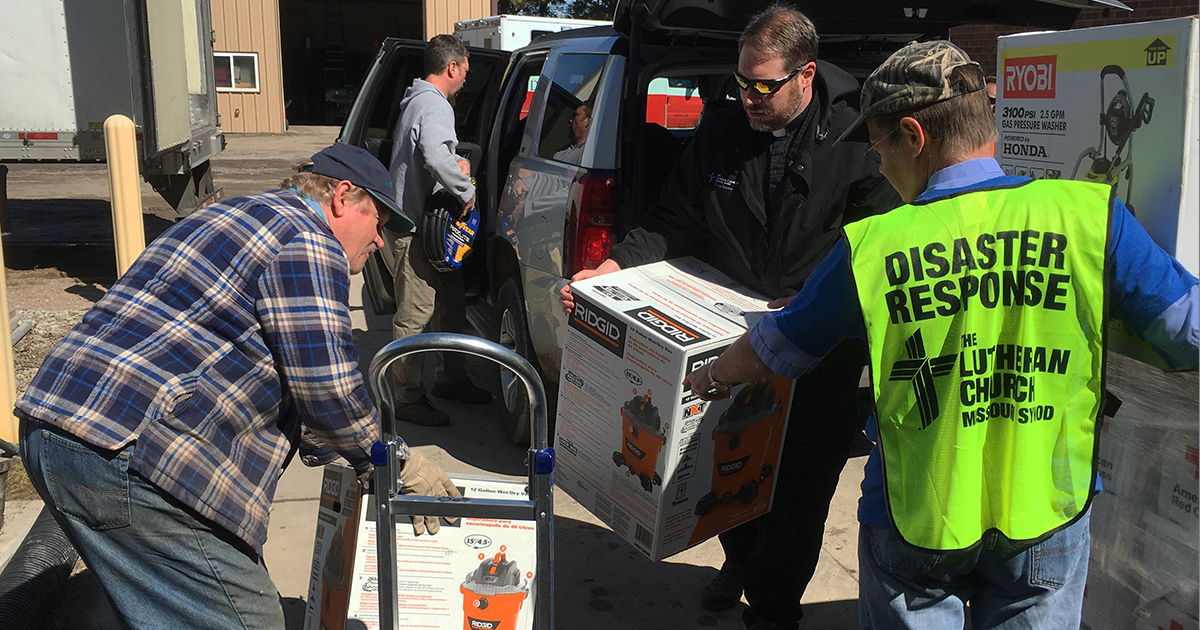 By Paula Schlueter Ross
As floodwaters rose in hard-hit Nebraska — swallowing roads, breaching levees and trapping people in their homes and cars — Missouri Synod Lutherans rose to the occasion, reaching out to their hurting neighbors with food, shelter and the love of Christ.
Trinity Lutheran Church in Fremont, Neb., fed and housed more than 120 men, women and children over four days, March 15–18. Many had fled their flooded mobile homes, and over half of the evacuees were Hispanic.
Dozens of church volunteers readied beds, prepared and served meals, and donated clothing and personal-care items. They felt they were "called to be the hands and feet of Jesus," noted Trinity Pastor Rev. Anthony Gerber.
By the time the displaced families left Trinity's shelter, Gerber said, "they were no longer strangers. They were family. And they will continue to be family."
Since then, the congregation has nurtured a budding friendship with an Hispanic church in downtown Fremont, where Trinity members have "helped serve meals and will continue to build that relationship," according to Gerber.
'God placed us here'
St. John Lutheran Church in Battle Creek, Neb., saw some water damage to its school gym, but that was nothing compared to local families who lost "years of memories from their basements, as well as furniture, carpet and appliances, including furnaces," said Senior Pastor Rev. B.J. Fouts.
On March 14, when floodwaters receded and "families were helping one another clean and muck out basements," St. John "held a spaghetti dinner and opened up our facility for people to take a break from cleaning and be fed," Fouts said.
At this writing, the church had received some $30,000 in donations for flood relief, which enabled members to distribute cash gifts on March 20 "to help people get started on the recovery and restoration phases," added Fouts. It also has begun filling its parish hall with household goods (such as pillows, toothpaste, paper towels and cleaning supplies), which are available free to those who need them.
Also free to area residents, beginning March 22, will be about 3,000 pounds of meat donated by Tyson Foods.
Fouts says the St. John congregation "will continue to share gifts as they come to us" and "will follow up with families, praying for them and with them."
God, he says, "has placed us in this community. He has called us to love our neighbors" and "shine the light of Christ at all times."
Adds Fouts: "If we ever hope to meet the spiritual needs of our community, we have to be willing to meet their physical and emotional needs."
'A natural connection'
"We have a natural connection into these communities where there are hurting people," notes the Rev. Michael Meyer, manager of LCMS World Relief and Human Care Disaster Response.
LCMS congregations can — and do — "show the love and mercy of Christ to their neighbors," both Christian and non-Christian.
Meyer was visiting Nebraska — including Arlington, Columbus, Fremont, Norfolk and Seward — March 21–23 to meet with LCMS Nebraska District leaders, help with damage assessments, purchase power washers and other cleanup supplies, and distribute 100 $100 gift cards.
Recovery will take months, he said, especially since assessments are ongoing and will take weeks to complete.
But the Synod's Disaster Response arm stands ready to help, he added, and will assist those who need help for as long as it takes by providing financial aid for tools, Sheetrock and other building supplies.
The Synod's Lutheran Early Response Team, or LERT, volunteers will be dispatched to help with cleanup as soon as first responders give the go-ahead.
'The first to go help'
Among the three people who have died as a result of the historic flooding that put more than 7 million people in 15 states under flood warnings is James Wilke, an elder at Christ Lutheran Church in Columbus, Neb.
Wilke, 50, died as he lived: lending a helping hand. He was, according to his cousin, Paul Wilke (as quoted by the Omaha World-Herald), "always the first to go help somebody" and "wouldn't just talk about making things better. He would do it."
James Wilke was swept away by a rushing creek when the bridge he was trying to cross on his tractor collapsed as he was on his way to rescue a stranded motorist. Paul Wilke was able to help the frightened motorist in his cousin's stead.
The Rev. Aaron Witt, the Wilkes' pastor at Christ Lutheran, described James as "a man of God," "a family man" with a wife, Rachel, and three grown children, and someone who "helped many people in the community, but would do so humbly."
Although Wilke's death caused "much heartache" in the congregation, members have "pulled together, giving support not only to James' family but also to each other," Witt told Reporter.
At Wilke's March 19 funeral — attended by some 565 people, a full house — Witt based his sermon on James' confirmation verse, John 15:5: "I am the vine; you are the branches. Whoever abides in me and I in him, he it is that bears much fruit, for apart from me you can do nothing."
"While many hailed James as a hero for the many things he did to help others … James saw himself as a branch from the vine of Jesus, trusting in Jesus for his salvation, and the things he did for others were an extension of his faith in Jesus," explained Witt.
"As we all connect ourselves through faith in Jesus, we can find comfort, peace and hope knowing that Jesus gave up His life for James and all of us. As Jesus has now welcomed James into the kingdom of heaven, He will also do for all of us who put our faith in Him."
Lutheran losses
In Columbus, several members of Christ Lutheran Church and the community had to be evacuated from their homes by helicopter because of the flooding, according to Witt, and one Christ family lost many cattle to floodwaters.
Because many roads, especially in the country, were still closed at this writing, it's been difficult to assess damages, but Witt says his congregation already has distributed gift cards and offered many prayers to those who need them. And they stand ready, he added, to offer more help as needs are identified.
Situated on a hill, St. Paul's Lutheran Church in Arlington, Neb., stayed dry, but most of its pews — about 30 of them — sat in 4 feet of floodwater for a couple of days at a local woodworking shop.
The pews were being refurbished as part of the church's 150th anniversary renovation, and — as of March 21 — St. Paul's Associate Pastor Rev. Jason Duley wasn't sure they can be salvaged.
At least three St. Paul's families also have "significant" water damage to their homes or businesses, and another — unable to escape because of impassable roads — spent three days in their home without power.
Still, "it's been wonderful to see people band together," helping one another, giving and sharing — evidence that "God is still in control," Duley said.
He noted that the congregation's mission statement, "We're called to make known the love of Christ," is especially significant now.
As St. Paul's members reach out to comfort one another and their neighbors, "it really is Christ working in the midst of all of this," Duley said.
How to help
The LCMS Nebraska District's Disaster Response website offers a number of resources for Nebraskans with losses and ideas for those who want to help.
Online forms and spreadsheets show at a glance what specific items are needed, and where, as well as what others can offer.
The hope, says District Disaster Response Coordinator Rev. Kevin McReynolds, is that the website "can be an effective tool to put people into contact with those who have needs or those who wish to share."
Financial donations are even more helpful, he adds, since they can be put toward cleanup, rebuilding and other, more immediate, needs.
See the district website above to give online or by mail.
LCMS World Relief and Human Care Disaster Response also is receiving contributions to help flood victims in Nebraska and other Midwestern states. For giving online, click here. To give via phone, text LCMSFLOODS to 41444.
God assured His people in Isaiah 43:1–2 that "when you pass through the waters, I will be with you; and through the rivers, they shall not overwhelm you," and in the midst of current flood woes throughout the Midwest, "God is providing relief to those affected by these floods," says McReynolds.
"Through this disaster, God has given us a tremendous opportunity to reach not only those who are a part of His Church, but also those who may have never had a connection to it."
Paula Schlueter Ross (paulasross@gmail.com) is the former managing editor of Reporter and a freelance writer in St. Louis.
Posted March 22, 2019