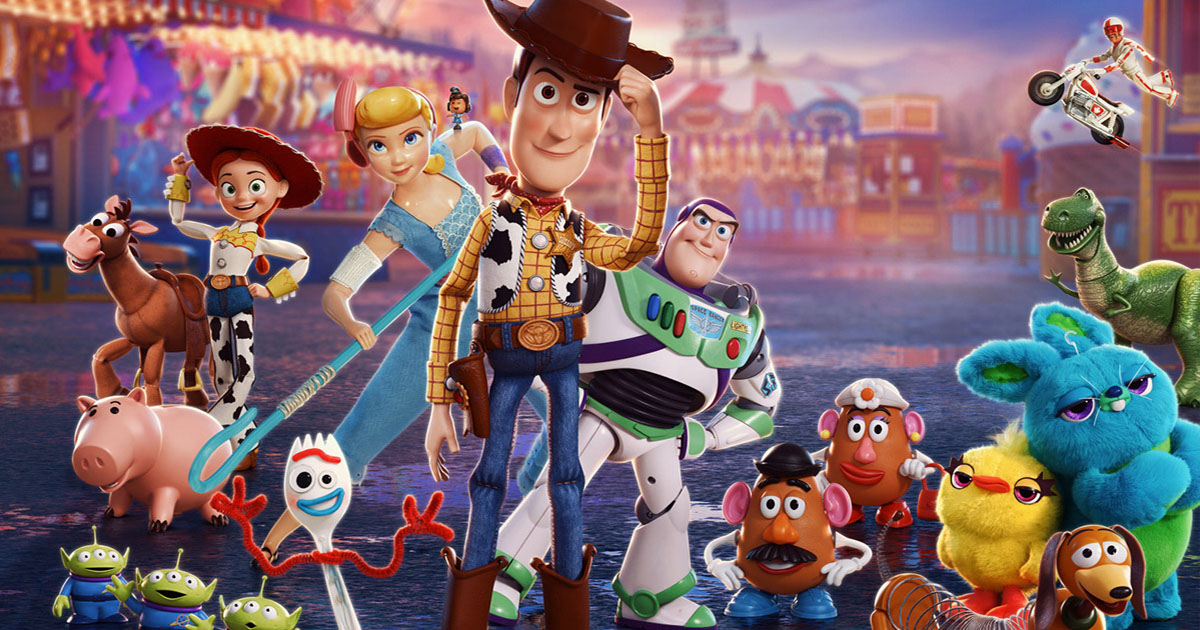 (Rated: G [MPAA] and G [Canada]; directed by Josh Cooley; stars Tom Hanks, Tim Allen, Annie Potts, Tony Hale, Keegan-Michael Key, Jordan Peele, Madeleine McGraw, Christina Hendricks, Keanu Reeves, Ally Maki, Joan Cusack, Bonnie Hunt, Lori Alan, Jay Hernandez, Carl Weathers, Wallace Shawn, John Ratzenberger; run time: 100 min.)
Fun film with a questionable message
By Ted Giese
Warning: this review contains spoilers.
"Toy Story 4" continues the saga that has captivated audiences since the release of "Toy Story" in 1995.
At the end of "Toy Story 3" (2010), college-bound Andy gave the toys to a shy little girl named Bonnie (Madeleine McGraw). In "Toy Story 4," Woody (Tom Hanks) struggles to adapt to life with a new child, one who doesn't see him as the favorite toy.
He finds new purpose, however, when Bonnie gets a new toy: Forky (Tony Hale). Woody takes Forky under his wing to show him the ropes and teach him what it means to be the favorite toy.
While on a family trip, Woody and the other toys meet up with their old friend Bo Peep (Annie Potts), and together they face issues of conscience and abandonment. Ultimately the film builds on the theme of "moving on" found in "Toy Story 3," only now it's applied primarily to Woody.
The film is technically superb, with computer animation that takes advantage of the decades of advancements since "Toy Story." Bo Peep truly looks like a porcelain doll. In the small-town antique store where Woody meets the duplicitous Gabby Gabby (Christina Hendricks), everything from the cat to the lighting, rain and other natural elements is near photo-realistic. Bonnie, her parents and the other human characters still have a cartoonish feel but in a more lifelike world.
Appeal for all ages
The script is finely crafted, with relatable plot elements for a multi-generational audience and a subject — vocation — that holds interest for all ages. The character of Forky faces vocational shift when he moves from being trash to being a toy. Gabby Gabby schemes to get the vocation she wants. Bo Peep, the image of the self-sufficient woman, is torn by her feelings for Woody and fond memories of her past life as a cherished toy.
Add to this the traveling carnival-game-prize toys Ducky (Keegan-Michael Key) and Bunny (Jordan Peele), who both desperately want to be loved by some child, and Duke Caboom's (Keanu Reeves) desire to live up to his death-defying TV commercial, and a picture emerges of a world in which every toy is either seeking to be loved or trying to come to terms with not quite fitting in.
Building on this theme, Woody's own existential crisis prompts a conversation with Buzz Lightyear (Tim Allen) about their "inner voices," or consciences. This leads to such humorous moments as Buzz mistaking the buttons on his chest for his conscience. Buzz's desire for personal growth is encouraged when the other toys turn to him for leadership after Woody disappears.
Character shift
Soul-searching and self-reflection are prominent themes. When Woody is asked why he is willing to risk so much to rescue a spork, he reveals that his motives are not completely altruistic but may be an attempt to make himself useful to Bonnie.
Ultimately, Woody has to decide if he will remain as one of Bonnie's less-loved toys or join Bo Peep as a "lost toy," abandoning the noble vocation of serving a child in favor of living for himself. Christians will appreciate that "Toy Story 4" upholds the value of serving one's neighbor but may be troubled that, in the end, Woody leaves service behind to "follow his heart." Woody and Bo Peep's choice to run away upends the social order of the "Toy Story" universe and is not consistent with Woody's past character, as he has been a stalwart of duty and honor, repeatedly sacrificing himself for Andy and Bonnie.
What does this character shift suggest to viewers? Is it acceptable to walk away from your vocation to seek personal happiness? Whereas one can easily leave some vocations (welder, soldier), leaving others (parent, child, sibling, spouse) causes great harm. The relationship between the toys and the children in the "Toy Story" films is based on family more than career. As a result, some viewers might find Woody's "retirement" unsettling.
'Spirit of the times'
"Toy Story 4" is an exceptionally fun, engaging, technically excellent and well-crafted film, but it does reflect the spirit of the times with a couple of blink-and-miss-it moments (including a lesbian couple at Bonnie's kindergarten orientation). And the film's philosophy — embodied in Woody — may give license to abandon loyalty, duty and responsibility in favor of personal happiness.
Rev. Ted Giese is lead pastor of Mount Olive Lutheran Church, Regina, Saskatchewan, Canada; a contributor to The Canadian Lutheran and Reporter; and movie reviewer for the "Issues, Etc." radio program. Follow Pastor Giese on Twitter @RevTedGiese.    
Posted July 2, 2019