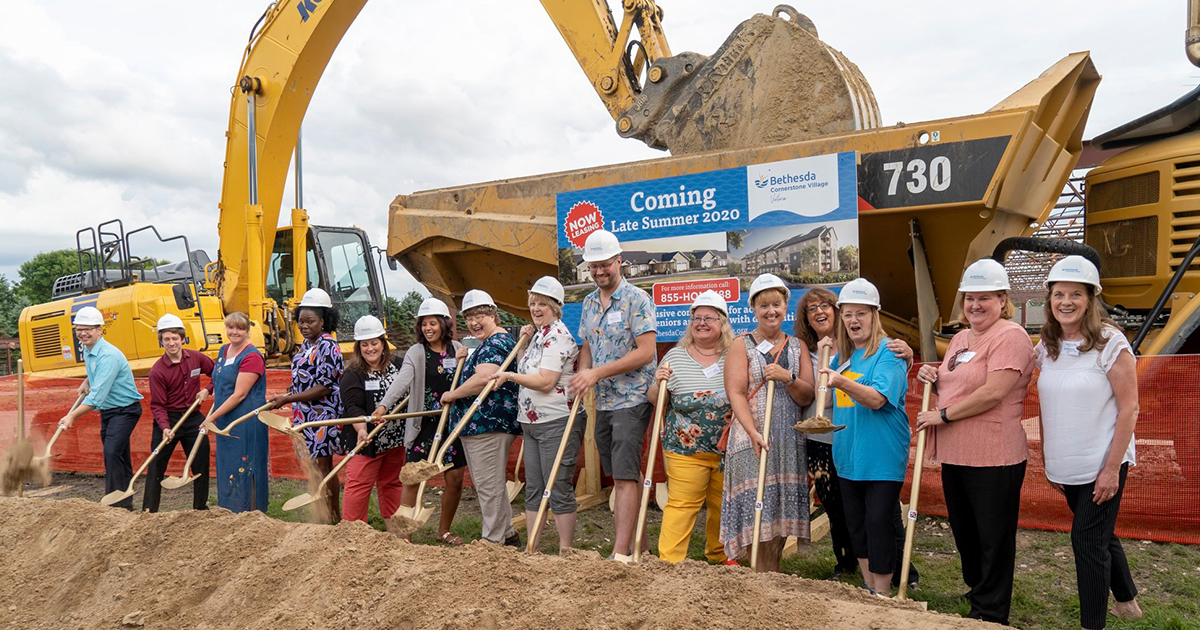 In August, Bethesda Lutheran Communities — an LCMS Recognized Service Organization — broke ground on Cornerstone Village in Victoria, Minn. The village, comprising 52 villas and apartment homes, will serve people with disabilities as well as adults of all abilities who are 55 and older.
The goal of the new development is to offer comfortable and convenient housing while encouraging independent living and fostering connections among residents. Cornerstone Village will feature a chapel, along with regular Bible studies and other events facilitated by local congregations.
"Cornerstone Village presents an opportunity for residents and local congregations to connect with people of all abilities to share the Good News of Jesus Christ through worship, service projects, Bible studies and prayer. It's truly an exciting effort," said Deaconess Kimberly Trombley, Bethesda vice-president of religious life and church relations.  
Tom Campbell, vice-president of real estate for Bethesda, said, "We've had tremendous interest so far from prospective residents. … We have also had outstanding initial conversations with local LCMS congregations about ways we can support each other as neighbors."
One leader who believes strongly in the concept behind Cornerstone Village is the Rev. Mark Shockey of St. Peter's Lutheran Church in Edina, Minn. Shockey recalls his late Aunt Marcia, who had a disability and lived in an institutional setting, taking the bus back and forth to a job making pay phones. While she stayed connected to her Lutheran faith through Bible classes, Shockey believes she could have had a much richer experience in a place like Cornerstone Village.   
In fact, Shockey sees Cornerstone Village as a place where Lutherans, especially seniors, can help "build the Kingdom."
"There is potential to … re-energize churches within communities," he said. "So many families can be reached and blessed with the love of the church."
Looking for land
Bethesda is looking for other locations in the U.S. on which to build Cornerstone Village-style communities — particularly churches that might have nearby land to sell.
The land need not be a huge parcel — in an urban environment, the building could be vertical.
"Our hope for each location is to build strong and mutually beneficial relationships with LCMS congregations," said Trombley.
Campbell noted that the project would not be possible without the Lutheran Church Extension Fund, which is providing financing. "They have been a very supportive partner, with us every step of the way," he said.
In Victoria, the foundation is being laid, both figuratively and literally, to better serve people with disabilities. "As an industry leader, we strongly believe people with disabilities deserve quality housing they can afford. We are committed to identifying needs and creating solutions," said Campbell.
For more information about Bethesda Cornerstone Village, contact Tom Campbell at tom.campbell@bethesdalc.org or 414-828-6697, or visit bethesdacornerstonevillage.org.
Posted Feb. 28, 2020