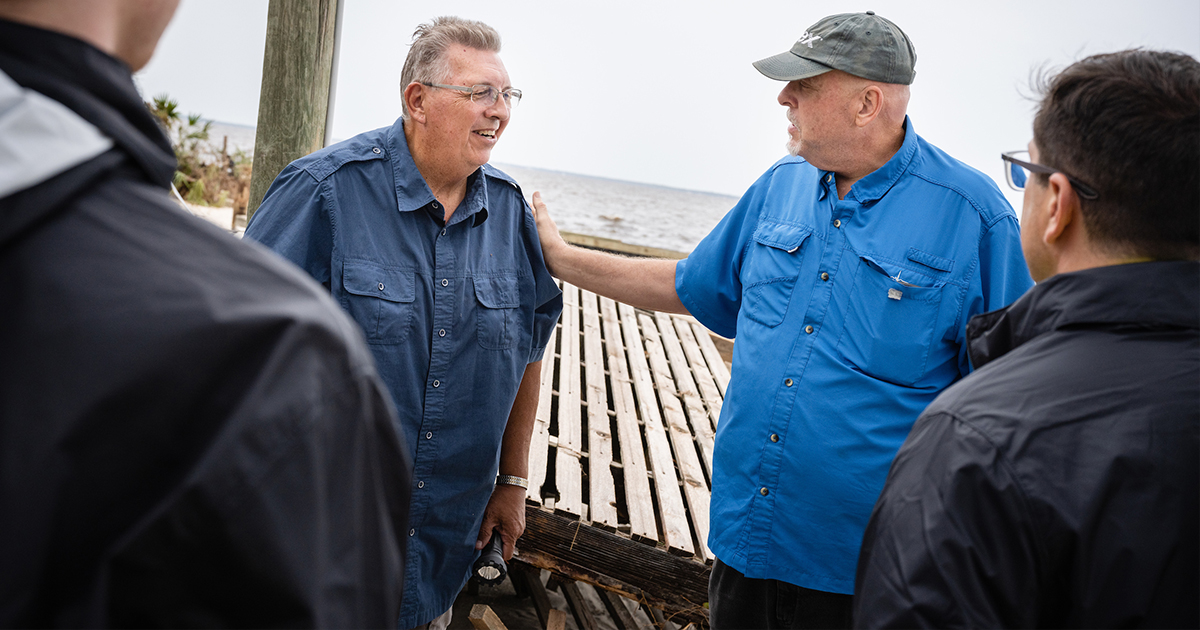 By Stacey Egger 
On the morning of Sept. 16, just weeks after Hurricane Laura hit Louisiana, another hurricane — Category 2 Hurricane Sally — made landfall near Gulf Shores, Ala.
Around two dozen Lutheran Church—Missouri Synod (LCMS) churches in Alabama, Florida, Louisiana and Mississippi were directly in the path of the storm, expanding the need for hurricane relief efforts already concentrated in Louisiana and Texas. At an early estimate, around 100 Lutheran families in the path of Hurricane Sally have been affected, including multiple church workers.
"There is going to be a massive need for volunteers. This has really spread us thin," said the Rev. Dr. Ross Johnson, director of LCMS World Relief & Human Care Disaster Response. "It started almost two months ago with the derecho in Iowa, which required a pretty robust chainsaw response. … And now within two weeks of one another, two catastrophic hurricanes have hit the southern districts across five different states. It's been stretching a lot of our volunteers."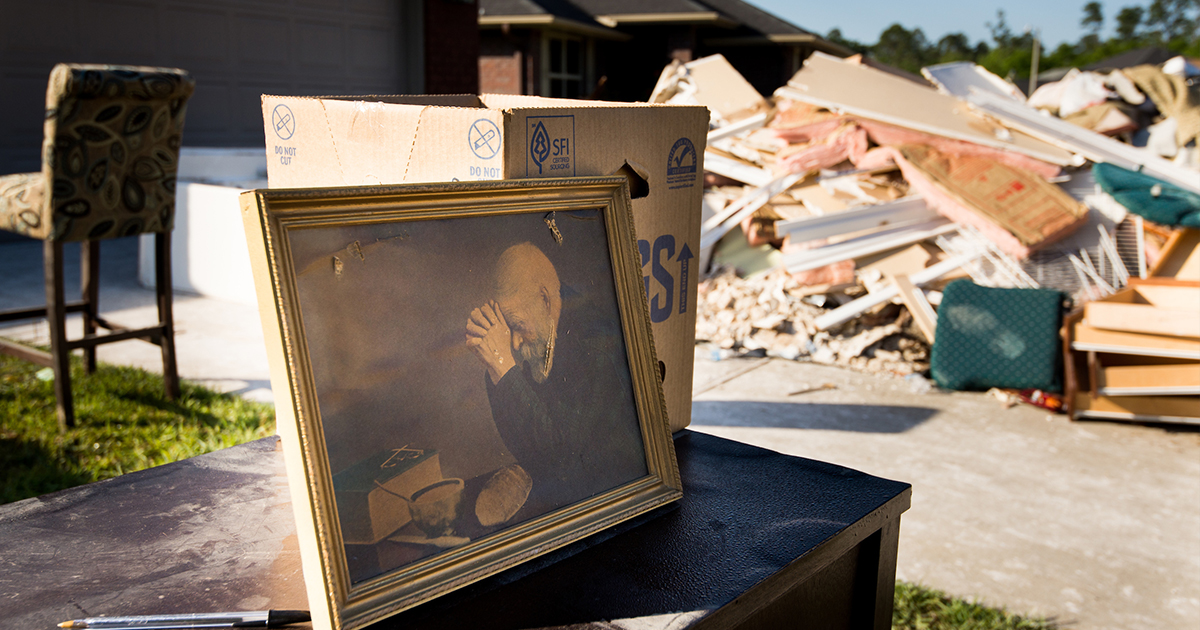 'Like waking up to a nightmare'
The response to Hurricane Sally will include mucking out homes that have been damaged by flooding, especially in southern Alabama and the Florida Panhandle.
In Pensacola, Fla., as flood waters rose around their home, the Rev. Randy Blankschaen and his wife and three-year-old son took shelter at Immanuel Lutheran Church, where Blankschaen serves as sole pastor. Just six years earlier, the Blankschaens' home was flooded in the April 2014 Pensacola floods, and most of their belongings destroyed. "We decided to ride it out there, because that's where we rode out the last flood," Blankschaen said. Immanuel is the oldest LCMS church in Florida.
The Blankschaens watched from the church as trees blew over and power lines fell into the street. When water began pouring through multiple locations in Immanuel's ceiling, they spread tarps and placed trash cans under the leaks. When the storm passed, they could see the sky through a corner of the narthex ceiling.
Most residents in the affected area did not evacuate before the hurricane, which had been expected to weaken to a Category 1 or tropical storm before landfall. Instead, they were in their homes as the storm, with sustained winds of 105 mph, crawled over them at just 2 mph, dumping heavy rains for hours. Many Florida and Alabama residents were forced to evacuate or remain stranded until they could be rescued.
Blankschaen said a slow-moving rain event was his concern "all along," noting, "The last flood was 29 inches of rain in 24 hours. And no one expected that to happen again."
Over 24 inches of rain fell in Pensacola over the course of the storm, and rainfall in nearby Bellview, Fla., peaked at 30 inches, according to AccuWeather. The Blankschaens' home sustained significant flooding, and only the belongings that they had moved to the top floor survived the storm. 
"There are trees down, there are leaves everywhere — and there are just people in shock … that this has happened all over again. … It's like waking up to a nightmare," Blankschaen said.
Because the storm's impact is so wide and communication is down, Blankschaen has not been able to contact many of his members. So far, he knows that several have wind damage, and one other member has flood damage.
"Our church workers," said Johnson, "are caring for their members and the community, but they're also victims. … Nobody realized how strong this storm was going to be. All these church workers who are caring for others are also trying to get their homes in order, take care of their own families and deal with the emotions of surviving a storm like this."
Historic churches in path of storm
Seven of the Synod's historic black churches were among those in the path of the hurricane. All have buildings between 50 and 100 years old and significant history in the LCMS and the Southern District.
The Rev. Dr. Roosevelt Gray, director of LCMS Black Ministry, said, "Those were seven of the 35 churches that Rosa Young started in the Southern District. … All of those churches have a real history in the LCMS, as part of the largest collection of historic black congregations in the Synod. One of those churches will be celebrating its 100th anniversary this year. One [Trinity Lutheran Church and School in Mobile, Ala.] … is the last congregation in the South where we have a Rosa Young school still in existence."
Johnson said that most of these seven congregations had sustained some kind of damage to their buildings or properties.
Gray said that damage to a church building is about more than just the costs and the difficulties of rebuilding.
"When people see those kinds of things happening to their church building, it creates a sense of depression, because that may be the place where they've spent all of their lives worshiping. That's where they have a history of weddings and funerals and choirs and events.
"My word of encouragement is for them to continue to have faith in God, who understands what is going on, and know that the church at-large, the LCMS, will not abandon them in this time, but will rally on their behalf and bring the resources of the church to bear in helping them to rebuild their facilities, and also encourage them in continuing to carry the Gospel back to the communities which have been devastated by the storm."
Lutherans prepare disaster response plans
On Sunday, Sept. 19, Johnson will travel to the impacted area along with the Rev. Michael Meyer, director of LCMS Disaster Training, to meet with Southern District President Rev. Eric Johnson and assess the damage to LCMS churches and members' homes. This will be the first step in developing a disaster response plan, including a plan to organize and house volunteers.  
Volunteer opportunities based in Alabama will open up within the next couple of weeks, Ross Johnson said. The response will be long term, centering around "mucking out" flooded homes and removing fallen trees from people's homes, properties and vehicles.
In addition to volunteers, financial contributions will be crucial to the work that the Synod and the Southern District will do as they help fund:
Equipment and materials to rebuild homes,
Grants to cover churches' insurance deductibles, and
Supplies to meet the immediate needs of those displaced by the storms.
Already, said Blankschaen, the response from fellow Lutherans has been overwhelming.
"That I would receive the amount of support I have from people I don't even know," he said, "is just pure, undeserved grace in action. You don't even know somebody, but they say, 'What can I do? How can I help?'
"We're the Body of Christ," he continued. "He's still our head. He didn't forsake us in the midst of the storm. He was right there with us, and He'll be with us in these days and weeks ahead.
"And we're going to be able to be Christ to one another, whether we need a shoulder to cry on, or a generator, or a dehumidifier, or some other assistance. We're going to do what we do. We'll clean up the mess, and we'll sing our hymns and praise God."
Please visit the Southern District website for information about how to support the disaster response effort:
To support the continued work of LCMS Disaster Response, please consider donating:
Online at lcms.org/give/disaster.
Via text (send keyword LCMSDISASTERS or LCMSHURRICANES to 41444).
By phone at 888-930-4438, Monday through Friday, 8 a.m. to 4:30 p.m. Central time.
By check (make payable to The Lutheran Church—Missouri Synod, and write either "for disaster response" or "hurricane relief" on the memo line.)
Posted Sept. 19, 2020/Updated Sept. 22, 2020