By Kevin Armbrust
"It's a sprint. Then it's a marathon."
As he met with pastors of congregations affected by Hurricane Sally, LCMS Southern District President Rev. Eric C. Johnson greeted each pastor with a hearty "Brother!" followed by this reminder that disaster recovery involves both an immediate response and a longer, slower, extended one. He shared the same message of encouragement and compassion with members of area congregations.
The racing metaphor, delivered as Johnson stood amid downed trees and displaced roofing tiles, dripped with irony. When she made landfall on Sept. 16, Sally did not run over Alabama and the Western Panhandle of Florida. Instead, she sat and dumped rain — up to 30 inches in some locations — before battering the area with severe winds.
The result was uprooted trees, damaged roofs, storm surges on the coast and damage from all of the above. Trees assaulted and leaned on power lines until power was out and cell phone service eliminated. Five days later, many were just receiving power and internet connectivity.
The delay in relief reflected the severity and prevalence of the damage, not the paucity of aid. Immediately following the Category 2 hurricane, crews from all over the Eastern Seaboard worked to restore power. Those who were able assisted their neighbors to clear trees and make roads accessible. Many responded while the storm was still raging. Yet all the sprinting could not avoid the necessity of the marathon.
"It's pretty unprecedented that two hurricanes would hit the same district in two weeks," noted Johnson, who had just faced Hurricane Laura two weeks earlier in Louisiana. "The two major disasters in two weeks have really stretched us financially to help."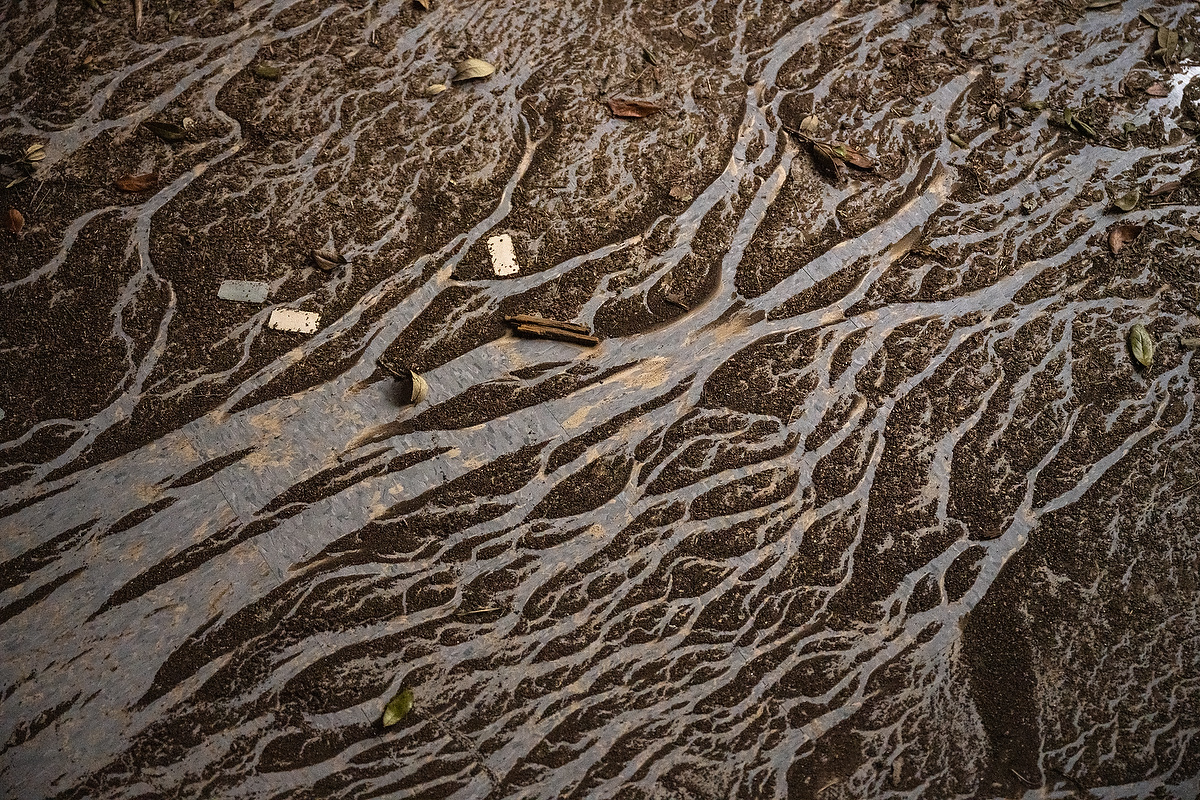 Wind, rain and opportunity
The initial assessment revealed that 19 congregations in Alabama and Florida were affected by Sally. The storm impacted the entire community, including schools, the district camp and members' homes.
Noting the challenge of facing a hurricane in the same year as COVID, John Price, principal of Redeemer Lutheran School in Pensacola, Fla., said, "The biggest thing is to be flexible. We have a lot of people coming together to help. It takes a big ol' family. Whatever happens, we can handle it, even though it gets a little tough."
The school has been using the 2020-21 LCMS School Ministry theme, "Sent to Serve." Price said the theme is almost too apropos: "God is giving a lot of opportunities to witness through this theme. We have been encouraging our parents to reach out to their neighbors … to see this as an opportunity to do that."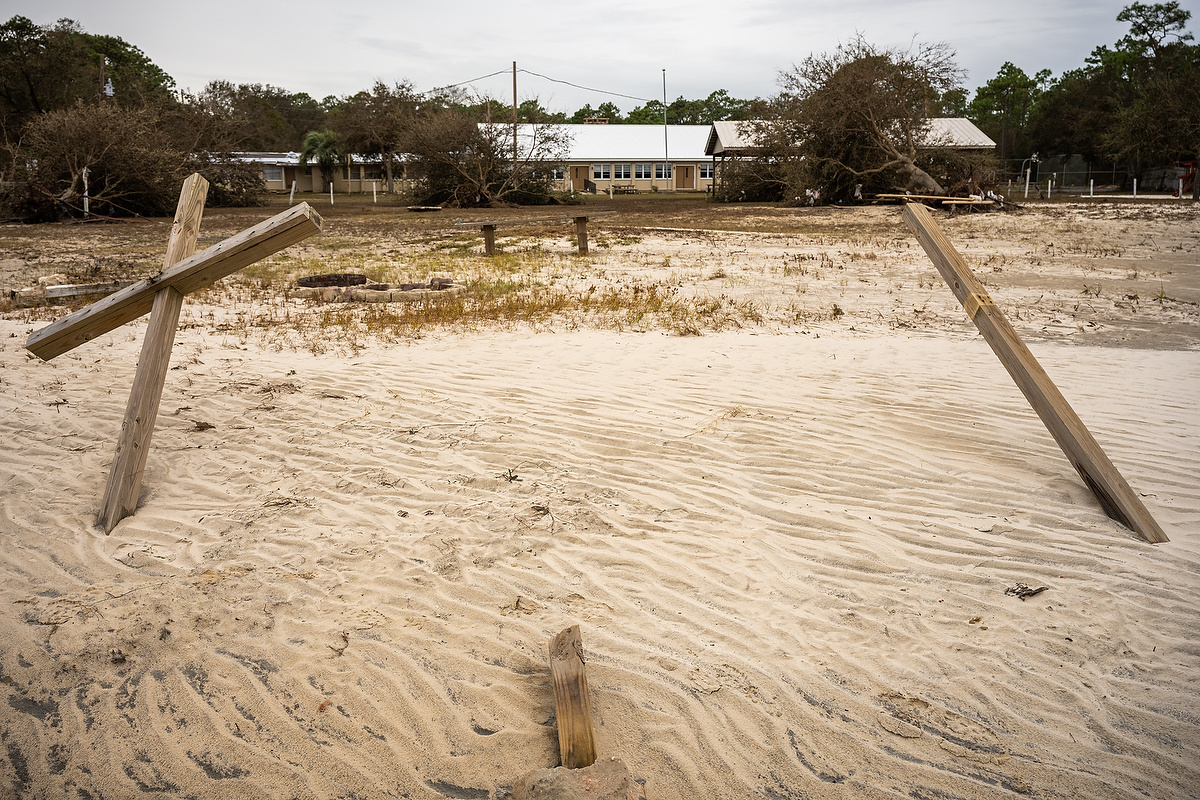 Camp Dixie, a district camp in Elberta, Fla., was impacted by wind, rain and a storm surge. "We had to cancel all the spring camps. We were planning to reopen in October. Now this," said Michael R. Stapleton, a director of Christian education, who directs the Camp Dixie Outdoor Ministry. After PPP (Paycheck Protection Program) loans helped keep the camp open during the COVID shutdown, this storm brought devastation, including damage to roofs, destruction of the outside chapel, downed trees and numerous items displaced and thrown around the property by the wind.
"A lot of people are used to facing hurricanes here, but this one was unexpected. The uncertainty of this situation is unsettling," said the Rev. William Parsons, pastor of Redeemer Lutheran Church in Fairhope, Ala. "Every one of my parishioners has damage of some kind."
Redeemer, which is certified as a secondary shelter for the Red Cross, has been working with the other churches in town to offer shelter and aid. Parsons, who serves as the chaplain for the local police department, employed his contacts to find opportunities to help others.
"No matter how bad this is, God is with us, and He loves us," said Paul Pacey III, a Redeemer member who rode out the storm with his family in his home's lower level once they heard parts of their siding beating against the house. When the storm ended, the morning light revealed a large tree that had destroyed much of the house's second story.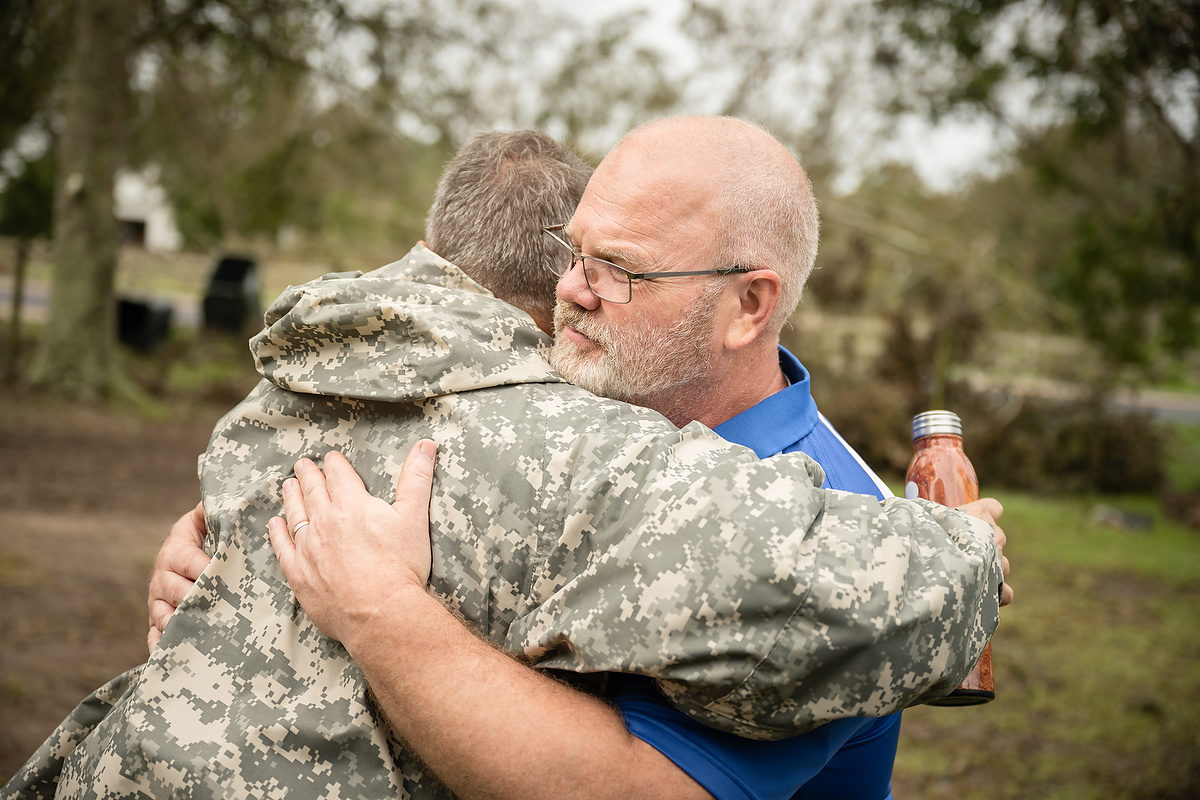 Five days later, Pacey noted that, after attending church on Sunday, he finally feels closer to normal again. "My wife and I have had the conversation many times, that I don't know how people get through all of this without Christ and without their church family. …
"It changes everything to be able to call out to your Heavenly Father. It makes it not earth-shattering. God is with us. He is here. I'm so thankful that my grandparents and my parents insisted that we go to church and grow in our faith. It's a huge blessing."
"This is my first hurricane. It took a little while to process what is going on. … The enormity of it is overwhelming," said the Rev. Bernie Hauesman, pastor of Grace Lutheran Church in Pensacola, Fla. "I kept in touch with the other circuit pastors … and immediately, people in the church started reaching out to me and I to them. It was really cool to see the Body of Christ coming together."
Grace serves as a hub for resources to help the people in Pensacola. Churches from outside the area arrived after the storm and plan to come back with more supplies and volunteers. Hauseman said, "It was very humbling to receive the generosity of our neighbors."
Even those who have experienced storms in the past were not fully prepared for Sally. "It was a trying time. … We put our lives in God's hand. And we work to help each other, to see what each other needs — generators, ice, food," said the Rev. Ferry Nye, pastor of Jehovah Lutheran Church, Pensacola, Fla. "We in Pensacola stick together. We help one another. This is not new to us. We are familiar with this … but you can never be fully prepared for a hurricane like this."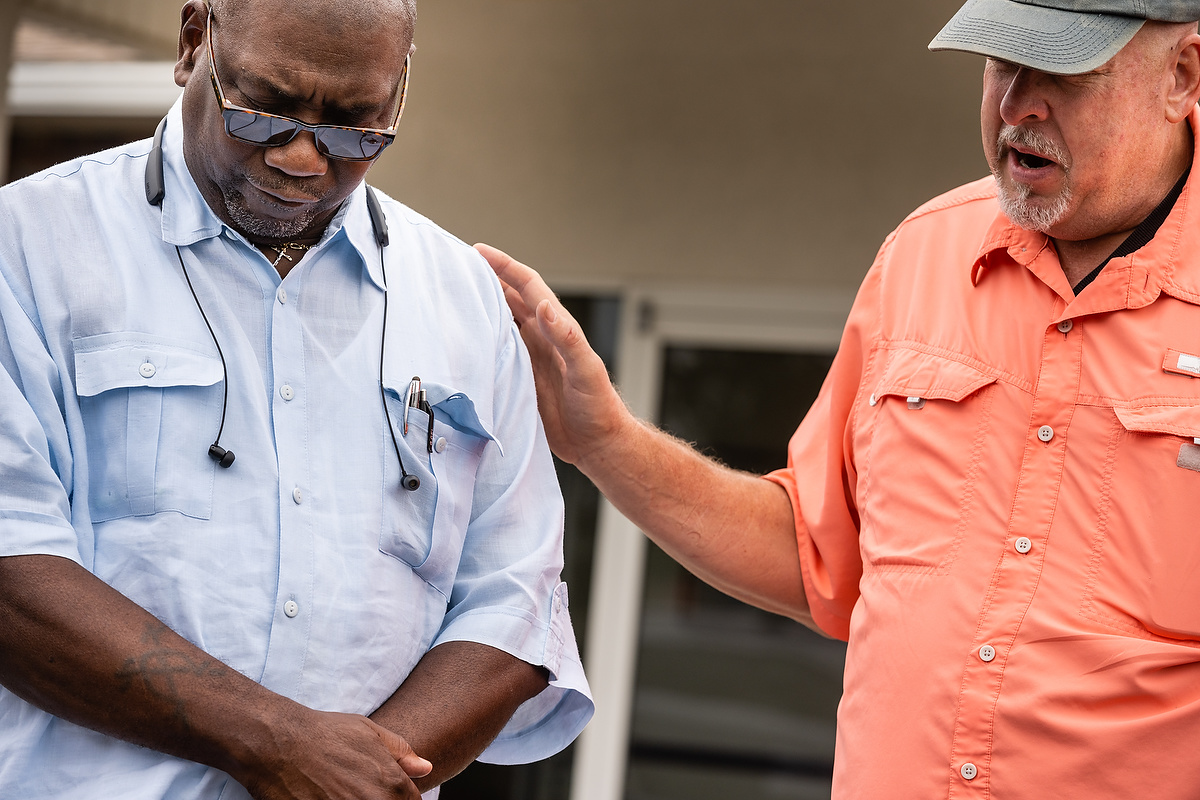 "Immediately, we worked to make sure the church and the members are OK. … When it first hit, we couldn't even get across town," said the Rev. Keith Ringers, who has been pastor of St. Mark Lutheran Church, Elberta, Ala., for 33 years. "God has been good. We are thankful that no one was killed. … God is gracious, even in the midst of a disaster. … Throughout all of this, God provided even before we asked. …
"A couple of weeks ago, I preached on Mark … You don't know what God is up to, but He promises to work through all things for good according to His purposes."
Working together
"It's good to be part of God's people," said Johnson, who has "godly pride" for those in his district who are working together like runners in a relay as they respond to the two recent storms. "The people of God have stood up and been the people of God. As we get our pastors and congregations up and running, we can serve the community. … [We] take what God gives to us on Sunday morning and overflow to the community … to serve them through the Gospel and give a reason for the hope that we have."
Sprinting and pacing, running and crawling, sifting through damage and gently lifting large trees from roofs, sharing food and needed supplies — it's all part of responding to storms. 
Men from Trinity Lutheran Church in Panama City, Fla., brought their self-contained grill trailer to Pensacola to help feed the volunteers and those affected. They set up in the driveway of Rev. Randy Blankschaen's house, which was flooded, to cook and distribute the food.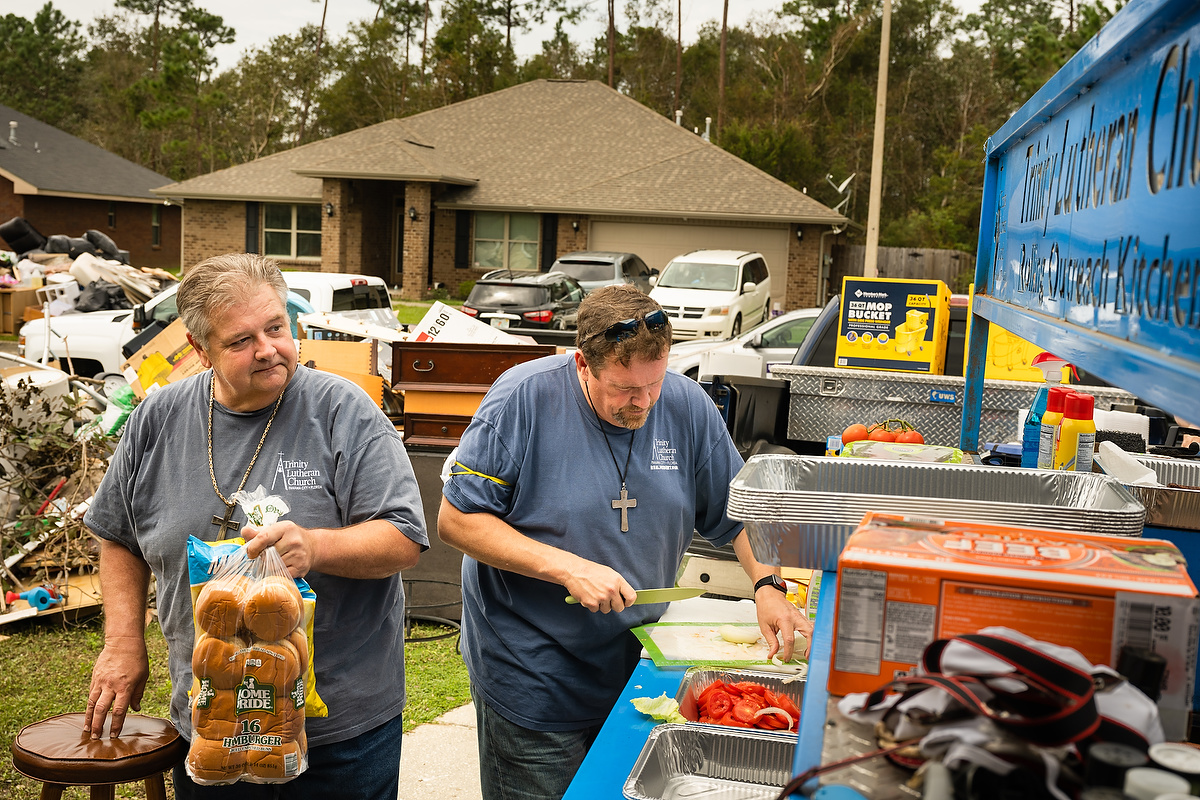 "When Michael hit [in 2018], we were the recipients of help," said the Rev. Paul McComack, pastor of Trinity. "We know what it feels like to be the recipients of the encouragement, so we want to do the same for others. Just the Bible says, 'because he first loved us' (1 John 4:19)."
"This isn't as large of a storm as Michael, but the impact is just as large for each individual affected. The church needs to get here as quickly as we can," observed the Rev. Ed Brashier, the disaster relief coordinator for the Southern District. "We don't need to worry about how huge the storm is but focus on how large it is for each person."
Brashier will oversee the chainsaw and other volunteer work in the coming months, as he establishes a volunteer staging camp with the help of LCMS Disaster Response in Daphne, Ala. Other area churches and Camp Dixie will also serve as locations to host volunteers and staging teams to work throughout the area.
In the wake of the storm, with exhaustion mixing with emotion and the realization of a long recovery process, many are grateful. "The kindness of people gets to me. I'm just a little ol' pastor trying to preach. I don't deserve it," noted Blankschaen. "But that's not the way God works. And thankfully, that's not how his people work either."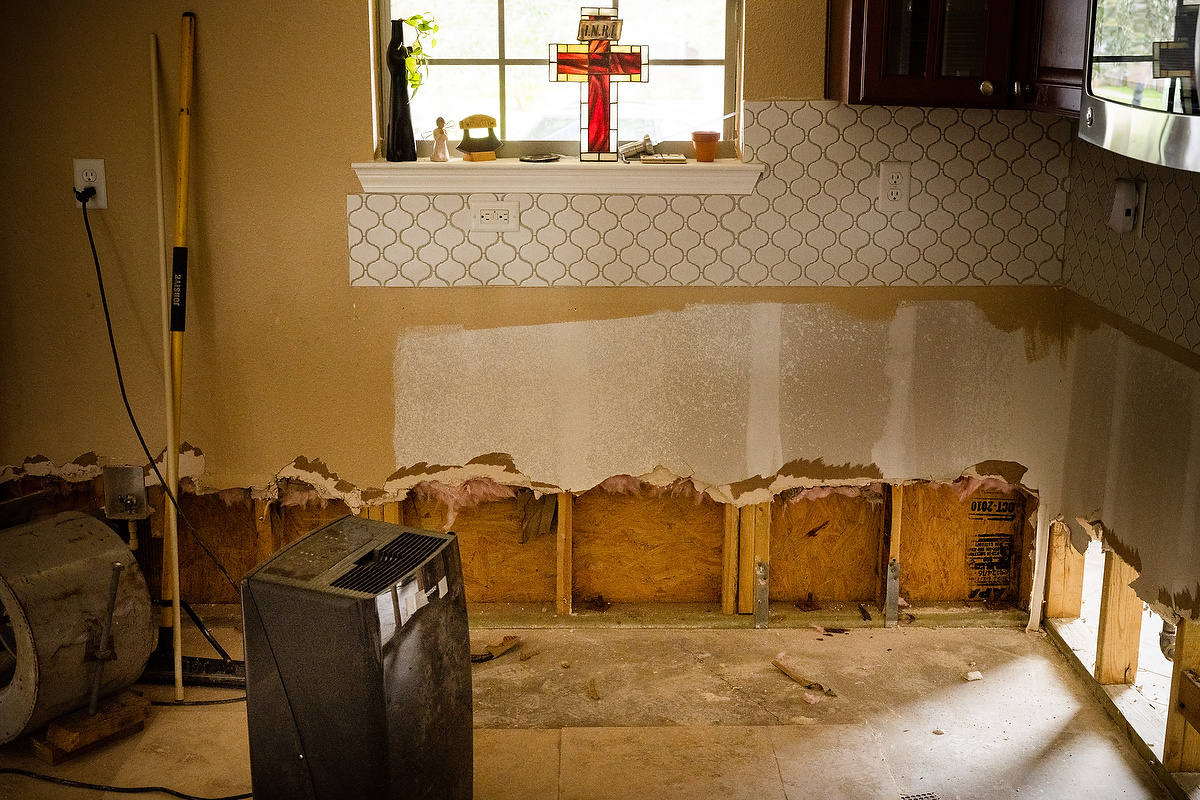 Blankschaen's wife, Lydia, agreed, "I'm amazed at the grace that people have shown us. I'm so grateful that everyone is OK. It teaches you what is important. It's amazing to see Christ working through other people."
Noting the recent storms and the wind damage caused, the Rev. Dr. Ross Johnson, director of LCMS Disaster Response, said that chainsaw work is currently underway in six states spanning several districts. The swift response to these storms "shows the need for Lutheran-trained chainsaw workers throughout various districts. You don't know where disaster will strike — or when."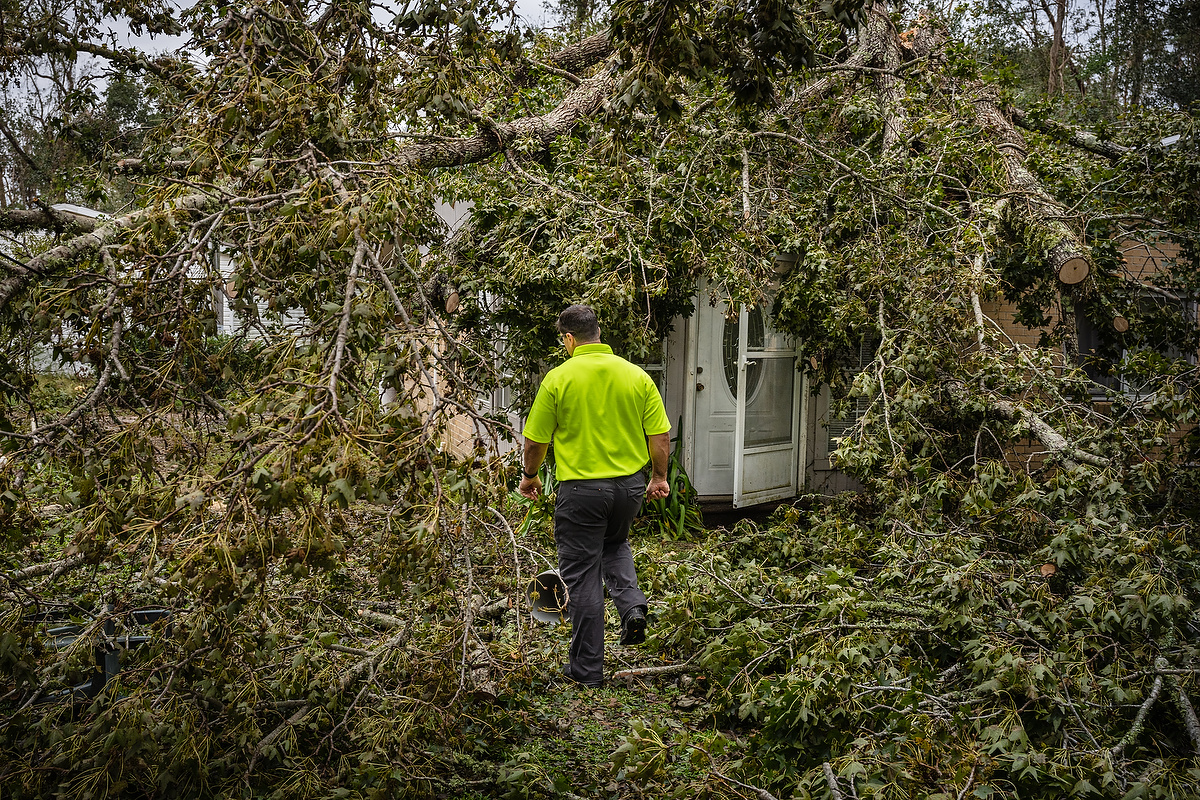 "We will work to ensure that the homes of multiple church workers will be repaired so that they can continue to serve the church. We are working with members of LCMS congregations. But the ministry doesn't end there. We help those who are not Lutherans," Ross Johnson said. "Through this, we share the Gospel and teach that Christ has taken our burdens on Himself. This is an example of how mercy work can result in sharing the Gospel with those who aren't Lutheran or don't even know what a Lutheran is."
The sprint is over. The marathon has begun.
---
To volunteer to assist with tree removal, please visit freestormtreehelp.com.
Please visit the Southern District website for information about how to support the disaster response effort:
To support the continued work of LCMS Disaster Response, please consider donating:
Online at lcms.org/give/disaster.
Via text (send keyword LCMSDISASTERS or LCMSHURRICANES to 41444).
By phone at 888-930-4438, Monday through Friday, 8 a.m. to 4:30 p.m. Central time.
By check (make payable to The Lutheran Church—Missouri Synod, and write either "for disaster response" or "hurricane relief" on the memo line.)
Posted Sept. 30, 2020