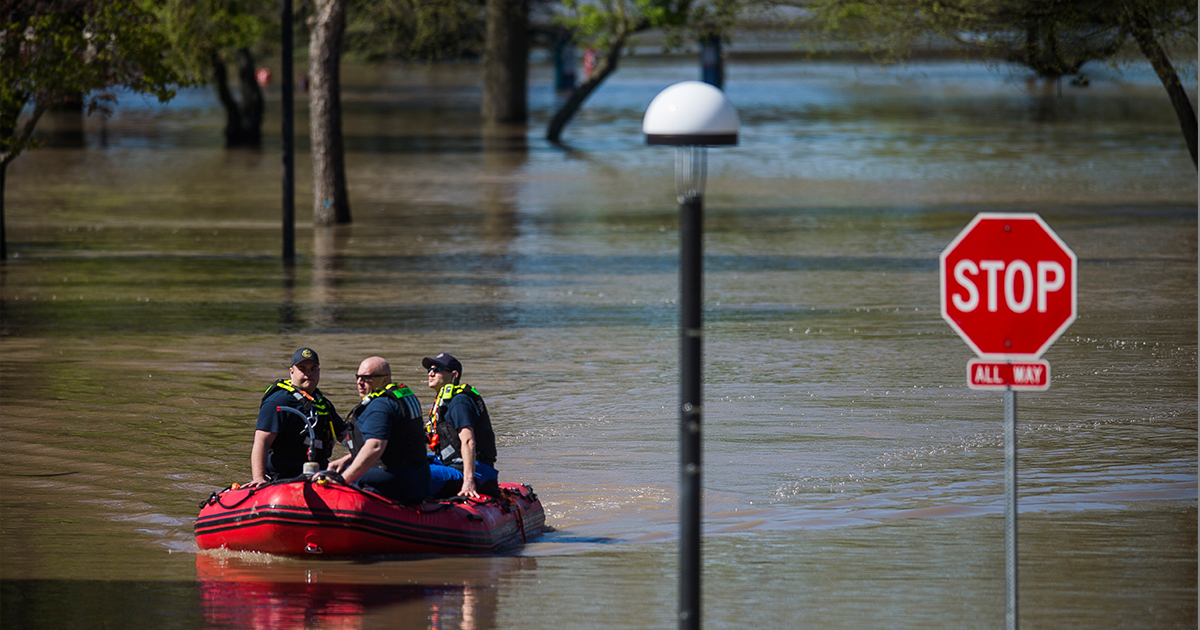 By Roy Askins
On the evening of Tuesday, May 19, following days of heavy rain, two dams upriver from Midland, Mich. — an area with several LCMS congregations — failed. Local authorities immediately began evacuating around 10,000 residents. 
Travis Grulke, superintendent of schools and district disaster response coordinator for The Lutheran Church—Missouri Synod (LCMS) Michigan District, reported that the district's Lutheran Early Response Teams (LERTs) quickly initiated a response. While it does not appear that any LCMS congregations have sustained significant damage, Grulke warned that the members of these congregations will certainly be affected.
The ongoing COVID-19 situation creates additional complications. "This pandemic … is going to cause some major issues in terms of our ability to get some teams up there to assist," Grulke said.
The Rev. Andrew Menz, pastor of Zion Lutheran Church in Auburn, Mich., expects a compounding effect on members. "It's a lot for people to bear who have already been stressed with the pandemic," he said. "Now they're being evacuated from their homes."
Prepared for disaster
The Michigan District has three LERTs in the flooding area that are ready to respond and assist. 
​One, at Peace Lutheran Church in Saginaw, Mich., maintains a disaster response trailer. This is "a self-contained, mobile work unit that has emergency relief supplies and materials for mucking out a house," said the Rev. Dr. Ross Johnson, director of LCMS Disaster Response. "We make [the trailers] portable so that an F-150-size truck can pull one to a worksite, giving us everything we need in one place."
The two other Michigan LERTs have also begun making damage assessments.
The focus over the next few days will be collecting and distributing flood buckets. These five-gallon buckets filled with supplies for cleaning up after water damage are especially critical in the first week after a flood or hurricane.
The district also is distributing the new Synod resource, "Church Workers' Quick Reference Guide for Disasters and Pandemics." 
A God-given opportunity
Messiah Lutheran Church in Midland has numerous outreach ministries that serve the Great Lakes Bay Region, of which Midland is part. The Rev. Ed Doerner, pastor at Messiah, sees hope in the trials being faced.
"God is providing an opportunity, through the pandemic and the flood, to work with people," Doerner said. "The church has a voice of hope for the hopeless. God allows us to go into a place, and through the church, He blesses people."
The work done by the LCMS churches in Michigan, along with the trained early responders, will help the entire community. "It's one way," Johnson said, "that our actions and our deeds show the love of Christ and provide opportunities to proclaim Him."
Grulke said, "Pray for volunteers and for the Spirit to move us to reach out to our neighbors and those in need."
Response personnel will continue to assess the situation. Since the flooding has not yet begun to recede, the fire department has not been able to evaluate the roads for damage. Volunteers will not be able to enter the area until it is deemed safe.
This story will be updated as more information is available.
Posted May 22, 2020