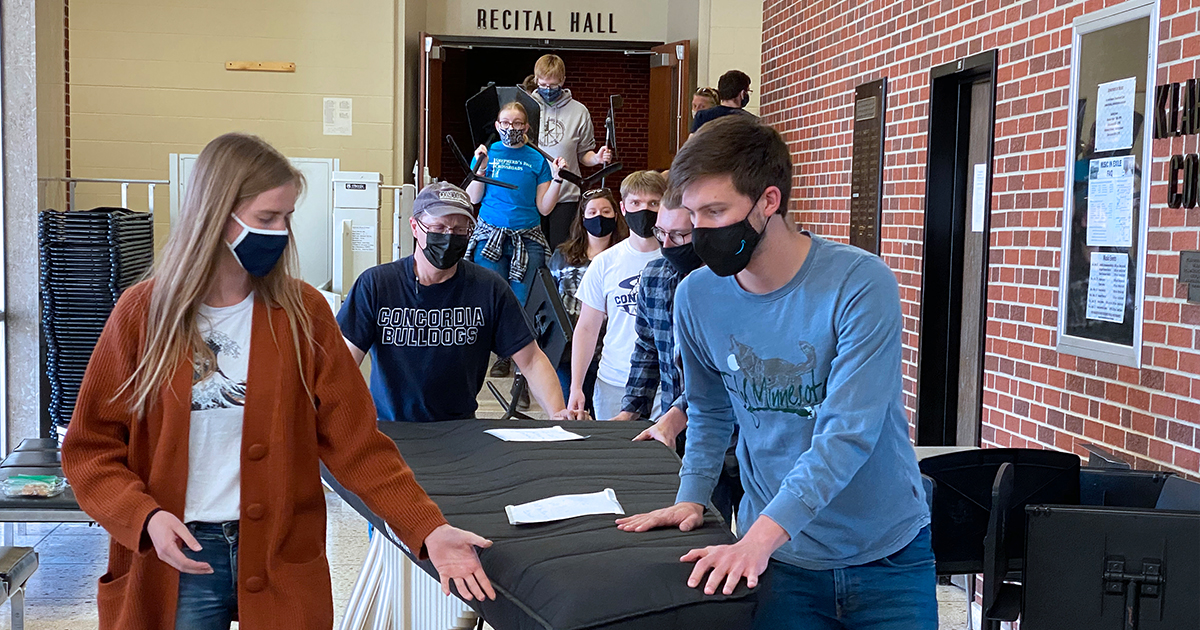 On April 26, Concordia University, Nebraska (CUNE), Seward, Neb., hosted a chapel service and groundbreaking ceremony for its new music center, set to open in the fall of 2022. The $17 million building will serve as a collaboration, practice and study center for students and faculty.
"As we break ground today, we take the first step in the construction of a facility … dedicated to providing men and women a place to … use their God-given talents to serve in vocations related to the performing arts and to praise Him through word, song and performance," said the Rev. Dr. Russ Sommerfeld, interim president, during the groundbreaking ceremony.
The ceremony, which took place in the front of the current building with the front windows and doors removed, served as both a celebration and a mourning, said the Rev. Ryan Matthias, CUNE campus pastor.
"Staring at that edifice coming down is hard for many," he said. "It's a place where many grew up … a place of consolation and contemplation. Sometimes you just went in there to get away from the world. I know a couple who got engaged in there."
With 46,544 square feet, the remastered building will include 22 practice rooms, including specifically designed practice rooms for both vocal and instrumental ensembles, 13 teaching studios, CUNE's first recording studio and a new 100-seat theater for drama productions.
CUNE's music program dates to the university's beginning, serving as an outlet for both music majors and non-majors to share their God-given talents. Cecilia Minchow, a junior psychology and behavioral sciences major from Lincoln, Neb., said she appreciates singing in the A Cappella and Chamber choirs with students who represent a range of Concordia's academic programs.
"Yes, there are music majors, but we also have scientists and artists, psychology and business majors, education majors, theology students and athletes," Minchow said. "Each and every member of those ensembles is passionate about what they are here on campus to do, and they give glory to God through their studies and activities. I think it's beautiful how we can all come together, different as we are, with the common goal of praising our Lord and spreading His Gospel message through song."
The current building, built in the 1960s, features a multi-level design on the east side that was common practice at the time but provided accessibility challenges for students and guests.
"The building needed elevators from the very beginning," said Dr. Kurt von Kampen, music department chair and a 1983 Concordia graduate. "There is always equipment being moved, especially percussion instruments that students are moving up and down the stairs. We also have the obligation to make it completely accessible. Although the elevator is past due, we are thankful it's happening now, and it will be a terrific building for years to come."
While the building is under construction, the music department will be dispersed in various other locations across campus.
Sommerfeld told donors that because of their partnership, musicians and thespians will study, practice and rehearse under the tutelage of gifted and skilled faculty who have a deep passion for their craft, but, even more, an enduring calling from God to form students with a distinctive Lutheran Christian education.
"Concordia's history of being synonymous with music will continue to grow, thrive and excel because of your partnership," he said.
The building project, titled "In Harmony: Building a New Space For Music," is part of "Answering The Call," CUNE's current campaign, which has raised $89 million to date. For more information about the music project, visit cune.edu/harmony.
Posted June 17, 2021