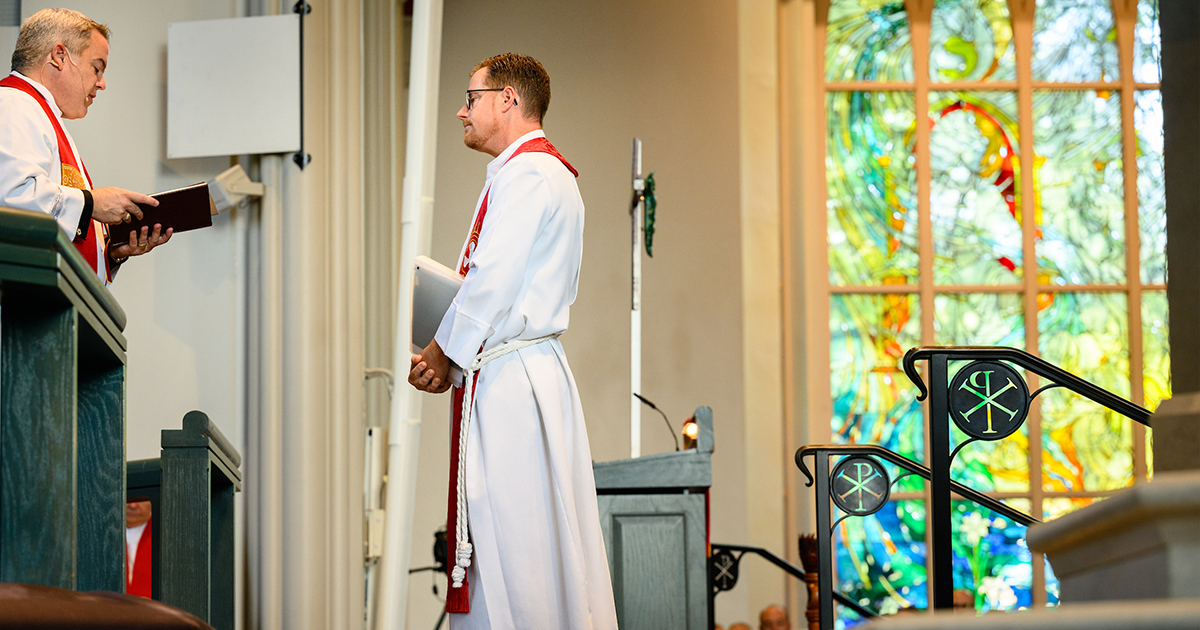 The Rev. Dr. Thomas J. Egger was installed as the 11th president of Concordia Seminary, St. Louis (CSL), during the seminary's opening worship at the Chapel of St. Timothy and St. Titus on Aug. 27. The service also kicked off CSL's 183rd academic year under the theme "Your Word Is a Lamp to My Feet."
Casting the Word
LCMS President Rev. Dr. Matthew C. Harrison preached for the installation service on Psalm 119:105.
"The Word of God does what it says. … There is one thing that is the sine qua non of this institution … if it is lost, all is lost. The one thing needful is the Word of God, the Holy Scriptures. … The one thing needful is the living Word, the oral proclamation based on the written Word of God. The one thing needful is the Word in the flesh," proclaimed Harrison. 
"Thank you, Concordia Seminary, and thank you, Dr. Egger, for your fidelity to this Word. The Lord bless you and make you a blessing."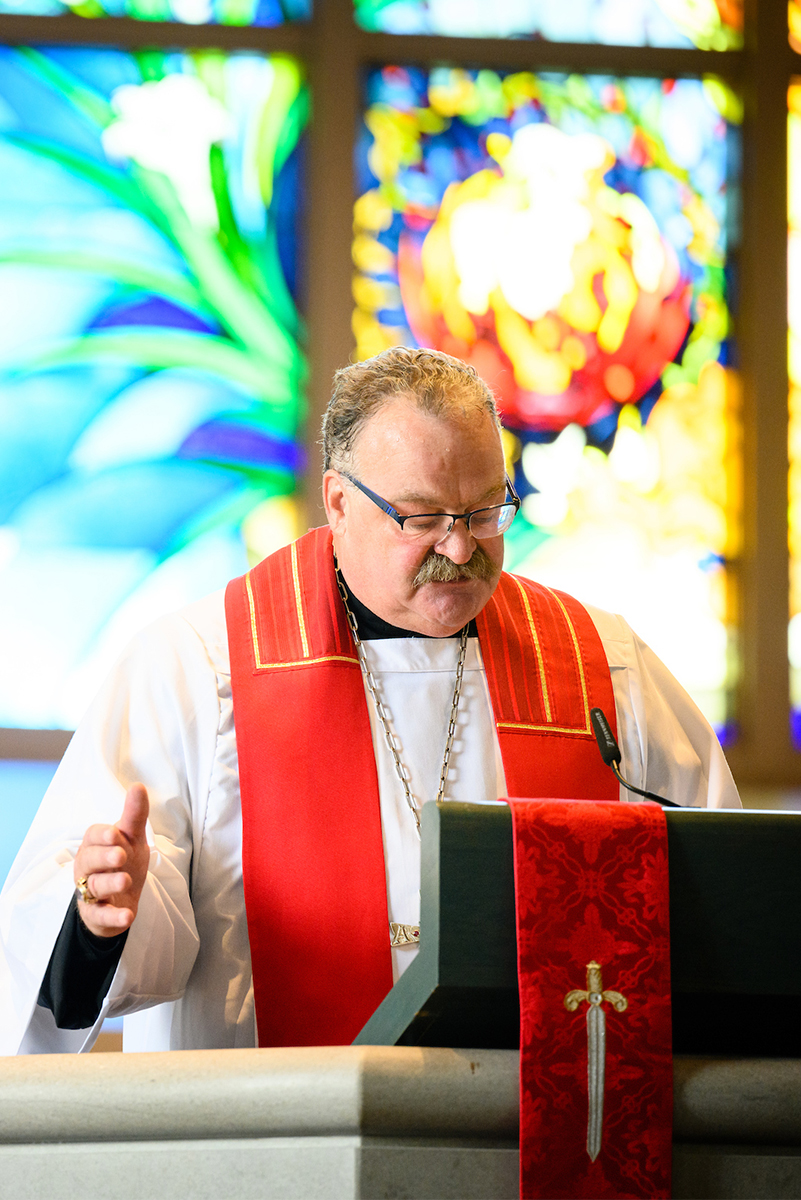 In addition to Egger, three new professors were installed during the service, and four current professors were installed into new positions. The new professors are:
Rev. Dr. Kevin Golden, associate professor of Exegetical Theology;

 

Rev. Dr. Ely Prieto, associate professor of Practical Theology and associate dean of Urban and Cross-Cultural Ministry; and

 

Rev. Dr. Jon Vieker, associate professor of Practical Theology and dean of Chapel.

 
Current professors installed into new positions are:
Rev. Dr. Joel Elowsky, dean of Advanced Studies;

 

Rev. Dr. Erik Herrmann, dean of Theological Research and Publication;

 

Rev. Dr. David Lewis, director of the Master of Divinity and Residential Alternate Route programs; and

 

Rev. Dr. Glenn Nielsen, director of Certification.

 
In addition, Deaconess Rebekah Lukas was installed as communications specialist, and eight other new staff members and nine faculty and staff who changed roles were recognized. Thirty-nine distance students also received their vicarage and internship assignments. 
Fitted for the task
After his installation the morning of Aug. 27, Egger was inaugurated as seminary president during a special service, also in the chapel, at 2:30 p.m. Egger was presented for inauguration by the Rev. Dr. Timothy Saleska, co-chairman of the Presidential Search Committee and dean of Ministerial Formation.
"I trust that the Lord has fitted Tom for this task," Saleska said. "I know that Tom wants the very best for all of us here at the seminary and for the people of our church, and he will work hard in service to our Lord."
The Rev. Dr. Todd A. Peperkorn, former chairman of the CSL Board of Regents, performed the Rite of Inauguration.
"Jesus Christ is the light of the world, the light no darkness can overcome, as St. John attests," said Peperkorn, speaking to Egger. "The world needs that light of mercy and the forgiveness of sins today more than ever. And God has put you at this place, at this time, so that light will shine forth in every graduate at this institution."
Peperkorn was recently installed as associate professor of Pastoral Ministry and Missions at Concordia Theological Seminary, Fort Wayne (CTSFW).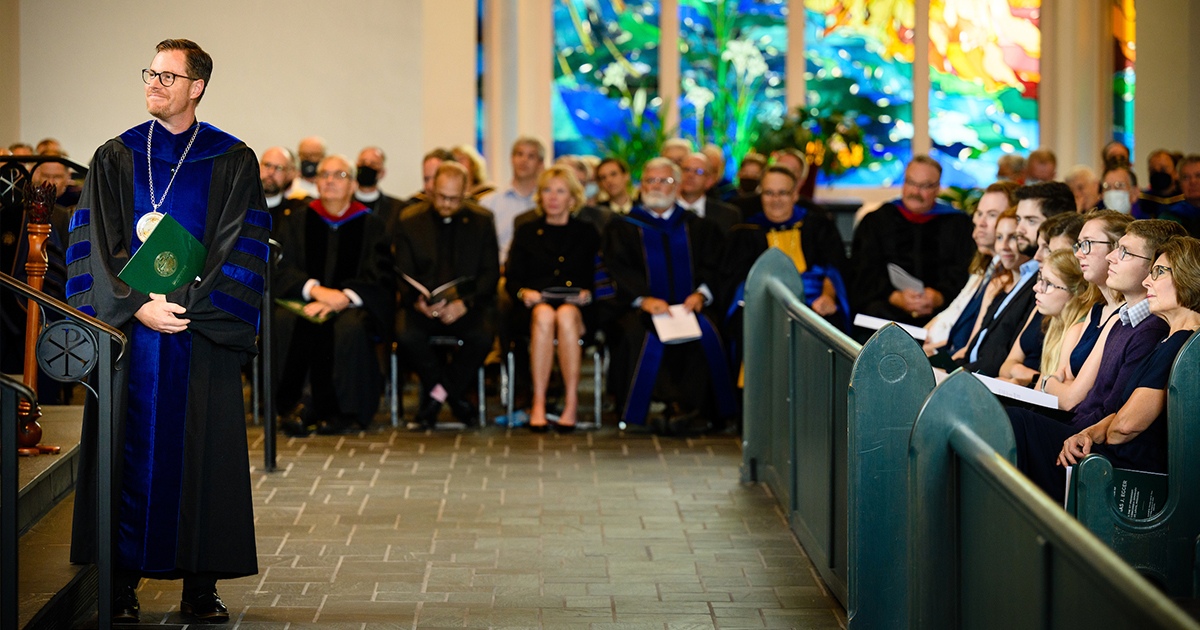 'Light from above'
Following Egger's inaugural speech concerning the foundations, formation and beauty of the Word of God and the seminary's work to prepare people for service in the church, greetings were presented by:
Rev. Dr. Douglas L. Rutt, provost, on behalf of the CSL faculty;

 

Donald Stein, fourth-year seminarian, on behalf of the CSL student body;

Michelle Harris, mayor of Clayton, Mo., on behalf of the local community;

Rev. Dr. Michael Kumm, chairman, LCMS Board of Directors (BOD), on behalf of the BOD;

Rev. Dr. Lawrence J. Rast, president, CTSFW, on behalf of the Synod's universities and seminaries; and

Rev. Dr. Matthew C. Harrison, LCMS president, on behalf of the LCMS.
"Egger is a gift to the church, and we look forward to the ways that he will lead this seminary as it fulfills its mission for the sake of the Gospel," said Rast. "We are delighted that the Lord led the Board of Regents to call Dr. Egger. We look forward to great collaboration between our two excellent seminaries."
Videos of the opening worship and the inauguration are available here. 
Egger previously served as the Gustav and Sophie Butterbach Professor of Exegetical Theology and chairman of the Department of Exegetical Theology at CSL. He accepted the call to serve as president in February and began his duties in March, replacing Interim President Rev. Dr. Daniel Preus. Egger succeeds President Emeritus Rev. Dr. Dale A. Meyer, who retired June 30, 2020, after serving 15 years.
Past CSL presidents and their dates of service are:
C.F.W. Walther (1850–1887);

Franz Pieper (1887–1931);

Ludwig E. Fuerbringer (1931–1943);

Louis J. Sieck (1943–1952);

Alfred Fuerbringer (1953–1969);

John H. Tietjen (1969–1974);

Ralph Arthur Bohlmann (1975–1981);

Karl L. Barth (1982–1990);

John F. Johnson (1990–2004); and

Dale A. Meyer (2005–2020).
Posted Sept. 28, 2021