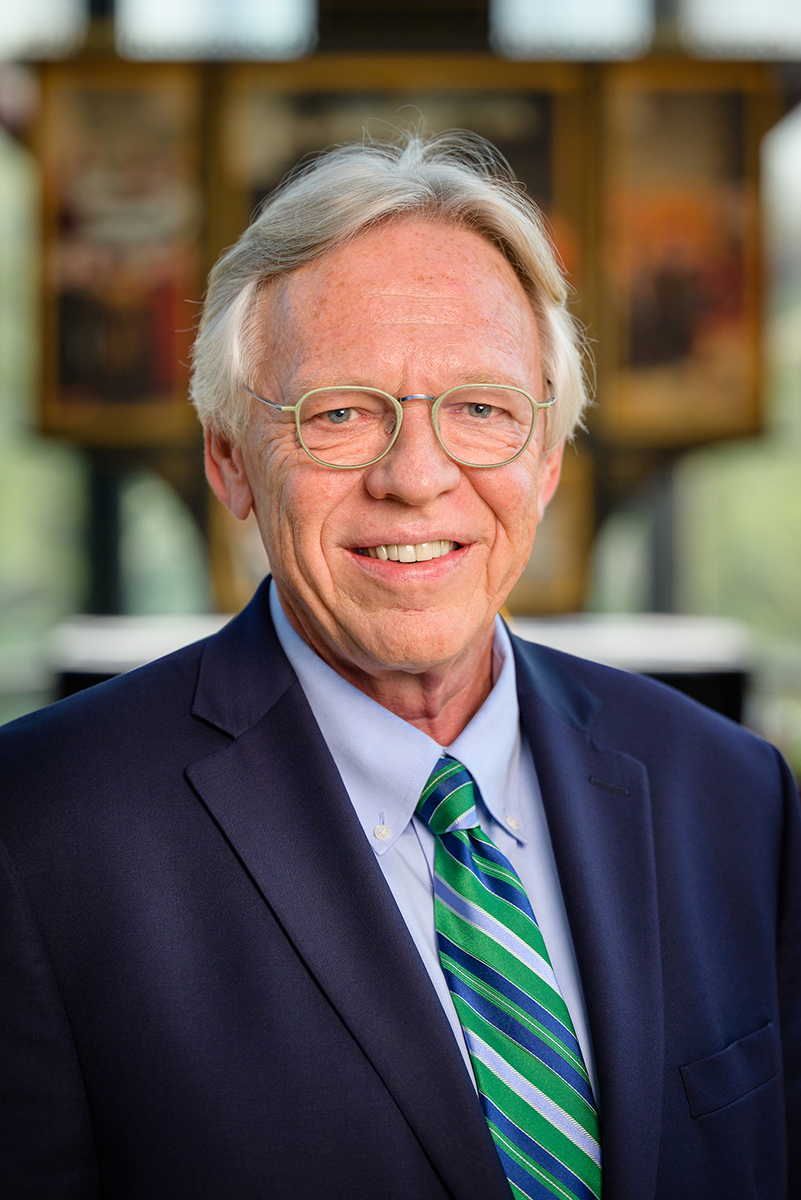 By David Mahsman
David Strand, executive director of LCMS Communications, retires on Oct. 7 after more than 40 years of service to the Synod.
Strand began working for the Synod in 1980 as a writer for the stewardship department. But most of his years were in Communications, which he joined in 1986 — first as features editor, then managing editor of The Lutheran Witness; as assistant to the executive director for public relations; and finally in the top Communications post, which he assumed in 2006.
Even as executive director, Strand continued to write and regularly covered meetings of the Synod's Board of Directors (BOD). BOD Chairman Rev. Dr. Michael Kumm took note: "David has been the consummate professional and gentleman during his coverage of the Board of Directors, and during his tenure as executive director of Synod Communications," Kumm said. "He has always been diligent and detailed in his efforts to be sure meetings and information were reported accurately.
"David's service to the church for so many years has been laudable, and we are better for him being here. The Board of Directors will miss him and wish him the utmost in happiness and leisure in his retirement."
Asked what he would consider highlights of his tenure in Communications, Strand offered some thoughts, but with the qualification that "these are far less attributable to me than to the talented people on our staff." He included:
The high quality of the Synod's two official periodicals, The Lutheran Witness and Reporter, "and the knowledge that readers trust the truthfulness and accuracy of our news stories";
The many awards won from the two major religious press associations, the Associated Church Press and the Evangelical Press Association;
Serving the communication needs of the various national Synod departments, more than 1,000 projects a year;
"Our brilliant galleries of photos, complemented by our video libraries bristling with first-rate productions on a myriad of subjects";
"Robust" social-media platforms;
Collaboration with LCMS Mission Advancement and others to help raise millions of dollars, "contributions from the generous people of the Synod, to extend the love and mercy of Christ" throughout the world; and
A department expense budget that has finished in the black for 15 straight years.
Strand said his "greatest joy," though, "is knowing that I have worked for the Synod — and, thus, for the Christian church, the Bride of Christ. That's its own reward, and it's huge. But somewhere after that comes the blessing of knowing the wonderful people I've worked with all these years. There have been so many!"
Among those people is Cheryl Magness, managing editor of Reporter for the past four years. Of Strand, she said, "He's one of the kindest people I've ever known." She added that "you know he cares about you as an individual." She said all the members of the Communications staff will miss his stories, wit and humor and are "very sad" about his departure.
"Kindness" is a word that the Rev. Kevin Robson, the Synod's chief mission officer, also used to describe Strand: "Within the LCMS International Center, David is deeply appreciated for his steadfast faith and kindness to his fellow employees, a deep knowledge of the Synod's workings, and especially his expertise in crafting words that deliver content with clarity and effectiveness," Robson said. "Great writing and editing are always daunting tasks, but David habitually makes these look effortless."
Strand first went to work for the Synod when its offices were in downtown St. Louis. He has been at the building in suburban Kirkwood since it opened in 1983. 
He said that he thinks the "most striking" thing that he has seen over his 40 years, "though it has happened gradually over time, is the digitalization of all things communications. 
"I remember the days of filmstrips and slide projectors, of mimeographs and carbon paper," Strand continued. "And now we have the internet, websites and blogs, social media, and amazing advances in publishing, photography and video. God has used technology to keep His church in front of the world."
Once retired, Strand said he plans to spend time with his wife, Sherri; enjoy his two grandchildren, who live nearby; read — including "in-depth Bible reading"; work in the yard; travel some; and play a little golf.
Reflecting on his career, Strand asked, "How can you say that four decades of working for the church is not a career well spent? It's more than that; it's a tremendous, God-given privilege. You can exemplify your faith and share the love and mercy of Christ no matter what your vocation. We have a Lutheran doctrine to that effect. 
"But working for the church every day, year after year, puts you directly in the midst of the mission, and that is special."
The Rev. David Mahsman (david.mahsman@gmail.com) is a retired missionary and former executive editor of The Lutheran Witness and Reporter.
Posted Oct. 7, 2021