In the darkness of Friday night, Dec. 10, and the early morning hours of Dec. 11, a historic outbreak of at least 50 tornadoes tore through Arkansas, Illinois, Indiana, Kentucky, Mississippi, Missouri, Ohio and Tennessee. At this writing, 88 people have been confirmed dead, 74 in Kentucky alone, with more than 100 still unaccounted for.
'A mighty fortress'   
"I've been thinking of 'A Mighty Fortress,' the hymn," said the Rev. Randall Bell, pastor of Christ Lutheran Church in Augusta, Mo. "'And take they our life, goods, fame, child and wife, though these all be gone, our vict'ry has been won. The kingdom ours remaineth.' That really stands out in my mind … ever since I heard what happened to Vernon."
Vernon Borgmann and his wife, Ollie, longtime members of Christ, were at home in Defiance, Mo., on Friday night, in the house where they had lived since they were married in 1958. According to Bell, one of the Borgmanns' sons called them after he noticed on the weather radar that the tornado was near their home. Vernon picked up the phone and heard a loud bang. The next thing he remembers is lying about 200 feet away, with Ollie nearby and the house gone. Vernon was able to free himself from the rubble and wave down a rescue team working on the adjacent property. Both Borgmanns were rushed to the hospital, where Ollie died.
Ollie and Vernon have attended Christ Lutheran for decades — Vernon, who was baptized and confirmed there, for his entire life.
"We're really a church family here," said Bell, who has served at Christ for 20 years. "And these members, Ollie and Vernon, are in their 80s, and a lot of the members have known them all their life. So this really hurts our church family. … The destruction is mind-boggling for me as a pastor, and it hurts when anyone, but especially one of our own, goes through this. And yet it's wonderful to see how God is using this to bring about good. And much more good will come, I know."
Even as they begin the process of grieving for their sister, the members of Christ Lutheran have come together to help Vernon and others affected by the storm by offering their prayers, time and resources.
"God is going to do wonderful things," said Bell. "He brings good out of evil all the time — even this storm. He used it to bring His loved one, His dear child in Jesus, to heaven."
LCMS Missouri District President Rev. Dr. Lee Hagan was able to visit the congregation, and meet with the Borgmanns' sons, shortly after the disaster.
"It's a tragic situation," said Hagan, "but Pastor Bell and the congregation have been able to provide the hope of the resurrection. Even as we're trying to address human needs, it's always central that we proclaim Christ, so we're thankful for the ministry of our congregations, especially in times such as this."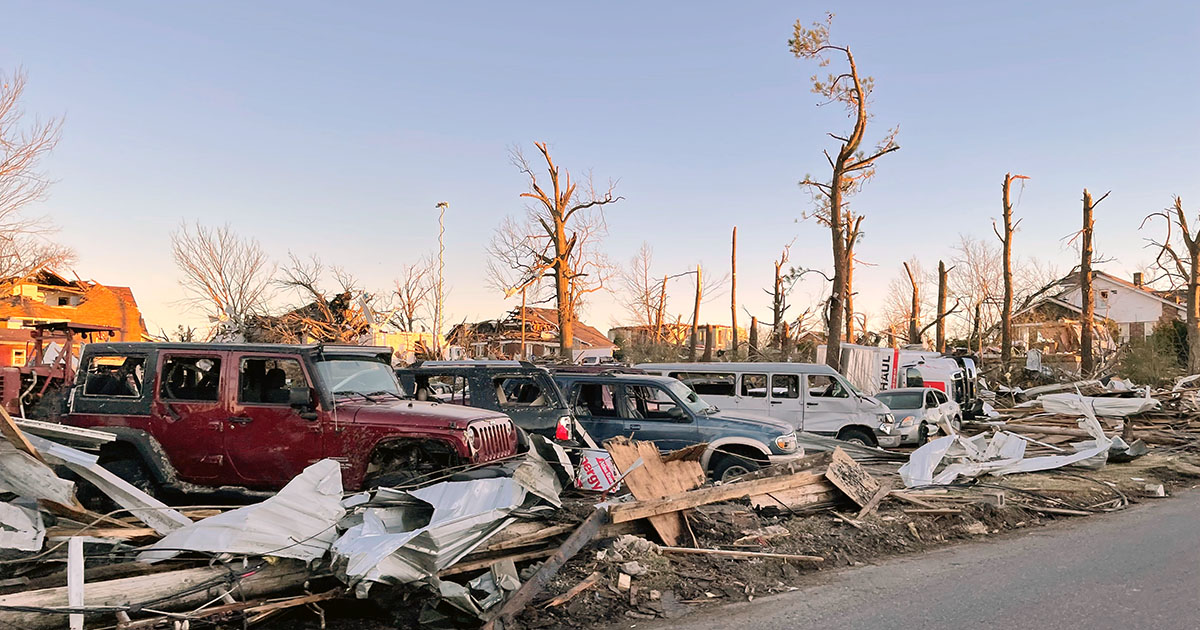 'God is at work'  
In the aftermath of the tornadoes, LCMS Disaster Response is assessing damage on the ground and working with several LCMS churches to meet physical and spiritual needs in the name of Christ.
On Dec. 13, the Rev. Dr. Ross Johnson, director of LCMS Disaster Response, visited Holy Trinity Lutheran Church in Bowling Green, Ky. — a city where at least 15 deaths have been confirmed in the wake of the tornado and several more are still missing — as well as St. Paul Lutheran in Paducah, Ky., which has several member families who live in Mayfield, Ky., among the communities hit hardest by the storm.
The Rev. Andrew Toopes, senior pastor of Holy Trinity, is also a chaplain for the Bowling Green Police Force. He heard the storm come through around 1:30 a.m. on Saturday.
"The noise was terrifying," he said.
Almost immediately, he received a call from the police department, navigated through the dark and debris-filled roads to the station, and began providing ministerial care to policemen and first responders.
On Sunday morning, the day after Bowling Green residents awoke to carnage, the members of Holy Trinity gathered for worship. The third candle on the Advent wreath had been lit — rose for Gaudete (or "Rejoice") Sunday.
In his sermon, Toopes described the scene he had witnessed:
"There were so many people walking around yesterday who were so shell-shocked they couldn't even remember where they lived. Street signs were down, and the neighborhoods were gone. They couldn't even point out where they lived because there was nothing there."
And yet, reflecting on Phil. 4:4–7, the appointed Epistle reading, Toopes noted the joy that the church has even in such circumstances:
"We have something so amazing to give to people. … We can bring the love of God in Christ Jesus to people, we can share our love with them, we can rejoice with them, we can be sad with them, we can … point them to Jesus Christ. That is my hope and my prayer, that we continue to point people to Jesus even in these very difficult times."
While no one from Holy Trinity died in the storm, a couple of members were among the countless residents of Bowling Green to sustain significant damage to their homes. Holy Trinity's congregation immediately got to work caring for their neighbors: members went out with chainsaws to help clear trees, and the youth group began clearing people's yards.  
LCMS Disaster Response will assist the response effort of Holy Trinity, as well as St. Paul, through financial assistance and spiritual care materials.  
"When someone … is seeing one neighborhood in their community after another that has been devastated by a tornado … they're wondering, 'Where is God in this, and does He care, and does He love me?' We as Lutherans have a beautiful theology of the cross, understanding that God is at work in the midst of suffering, and we have a significant opportunity as Lutherans to be able to bring that message of Christ to a world that's looking for answers, for more than just the temporal needs," said Johnson.
While the damage throughout his district is immense, LCMS Mid-South District President Rev. Dr. Roger Paavola said that it has been wonderful to see congregations come together to share the hope of Christ and meet the needs of their communities.
"It is an amazing devastation that's taken place here. But the beauty of this whole thing is that our churches have responded," he said.
Lengthy recovery ahead  
This massive storm system brought devastation to a large area of the country, and assessments of the damage are ongoing. Numerous communities are affected. Many LCMS members have sustained property damage — at least eight have had homes significantly damaged or fully destroyed.
The roof of historic Saint Trinity Lutheran Church in St. Louis was damaged by the winds and will need to be replaced. LCMS Disaster Response and the Missouri District will be providing funds to help Saint Trinity meet their insurance deductible.
"It's an old church building, in a neighborhood where human care is one of the key areas of the congregation's service to their neighborhood, through their food pantry and more. Saint Trinity needs to be there, bringing hope to the Carondelet neighborhood," said Hagan.
As reports continue to come in, LCMS Disaster Response is working with various districts and congregations across the affected area to help those in need, rebuild and provide spiritual care. Lutheran Early Response Teams (LERT) began responding in Missouri the day after the tornado, and LERT from various states will arrive in Kentucky later this week to begin chainsaw work and debris removal.  
"This [response] will be going on for several weeks, if not months," said Paavola.
LERT volunteer opportunities out of Bowling Green, Ky., are being organized now. If you are interested in helping with these disaster response efforts directly, learn more and register here. View all LERT volunteer opportunities at the LERT volunteer website. 
To support the continued work of LCMS Disaster Response, please consider donating:
Via text (send keyword LCMSDISASTERS to the number 41444).
By phone at 888-930-4438.
Posted Dec. 15, 2021 / Updated Dec. 16, 2021