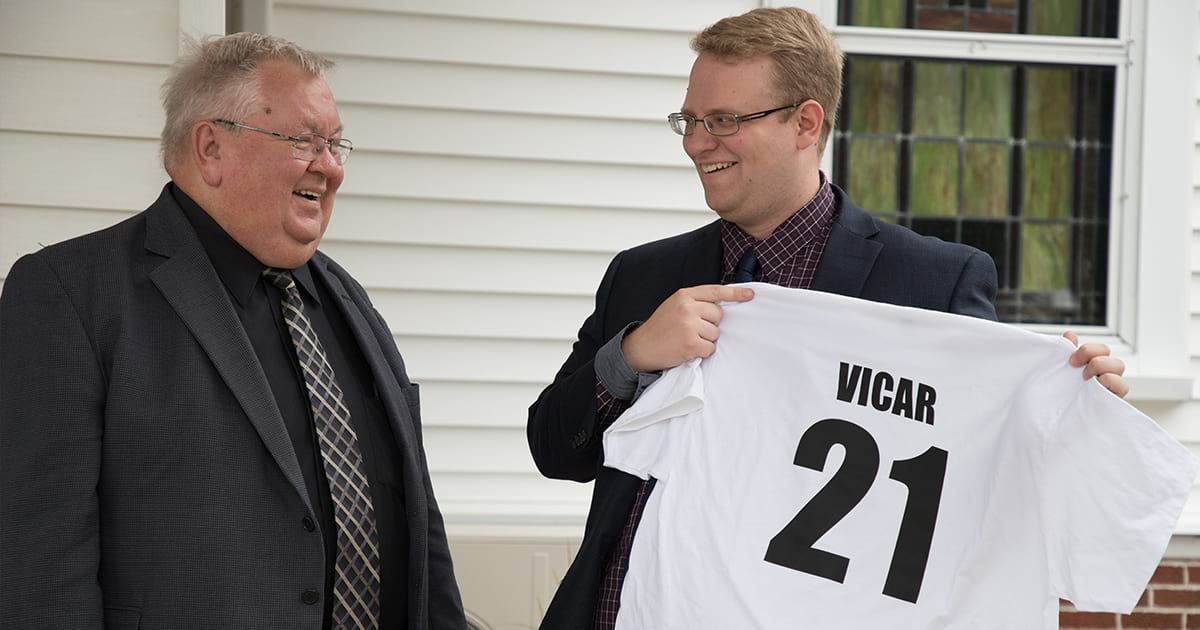 Lutheran Guarantee
Concordia University, Nebraska (CUNE), Seward, Neb., recently announced that the university has revised its Lutheran Guarantee program. The updated Lutheran Guarantee program ensures that qualifying undergraduate students can earn at least $25,000 per year in institutional aid, and qualifying undergraduate students pursuing church work can earn at least $27,500 per year, an increase from previous aid offered. 
"We're committed to ensuring our fellow brothers and sisters in Christ have the opportunity to receive an outstanding, Christ-centered education steeped in Lutheran heritage," said CUNE President Dr. Bernard Bull. "Cost should not stand in the way of our students discovering their passions, honing their skills and training for their careers."
Under the new program, CUNE guarantees a minimum of $25,000 per year in institutional scholarships and grants if a  student is a member of a Lutheran congregation; a dependent of a Concordia alum; a dependent of a full-time, professional, rostered Lutheran church worker; or a graduate of a Lutheran high school. The program ensures at least $100,000 of guaranteed support over four years.
Visit cune.edu/lg to learn more.
Pre-seminary scholarships
Concordia University Wisconsin (CUW), Mequon, Wis., offers full-tuition scholarships to qualifying pre-seminary students, with two awards allotted for incoming CUW students each year and one allotted for a student at Concordia University Ann Arbor, Ann Arbor, Mich. These awards are in addition to the wide variety of substantial financial aid packages already available to pre-seminary and church work majors. According to the most recent Concordia University System (CUS) enrollment data, the two schools lead the CUS in preparing the most church work candidates for the LCMS. The CUW campus, in particular, annually enrolls the most pre-seminary candidates, with nearly double the enrollment total of any other Concordia. Learn more about the scholarship at blog.cuw.edu/scholarships-pre-seminary-students.
High jump champ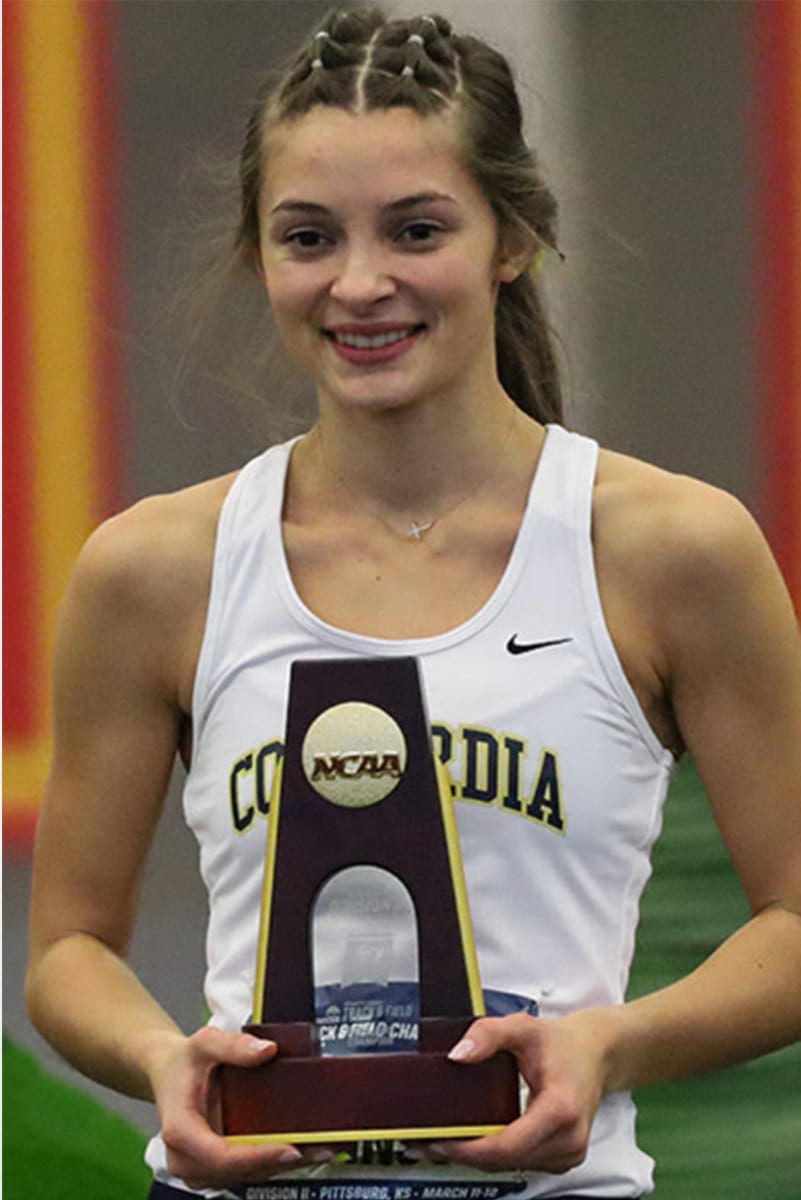 Arika Robinson, a senior nursing student at Concordia University, St. Paul (CSP), St. Paul, Minn., became the first athlete in CSP's track and field program to win a national championship, taking home the top spot in the high jump event at the NCAA Indoor Track and Field Championships in March. After entering the meet ranked third in the nation in the high jump event, Robinson outlasted her competition to clear a school record height of 5 feet, 11.5 inches, a full 1.5 inches higher than her previous record. The three-time NCAA Indoor qualifier was also named First Team All-America after being named Second Team All-America last season.
New dean of business
Dr. Lynn Hunnicutt has been named dean of the College of Business at Concordia University Chicago (CUC), River Forest, Ill., effective July 1. Hunnicutt joins CUC after nearly 20 years at Pacific Lutheran University (PLU) in Parkland, Wash., where she served as professor of economics and as department chair, faculty affairs committee chair and the inaugural director of PLU's Wild Hope Center for Vocation. 
Hunnicutt says that vocation — a topic on which she has focused for much of her career — is "not necessarily a set of answers, but of questions that inform the way one shows up in the world." As College of Business dean, Hunnicutt will be responsible for providing strategic leadership in the areas of curricular programing, faculty development, fiscal management and accreditation compliance. 
Endowed music chair
The Department of Music at Concordia University Ann Arbor (CUAA), Ann Arbor, Mich., is pleased to announce the appointment of Dr. John Boonenberg as CUAA's new Kreft Endowed Chair in Music, the first endowed position awarded at CUAA. Boonenberg holds degrees from the University of Michigan and the Juilliard School. As Concordia's new endowed chair, he will be responsible for teaching music courses and leading CUAA's choral and church music programs. He will also recruit students to help grow CUAA's music program. Learn more at blog.cuaa.edu/kreft-endowed-chair-music.
Financial leadership
Steve Strauch has been named vice-president of Finance and Business Operations at Concordia University Irvine (CUI), Irvine, Calif. Strauch comes to CUI from Lutheran Church Extension Fund and brings a wealth of experience in strategic finance, budgeting and investments. He will help the university think proactively about the effective use of resources so that CUI continues to deliver on its promise to provide an exceptional private, Lutheran, Christian education in Southern California and beyond. Strauch began his new role on July 5.  
Seminary news
Biblical interpretation
What are the differences between an ancient and modern approach to biblical interpretation? How might the exegetical approach of the early Christian theologians enrich the life of the church today? 
This the focus of the 32nd Annual Theological Symposium, "Search the Scriptures: Finding Christ and Ourselves in the History of Exegesis," set for Sept. 20–21 at Concordia Seminary, St. Louis (CSL). The event offers in-person ($160) and virtual ($120) registration options. Plenaries and sectionals will compare ancient and modern exegetical methods and approaches, grapple with the Bible's meaning and relevance, and examine passages and interpretations to help participants develop a deeper love for the Scriptures. 
The deadline to register is Aug. 31. Learn more at csl.edu/resources/continuing-education or contact the Continuing Education office at 314-505-7286 or ce@csl.edu. 
Coming up
There are several opportunities for prospective students to visit Concordia Theological Seminary, Fort Wayne (CTSFW), this fall. Take part in a Prayerfully Consider Visit Oct. 13–15 or Christ Academy: College Oct. 27­–­30. Both programs provide an opportunity to explore the CTSFW campus, interact with students and faculty, experience fellowship and worship, and contemplate the vocation of pastor or deaconess. Find out more at ctsfw.edu/pcv or ctsfw.edu/ca.
Write a Will Week is Oct. 17–21, and CTSFW is offering the community the opportunity to work with an attorney, free of charge, to achieve the peace of mind that comes with a settled estate. For more information or to register, email leeanna.rondot@ctsfw.edu or call 260-452-2204.
Posted Aug. 16, 2022