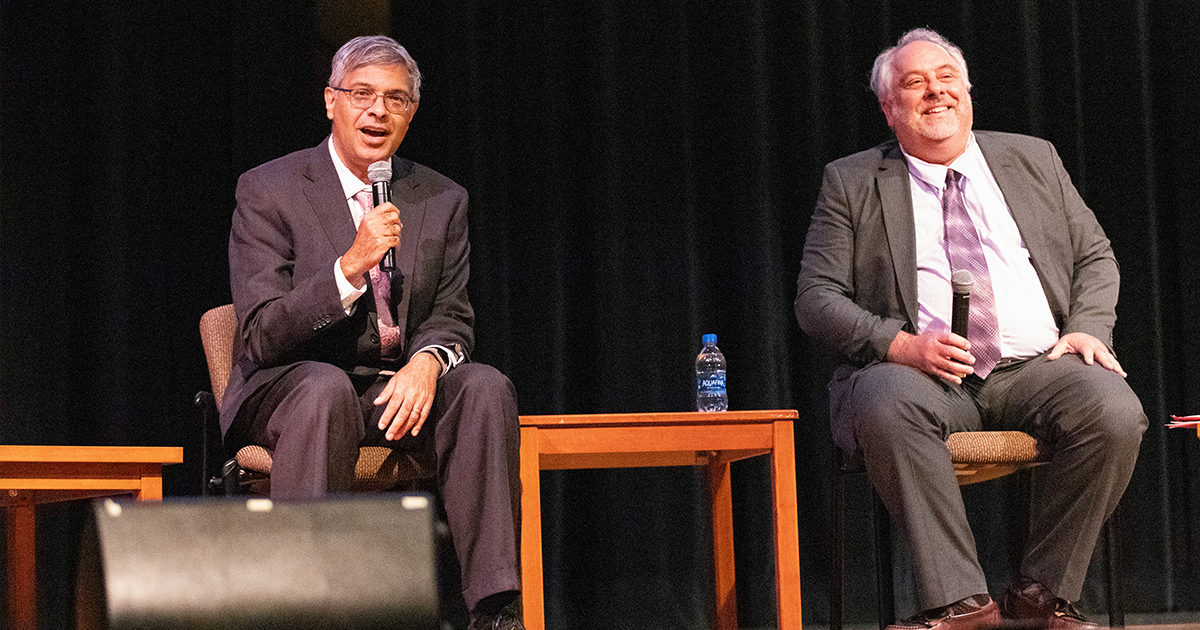 Liberty summit
Concordia University Wisconsin (CUW), Mequon, Wis., welcomed speakers Jaron Lanier and Dr. Jay Bhattacharya for its third annual Liberty, Faith and Economics Summit. Lanier has been listed among Time magazine's 100 most influential people in the world and was featured in the Netflix documentary "The Social Dilemma." Bhattacharya, a Stanford University epidemiologist, co-authored "The Great Barrington Declaration," a statement signed by more than 870,000 doctors, scientists and members of the public. Published in response to the COVID-19 pandemic, the declaration encouraged the lifting of lockdown restrictions on the young and healthy while focusing protection measures on the elderly.
Career readiness
Concordia University, St. Paul (CSP), St. Paul, Minn., was recently recognized by SkillSurvey as a Top 10 Career-Ready Institution and a Top 10 Institution with Career-Ready Feedback for First-Generation College Students.
Dr. Kim Craig, vice-president of enrollment management for CSP, said, "Students choose CSP because of the career-specific value and full collegiate experience that we provide. Being part of these rankings is powerful validation that CSP sets students up for success while being Minnesota's most affordable private university."
Experiential learning
Recently, seniors in the School of Education at Concordia University Ann Arbor (CUAA), Ann Arbor, Mich., practiced being teachers who had to react to a student's medical emergency in the classroom. Such simulations are only the tip of the iceberg when it comes to experiential learning at CUAA. In addition to participating in these labs for their coursework, students must complete in-person field work hours. All of this practice helps education students see what being a classroom teacher is actually like. Learn more.
Year-round creativity
International Creativity Month is celebrated every January, but Concordia University Texas (CTX), Austin, Texas, encourages creativity among students and the greater community year-round. One way is through the Concordia Community Music Academy (CCMA), which offers individualized musical training both on the CTX campus and online. The academy welcomes learners of all abilities, ages and interests. Experienced faculty work with students one-on-one to develop skills on the piano, violin, guitar, flute or organ.
Women of faith
Last fall, alumnae artists Anastasiya Camp ('20) and Deaconess Sara Nordling ('85) dedicated two works of art based on the theme "Women of Faith" to the permanent collection at Concordia University Chicago (CUC), River Forest, Ill. The artwork was commissioned by the parents of the late Kim Loontjer ('03), who was an active member of the CUC community and who, before her death, encouraged her family to celebrate women whose work points to Christ. 
Nordling's creation uses woven threads and vintage lace with hand-stitched Bible verses to highlight textile work traditionally produced by women. Camp's piece is an acrylic painting of various women connected to the genealogy of Jesus Christ. Both works now hang in the Monk's Walk that joins Kretzmann Hall to CUC's Chapel of Our Lord.
Streamlined master's
Concordia University, Nebraska (CUNE), Seward, Neb., recently announced that many of its online Master of Education (M.Ed.) programs will require two fewer classes, allowing students to earn their degree more quickly while saving money in the process. The change is effective March 7. 
Through CUNE's Lutheran Guarantee, graduate students who are members of a Lutheran congregation; who work for a Lutheran school, church or other entity; or who are alums of a Concordia University System school qualify for a special $340 per credit hour rate. This rate, which is the lowest for an online M.Ed. within Nebraska and the CUS, also applies to educators in Nebraska. 
Posted Jan. 14, 2022